Can you use Monistat for hair growth? Monistat 7 is a cream that is now becoming common in both men and women. It has shown to have so much success in the course of its continuous use. It is commonly known to be an effective hair growth cream. Because of the numerous benefits it can offer to hair, it has been given the name miracle cream.
The cream is mostly prescribed as a vaginal cream, to deal with fungal infections of the vagina. It is approved by FDA to be used for the same purpose. In the course of time however, it has found usefulness and importance in treating hair conditions and stimulating fast hair growth.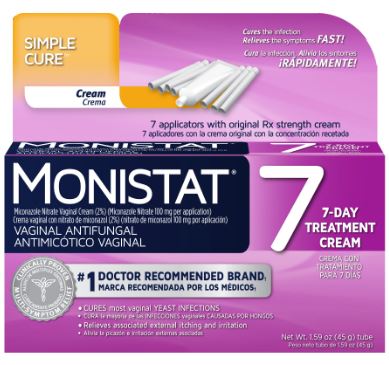 What exactly is Monistat 7? It is Miconazole nitrate, which is an antifungal agent used to treat oral thrush in babies, yeast infections, ring worms, angular cheilitis, jock itch and athletes foot. Various researches have been conducted to check the effectiveness of this product for fast hair growth.
How to use Monistat 7 for hair growth
According to Dr. Mir's theory, Monistat might reduce the hair loss receptors in the scalp. In this connection, this would consequently promote hair growth. He also puts it out that this specific treatment is relatively safe for both genders, unless you have a very sensitive skin.
In addition, the active ingredient in the product, which is Miconazole Nitrate, is not only an effective anti-fungal cream, it is also efficient in clearing up hair follicle clogging dandruff , oily scalp residue, as well as fungus infections.
How do you go ahead to use the cream?
When using Monistat for hair growth, you can use it straight from the tube.
You can also use it with an applicator or other possible ways.
There are different ways on how you can apply the product to your scalp. This always depends on your choice.
One of the possible ways of application is diluting it with water and then applying it to the scalp.
You may also dilute it with hair oil and then application follows.
In the event that you want to, you can apply it to your scalp undiluted.
If you believe and know that you have a sensitive skin, it is best to make a test. Try to apply a small amount of Monistat to a tiny part of your own scalp. Do this for about 3 consecutive nights in order to see whether the product will cause allergies or not.
Monistat hair growth recipe
Miconazole nitrate is the active ingredient in the Monistat, which is a family of family of products that are used to treat vaginal yeast infections.
Normally, an average person experiences half an inch of hair growth a month. If you're interested in increasing your hair growth rate or are combating hair loss, a variety of growth aids are available. One such aid is Miconazole Nitrate (MN).
It is one of the best reviewed product to be used for hair, although it is indicated to be used for intra-vaginal purposes. It has been seen to perform this function so well in both men and women when used in the correct manner. In order to accrue full benefits, follow the following guidelines: 
You will need:
Miconazole Nitrate
Natural oil
Essential oil
Sealable container
Precautions before use
Before you undertake the procedure of using this cream, make sure you educate yourself about Miconazole Nitrate    and its use as a hair growth aid. This compound was initially used once a prescription drug, but currently, it can now be purchased over the counter. Make sure you consult your physician before trying it.
Afterwards, you can go ahead and buy the cream. It can be found in anti-fungal medications such as Neosporin or certain yeast infection brands in one-ounce packages or higher. However, for hair-growth purposes, products with Miconazole Nitrate      percentages averaging one or two percent are preferable. Miconazole Nitrate    can be found at your nearby pharmacy or supermarket.
Make sure you also include additional substances most probably the oils. Buy a natural oil such as extra virgin olive oil, castor oil, grape seed oil or jojoba oil, as well as an essential oil to add fragrance to the mixture. Pick an oil that you prefer such as lavender, rose, orange or lemongrass. Also buy a small bowl with a lid so you can store your mixture.
Directions of use
Mix the ingredients in a bowl.
Squeeze the entire tube of Miconazole Nitrate    into a bowl.
Add one ounce of your natural oil and ten drops of your chosen essential oil.
You can add more drops of the essential oil until you achieve a fragrance saturation that pleases you.
Apply your Miconazole Nitrate mix to your scalp.
Section your hair, lightly apply the Miconazole Nitrate mixture and massage it into your scalp.
Repeat one to two times a week. The Miconazole Nitrate mixture may make your hair oily, which will weigh it down.
Counter this by washing your hair more frequently. Use a moisturizing shampoo or conditioner.
Optionally, you can try the following direction to use the cream to enhance fast hair growth:
Put just a small amount of Monistat in a little bowl and mixing in a few tablespoons of water.
You can then put that mixture into a squeeze bottle with a pointed tip.
Part your hair down the center and begin applying the solution to your scalp and massaging it in, working your way down to the bottom of your hairline (by your neck).
Continue this process over your entire scalp, sectioning off hair as you go.
How to mix Monistat for growing hair thick
What do you need?
1 tube of Monistat 7
At least 1 ounce each of two carrier oils such as coconut oil, olive oil or castor oil
Plastic applicator bottle
Comb
Moisturizer
Directions
Mix one tube of Monistat 7 with the carrier oils. Pour the mix into the applicator bottle.
Use a comb to part your hair into four sections for easy application.
Shake the mix of Monistat 7 and the carrier oils before applying it to your hair. Tilt the bottle and hold it to your scalp.
Gently squeeze bottle to apply to desired areas. Massage it into your scalp and style your hair as desired.
It is important to note to know the following things are important:
Anything you apply on the scalp may be used as a mixer with the Monistat 7.
Olive oil, coconut oil, jojoba oil and castor oil are very good carrier oils when mixed together.
Miconazole nitrate is drying in most cases. A moisturizer or oil may be necessary after the application.
Monistat for black hair growth
For black hair, you first need to section your hair by making a part from the ear to ears across the top of your head. Pony tail the back of your head in order to keep it out of way during your application. You do not have to apply Monistat at the back of your head.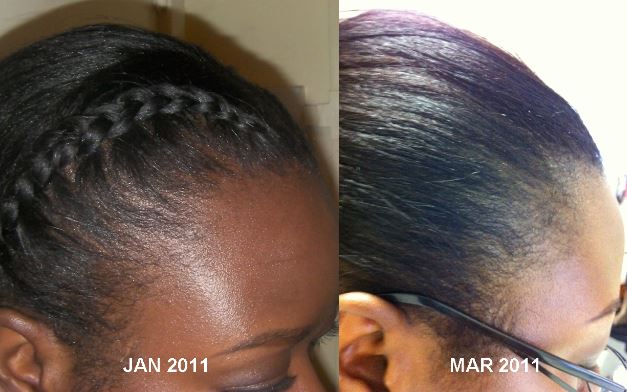 Similarly, you can make several parts more from the previous one. Then, squeeze a tiny amount of monistat on your fore finger and then apply it directly to the scalp and rub it in very well. Ensure you dub at the base of your hairline in front of your ears in case it is so thin.
It is believed that the way this cream works to facilitate hair growth is by its action on hormones in the hair follicles. In real sense, it actually bonds to receptors that cause hair loss in men and women. According to theories by various researchers, it has been concluded that Miconazole nitrate might actually reduce the number of those "hair loss" receptors, which would consequently, increase hair growth.
According to Dr. Mir, there have not been any clinical trials to date on the use of Miconazole nitrate and hair growth. However, there was one small study done on the use of a similar anti-fungal medicine called Ketoconazole, which did in fact result in hair growth in the small number of people who participated in the study.
According to different findings, the entire explanation and basics behind how this cream works to facilitate hair growth is through prevention of action of deterrents of hair growth such as DHT.
DHT is a hormone that has been known to have receptors in the scalp and therefore the reason behind the pathophysiology of androgenic alopecia (hormone mediated hair loss).According to The Journal of Cutaneous and Aesthetic Surgery in an article on 'Skin Therapy', ketoconazole has been found to have anti-androgenic properties.
Apart from that, The Journal of Dermatology and that of Dermatology Science documents reports that support this finding as well. The presence of these receptors in the scalp allows the killing effect DHT on the hair follicles. The different effects can be studied as below:
First of all, Monistat, reduces the number of androgen receptors in the scalp hence preventing further binding of DHT to the receptors due to fast saturation. This in turn leads to increased hair growth.
Apart from that Monistat also helps regulate the balance ration of scalp flora preventing dysbiosis. Dysbiosis has been evaluated for its ability to cause hair loss and slow the growth of hair.
More to that, looking at its antifungal properties, it is effective in seborrheic dermatitis. This type of dermatitis may cause slow hair growth and hair loss. It is therefore useful in treating Malassezia colonization on the scalp.
Another very different study reveals findings from 150 men presenting with telogen effluvium to androgenic alopecia associated with dandruff. The DHT suppressing agent in the shampoo used in this study resulted in increased thickness of the hair shaft.
Finally, it is known to also have some anti-inflammatory activity as also seen with 2% ketoconazole. Inflammation results in a breach of the integrity of the dermal papillae of the scalp from which follicles sprout. The end result of its application is increased hair growth.
The cream also seemingly clears up the pores to get rid of the bacteria that might clog up the hair pore preventing hair growth. Usually, a healthy scalp is essential to hair growth and influences the look and feel of your hair.
Reviews, before and after pictures
A review by Lookitsaram on 3/26/2016 2:12:00 PM
I have never written a review before. I usually just read reviews and go on with my life. But after using Monistat on my hair for a month now, I HAD to write a review. My hair usually grows about 1/2 an inch per month. I have seriously seen about 3 inches of growth after using this.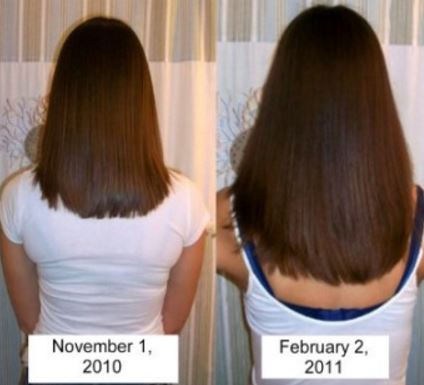 Here's how I use it:
I bought the generic brand from Walgreens (same ingredients and much cheaper) I had a left over NYX "dewy face" something face mister that I used up, so I decided to use the spray bottle for the monistat. I squeeze about a dime size (maybe a bit more) into the spray bottle and then I had warm/hot water to the bottle and shake it up. I do about three parts water per 1 part cream.
I then spray it all over my hair. I found that this is the best way to evenly get it all over my scalp. I have tried to just directly apply the cream to my scalp, but it makes my hair way too greasy. A couple of people claimed that this gave them a headache.
I definitely got a headache the first time I did it, but that was when I applied the cream directly to my scalp and I think I applied too much. This is seriously a life saver. I also started using the "not your mother's, way to grow" shampoo. I think the two together has really helped my hair.
A review by ensayles on 1/8/2016 6:33:00 PM
I'll have to update this review later with actual numbers, but I can tell you that this works! I actually kept track of my hair growth for a few months on a ruler and it made a HUGE difference! My hair generally doesn't grow practically at all, so I bought this stuff (the generic version from Walmart) and put maybe 1/4 of an inch of it in the bottom of a travel spray bottle and filled it up with water–then shook and shook and shook.
I spray it on my scalp starting with my part, then sliding my finger an inch or so below that and separating that hair for 2 or 3 sprays, and work my way down each side of my head like that. I do it every morning whether or not I washed my hair (I only wash every 3rd day…very dry hair!) There's no smell and I get no tingly sensation that I notice. I hear it actually stays active for up to 3 days but since I dilute mine with water I feel better reapplying daily.
A review by karadownthehill on 1/25/2015 2:16:00 PM
This is an amazing product for hair growth! I use the generic brand from Walgreens. I massage a teeny-tiny pea sized amount into my scalp when my hair is damp before I blow-dry my hair, and the day after I'll put another small amount into my scalp.
I make sure I put a small amount in so that it doesn't make my hair greasy. The night before a wash, I mix this up with castor oil and rub it into my scalp. I've been doing this along with taking biotin and mane n tail shampoo. I think that the monistat has really been helping. My scalp feels so tingly whenever I use it! I already see small, new baby hairs coming out of my parting, and my hair feels so much fuller and thick. My hair has grown about 1/2 inch in two weeks, so that is about an inch per month? My hair normally grows about 1/2 inch per month. Hopefully my hair will be long soon enough! Only a few more inches.
From the above reviews, it is quite clear that if you use this cream for your hair, it is no doubt that you are going to enjoy the full benefits of increased hair growth, fast hair growth and more to that, reduced hair loss.
Side effects of using Monistat to grow hair fast
The following are the major side effects that are encountered in the course of using Monistat cream for faster growth of your hair.
Itchy scalp
This is the commonest side effect that can be caused by Monistat cream. When this cream is used by some allergic people, it can cause itchy scalp. You are going to feel uncomfortable with your scalp. When this problem is left untreated, it can cause some other issues, such as dandruff, hair loss, and many other problems.
Serious migraine and headache
Some people are suffering from severe headache and migraine. This situation may occur when they absorb high amount of Miconazole nitrate in their body. This problem should be able to be treated very quickly. Most people are able to recover from this situation in a few hours.
Tinnitus problem
This is another key and common issue that you may have, especially after you apply Monistat cream on your scalp. When this cream touches your ears, you are going to have some ear problems. Tinnitus can be considered as one of the most common side effects on your ears.
When you want to avoid any side effects of this cream, you should meet your favorite doctor today. Don't forget to read all instructions on the Monistat's packaging. This product usually has clear instructions on its packaging.
You also need to wash your hair completely after you use this Monistat cream. This activity is very useful to reduce any harmful side effects of this product. When you want to grow your hair quickly without suffering from any Monistat for hair growth side effects, you should follow all instructions properly.
According to drugs.com, local side effects have been reported frequently with topical miconazole therapy. When administered intra-vaginally or topically, itching, burning and rash have been reported. Contact dermatitis, confirmed by patch testing, has been reported. Nervous system side effects as well have rarely included headache.
More side effects include:
Red inflamed areas on application site
Tender and sensitive spots on scalp
Increased shedding that sometimes subsides, sometimes not
Ringing in ears
General "not feeling right"
There are some signs and symptoms that should prompt you to terminate future drug use when they appear. They include extreme shedding of hair after stopping use of Miconazole Nitrate. You should seek medical attention as soon as possible.
References and Sources