Coconut Oil for African American Hair Growth Reviews & Results
How effective is coconut oil for African American hair growth? How can it be used for black relaxed natural hair? What are the results and What do user reviews say? Find out more in addition to its safety, using pure and best brand reviews
How good is Coconut Oil for African American Hair?
What does coconut oil do for your hair?
Before getting to how good coconut oil is black African American hair, discover what this oil does to your hair.
Coconut oil stimulates hair growth while slowing down hair loss, promotes the scalp health fighting against such problems as insect bites, lice and dandruff. It moisturizes dry hair, adds luster, shine and softness to the hair. It also prevents hair breakage and split ends.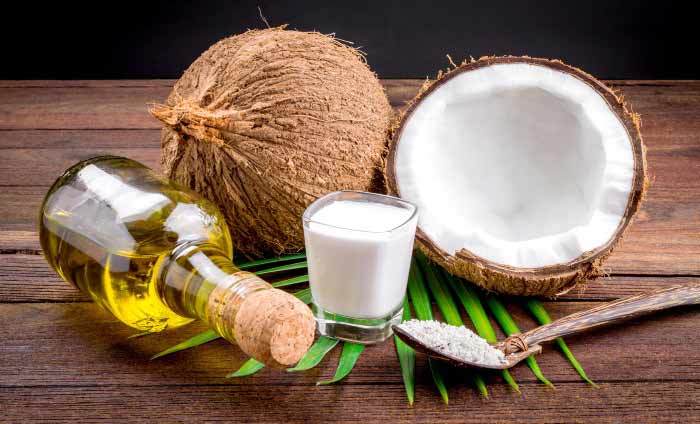 Benefits
Coconut oil is one of the natural oils that are effective for use on your hair. The benefits of coconut oil for your hair include;
Coconut oil penetrates deep into the hair follicles facilitating hair growth. This is because, the circulation of blood on the scalp is enhanced and as such, oxygen and nutrients reach the hair follicles hence enhancing hair growth. Every lady admires lengthy hair. Coconut oil is the secret to achieving increased hair growth.
Coconut oil is a weapon against dandruff or associated scalp problems such as lice. For instance, iron, present in coconut oil is capable of getting rid of dandruff. The nutrients and antibacterial properties of coconut oil are crucial in keeping the scalp protected.
The moisturizing ability of coconut oil is another reason you should consider it for use for your hair. Coconut oil is well known for retention of moisture. Dry hair never looks appealing. Coconut oil is a perfect tool to keep your hair moisturized and hence giving it an appealing appearance. By providing a moist environment, the hair follicles are protected from heat that could damage them.
You should as well use coconut oil if you are suffering from hair loss due to hair breakage. Apart from that, you could also fight split ends by use of coconut oil. This is made possible by the fatty acids in the oil working together with the proteins found in the hair.
Shiny and soft hair is everyone's desire. You can achieve these by use of coconut oil. This is because, coconut oil contains antioxidants such as; vitamin K, iron and vitamin E. These antioxidants ensure your hair is supple. That aside, they give your hair a soft feel. [1]
Coconut oil and African American Hair
What are the characteristics of African American Hair?
African American hair is unique and can always be distinguished from any other type of hair. This is because it has outstanding characteristics which are not found on any other type of hair. The characteristics include;
African American hair tends to be dry
The scalps of African Americans tend to be dry. Inadequate sebum is secreted due to inactivity of the sebaceous glands.  This explains the dryness of the scalp and hence the dryness of the hair.
The little oil that is secreted faces difficulties when traveling down the shaft due to the curliness of the hair. You notice most African Americans have curly hair. All this contributes to dry hair. Dry hair always appears to be quite unpleasant.
African American hair is very fragile and hence prone to easy breakage.
The fragility is due to the very wide diameter of the hair shafts for the people with curly hair. During combing, the hair shafts develop weak points at which the hair breaks. This is one feature that makes African Americans embarrassed by the nature of their hair.
Their hair is very likely to drop off any time they try relaxing it either by continuous combing or using a blow-drier. This calls for extra measures in keeping the hair strong on the side of African Americans.[2]
How does coconut oil suit these characteristics?
There is scientific evidence showing that that coconut oil can play an important role in keeping your hair healthy.  According to one study, it has an ability to protect your hair and this due to the oil's chemical structure. Another research found out that coconut oil is even better than other oils when it comes to hair care.
You can use coconut oil to solve most of the problems or discomforts that arise as a result of having African American hair. To begin with, the issue of dryness of the scalp can be solved by coconut oil since it is able to retain moisture once it is applied on the scalp. Further, where dryness of the scalp is caused by inability of oils to travel down the shaft, coconut oil can be used. This is because coconut oil is always able to penetrate through the hair follicles with much ease.
Fragility and hence breakage of the Africa American hair can also be taken of using coconut oil. Coconut oil as explained above enhances blood circulation on the scalp. This ensures perfect circulation of the blood on the scalp. There is hence adequate nourishment of the scalp allowing for growth of strong hair or rather strengthening of the already grown hair. Coconut oil is used to strengthen the hair such that it doesn't fall off upon combing. You should therefore consider coconut oil for your hair to prevent its falling off.
How to use Coconut oil for Natural African American Hair Growth
To apply coconut oil on black hair are the steps to follow.
For easy or use warm a jar of coconut oil in warm water or you can any other mechanism to warm
Wash hair with warm water
Use fingertips to apply coconut oil on damp scalp then massage in circles for about 3 minutes to boost the circulation.
Comb oil through hair, cover with shower cap, and leave on 1 hour or overnight.
Rinse with warm water, wash with natural, sulfate free shampoo, and towel dry.
Conditioner is not necessary as coconut oil serves the same functions.
Repeat 3 times a week.
Some people prefer to apply with other oils such as castor oil. Following are the steps to follow.
Add sufficient amount of castor oil to coconut oil.
Separate your hair into 2 parts and apply from scalp to tips.
Wrap in warm shower cap or warm towel, and leave on 2 hours or overnight.
Wash with warm water and natural shampoo, and towel dry.
Repeat 3 times a week.
Other (DIY) ways to use coconut oil for black hair
Below is a video showcasing other ways you can use coconut oil for your tresses
Using Coconut Oil for Black Relaxed Hair
Relaxed hair is what almost every woman wants. However, it is important to note that relaxed hair eventually becomes very weak. What follows is hair breakage and finally hair loss which can be very depressing.
You should, therefore, be ready to take the necessary measures should you want to keep relaxed hair.
Coconut oil is at your rescue since it easily penetrates deep into the scalp providing nourishment and hence the growth of very strong hair. This will ensure that no matter how relaxed it is; it does not fall out.
Coconut oil here is best mixed with your conditioner at the time you wish to wash your hair. It is best used as a pre-conditioner such that; at the time the hair is being relaxed, it doesn't weaken and break off.
You could soak your hair in coconut oil shampoo for half an hour before the normal hair washing. This gives the coconut oil adequate time to nourish the scalp.
You could wash your hair with coconut oil as often as possible. It is not a hard task, just massage coconut oil preferably mixed with your hair conditioner or shampoo on your scalp. It should be done evenly to ensure the whole scalp is well covered.
Hot oil treatment is another perfect way of taking care of your black relaxed hair. Here, coconut oil is passed through hot water and after it has acquired the heat, it is applied to the hair.
It is recommended that you cover your head with a cap and a towel on top so that the hot oil is given adequate time to penetrate as well as a good environment for penetration.[3]
How often should you use Coconut Oil on your Hair?
This may vary in individuals. Some use it daily while others use it for 2-3 days in a week. First test to find out what works for you. However, you  should be careful not to make your hair look extremely oily.
As you will learn shortly, overuse comes with some bad effects. You should apply just what is enough to prevent the hair from drying.  You ought to also consider washing your hair after two days if you are using coconut oil.
You should not expect the results to be instant. The effectiveness of coconut oil is seen with continued use.
In fact, you ought to make it the most essential hair oil so that you ensure its constant application. This always gives the hair the necessary moisture in its natural state.[4]
Choosing the best coconut oil for African American hair
What is the criteria for selecting the best coconut oil for black oil?
You must be sure what type of coconut oil to choose given there are a variety. Important considerations you should make include; the degree of purity of the oil since the more pure the oil is, the more effective it is.  Given the varieties, you could always single out the purest and hence the most suitable.
That aside, the availability of thee oil in question is more than important. You should settle for the type of coconut oil that can b accessed from the local cosmetic shops. This is in order to ensure consistency in the type of oil you use for your scalp. Sticking to one type of coconut oil is one sure way of achieving the best results. As the scalp gets used to that oil, it maximizes the nourishment that comes along with it.[5]
Types and top brands
There are numerous coconut oil types.
Virgin coconut oil. This type is known to have less chemicals and heat. It has a strong smell of coconuts and contains all the necessary antioxidants. Its microbial properties make it even more outstanding.
Extra virgin coconut oil. There is no much difference between virgin and extra virgin oil when it comes to coconut oil brands unlike the case of olive oils. Here, they are all have the same properties and the names could be used interchangeably.
Pure coconut oil. This type of coconut oil is unrefined and contains no additives. This makes it relatively expensive compared to the other oils. This could make it difficult for frequent use in cases you do not want to incur much expense. This oil has a variety of uses other than for the hair and that explains why it is quite expensive. You may use to for coking, or even as medicine. There is no much difference between this oil and refined coconut oil.
Refined coconut oil. This is the pocket friendly type of coconut oil which is easily accessible. However, you must note that the health benefits of this refined oil are less compared to those of virgin coconut oil. Therefore, apart from just considering the cost, remember health benefits are what you should be after.
Organic coconut oil. This is oil extracted from coconuts that are grown without use synthetic fertilizers. They are rather grown on organic manure. This gives the oil the maximum benefits for use on your hair since no chemicals are involved.
According to  reviews on major online stores, the best and most popular brands include;
Viva Labs Organic Extra Virgin Oil
Nature's Way Organic Extra Virgin Oil
Carrington Farms Organic Extra Virgin Oil
Island Fresh Superior Organic Extra Virgin Oil
You should therefore consider choosing you most preferable coconut oil from the above brands that are well known and have been used before.[6]
Reviews-Safety, Before and after Results + Pictures
Positive Reviews + before and after photos
What do African Americans who have used coconut say about its effectiveness? According to online reviews, most users agree that when used correctly it works. Below are a gallery of before and after photos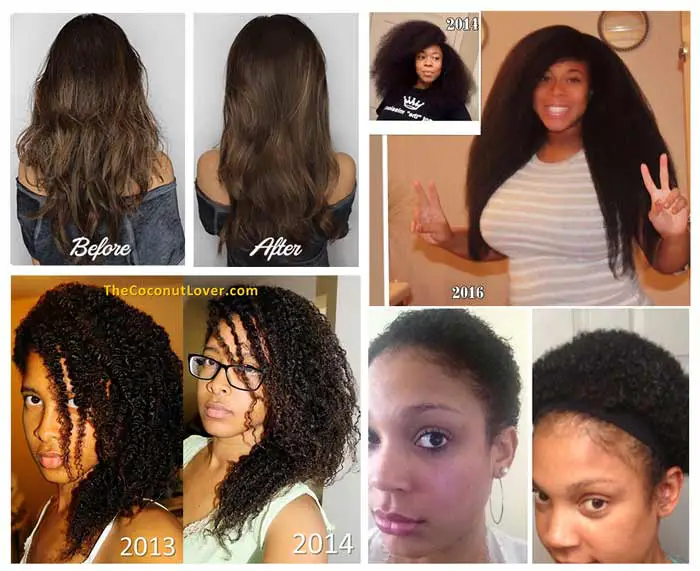 Safety, Dangers & Side Effects
Coconut oil does not work for everyone.. This may be due to your skin and hair type, the quality of the oil itself, how  you use the oil among other reasons.
Some users who use directly on scalp have reported pore clogging and irritation or allergic reactions.
Other side effects of the oil include;
Diarrhea and gastrointestinal disorders especially when too much is ingested
Alaphylaxis due to allergies
consumption of unrefined and hydrogenated coconut oil may cause various metabolic disorders
Weight gain
Can raise bad cholesterol level leading to high blood pressure
Here is review by one vlogger stating why she stopped using the oil.

Tips and Ideas
For best results start with small amounts so as to know how well it sits with your hair and scalp. If the results are positive get more but remember not to overuse.
Add other ingredients like essential oils, honey, yogurt to improve the effectiveness of the oil.
Before buying do your research, look for a brand that will meet your needs. Check labeling for details on ingredients, check reviews and consult with your doctor.
References and Sources
[1] https://www.lucybee.co/blog/news/coconut-oil-for-hair-growth-6-reasons-why-your-hair-100-deserves-it/
[2] www.dralinsyed.com/blog/2014/1/29/is-african-american-hair-really-different
[3] https://www.leaf.tv/articles/how-to-use-coconut-oil-on-relaxed-hair/
[4] https://www.quora.com/How-often-am-I-supposed-to-use-coconut-oil-in-my-hair
[5] thebeautygypsy.com/choosing-coconut-oil/
[6] http://www.evolvingwellness.com/post/how-to-choose-a-coconut-oil-comparing-best-and-worst-brands