Best Hair Color for Dark Skin Tone, Ideas for Black Women
What is the best hair color for dark skin? Sometimes deciding a good hair color for dark skin toned women can be a difficult task. But did you know that you can wear blonde, red, ombre and most of the brown hair colors? Here are the hair color chart, ideas for dark sin, including darker and lighter shades and hues that would look perfect African Americans

You cannot play down the effect of brunette hair colors on any dark skin woman. But is that supposed to be the end when trying out different styles, cuts and highlights? Definitely not. Talking about flattering hair color ideas, I have been getting far too many questions concerning coloring ideas for medium to dark skin.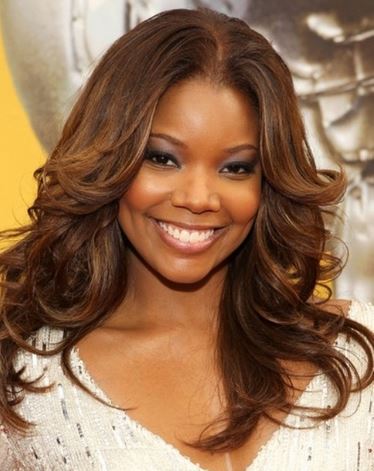 So, today, I have decided to do a whole guide on what colors of hair to wear if you have a dark complexion or are an African American woman or man. So, here's a breakdown of nice hair colors for dark skin tones, that I think, will look great when done correctly.
Good Hair Color Ideas for Dark Skin(African American) Women and Men
As you already know from our basic hair color ideas, the choice of a good hair color for any skin tone will depend on various factors, including the undertones of your skin, your eye color and much more. Purpose is also important as I have come to learn. Some people look for ideas that will make them look crazy. You must have seen some women in neon yellow or pink, or even blue hair weaves and dyes. So, what are the best hair colors for dark skin tones?
EDITOR'S RECOMMENDATIONS:
Apart from considering the undertones in your skin and eye color, medium skinned and black women have a very wide range to choose from. Browns are definitely the largest range that is preferred, then black and some shades of blonde. Blonde is always good for yellow undertones. Red hair is also great and so is burgundy hair color. Let's break down the options and ideas you have.
Red Hair Color for Dark Skin (and Burgundy
Red is perfect. It will give you the absolute contrast since red hair color shades can really add some glow into your skin tone. One thing you should know is that red is a color and not just a level. Therefore, to determine the best red hair color for dark skin tone, you need to understand the right level of red to go with. You should ask how dark, how warm, cool or light you want it and if it will be suitable for a black skin. So, what red hair colors should you go for if you have a dark skin tone? Here are tips for you: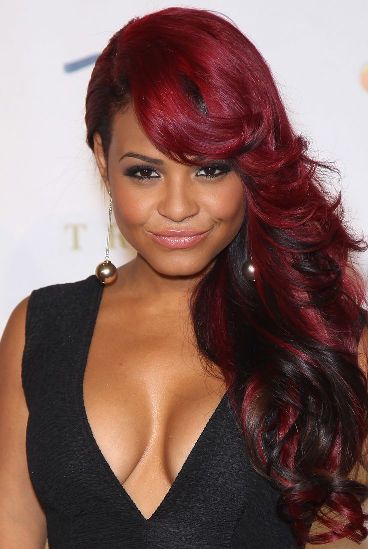 Subtle dark auburn reds and bright cherry red: Almost every other shade in between these will look great on you. These will complement your skin tone and make it outstanding.
Lightening is important: if you are planning to do a full hair coloring so that you end up as a dark skin redhead, you should start with hair lightening in order to get the right hue you are looking for.
Red hair highlights: These are definitely the low maintenance choice if you want to have red hair. Without working too hard to color all your hair, highlights will add some kick to your locks as well and will still look great.
Burgundy shades in dark shades, ombre, wine and plum are all a rich red color that has some blue undertones in it.
When you decide to do highlights using red hair colors, ensure that you use a brown-based shade. This will always add some richness to your hair and give you a more natural look. Remember that this way, you will be working with your natural hair's underlying pigments of brown and will help it last even longer than when you are just applying a red hair dye to dark hair.
REMEMBER: While red hair can be worn on medium skin tones to dark skin tones, black women should be careful with it. Naturally, a dark skin tone as you already know looks gorgeous with chestnut brown to medium auburn shades. Those rich red hues on a dark skin, however, "have too much blue in them and will make you look green." YouBeauty (See sources below.)
Blonde Hair Colors for Dark Skin:Dark, Strawberry and Golden Blonde
Can black women wear blonde hair colors? I have seen some look great in strawberry blonde highlights, but is it possible to wear blonde out-rightly and look good? Celebrities with dark skin tone have worn blonde hair colors and match them well with good lipstick colors. The result, a stunning and eye-catching look. So, which blonde shade is the best for women with medium skin tones?
African Americans are generally categorized as people of medium skin tone. Now, since your skin has more pigment to it, or color, it is fine to add color to your hair and a few shades of blonde, when done well, will be a good idea. Deborah Dunham of You Beauty suggests the following blonde hair colors for medium skin tones: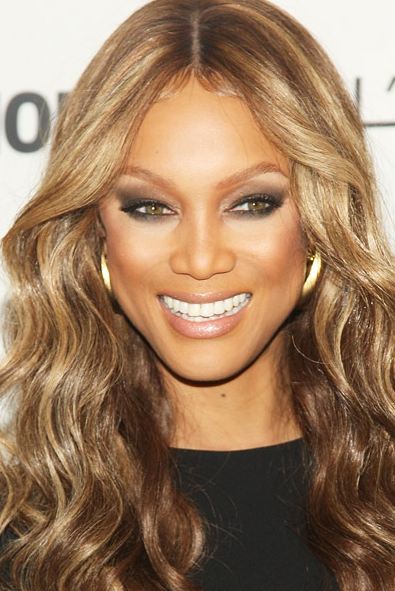 Golden blonde hue
Beige blonde
Light blonde
As you would imagine, trying out orange-based tones might make you look a little washed out. The same goes for ash blonde dyes.
But what about the specifics? What is the right blonde color for dark skin tones? Try not to move beyond two shades from the natural hair color. The best ideas here would be to go for dark blonde dyes, then work them out with golden highlights. You can also try on caramel highlights for a more appealing look.
What to Avoid: Try to avoid those tones and hues of blonde that have too much white, orange or platinum. If you try platinum blonde or those with white and orange undertones, you will look very unnatural.
If you want to go baby blonde like Beyoncé does sometimes (see pictures), you might want to try doing a darker base first. This will be good if the blonde on a dark skin appears to look a little weird. So, to balance the effect, ask your colorist to balance it with darker roots, and then do butter or cream highlights.
Ombre Hair Color for Dark Skin Tones
Ombre is quite big, and it comes with just so many options to choose from. It is ridiculously cheap to maintain and you can try many cheap hair color shades within its range. You could go with highlights as opposed to a solid color on your natural hair. When you go for highlights of ombre on a dark skin tone, according to Latest Hairstyles, it is "great to create a lot of texture with in the ends of your hair and it looks amazing curled!"
Generally, a dark skin tone will naturally look best with deep chocolate brown and caramel ombre highlights. Try it on especially if you do have hair with a good texture – thick or medium and curly. Remember, it can be difficult to keep naturally curly hair looking ombre because it tends to end up two-toned. Therefore, instead of just trying it for the best hair color for dark skin, think of doing highlights as your secret technique.
Light Hair Colors for Dark Skin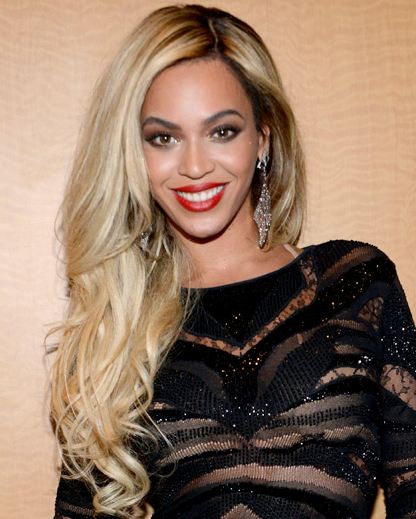 Mostly, I would recommend that you go for light hair colors for your dark skin if you have warm undertones. You can also choose lighter shades if you want to add some great radiance to your skin. If you are thinking of letting your undertones speak for themselves, then a lighter shade will always do the trick.
If you have dark brown eyes, then a lighter shade will work best for you too. This will help your eyes pop and visible. If you try on black hair, your eyes will be seriously downplayed, and will affect your overall outlook.
Lighter highlights on brown skin or on yellow undertones will be great if you do not want to do a completely lightened hue. For example, you can do light blonde highlights on darker roots.
Dark Skin and Brown Eyes
When it comes to trying out hair color ideas for different skin tones, the question of eye colors will always pop up. We have generally seen the best hair color for brown eyes. So, this time, what is the best hair color for dark skin and brown eyes? It is factual that African Americans or black men and women mostly have brown eyes or dark brown eyes. A few have hazel eyes, but it is almost not possible to come across green eye colors and blue eye colors on people who are dark skinned.
So, what hair color looks good with light brown eyes and dark skin? Here, you can go with dark and intense colors to some shades of red and even blonde as we have already seen. If you want to go with a black hair dye, ensure you add some shine in order to avoid the dull and dry look that black hair can sometimes give.
You can also look sultry and sensational when you wear some shades of red. Not only will this enhance your eye color and make them pop or stand out but also complement the undertones in your skin. You could also consider going brunette, as this is just the perfect hair color for dark skin, and almost most other skin tones such as olive, light and tan complexion.
What is the Best Brunette, Brown Hair Color for Dark Skin?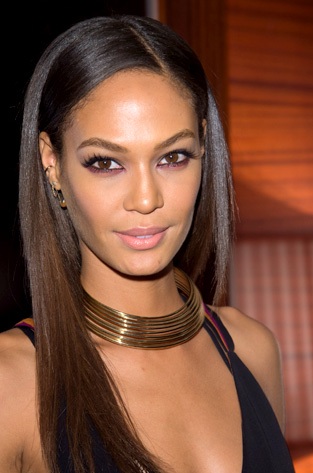 Can you pick the perfect shade of brown hair dye for your complexion? There is a wide range of this hue, and you can start from light to golden reds, but which one will look cute for a dark skin tone? Generally, you can try different shades, starting from honey brown, golden brown, light and dark brown. Caramel browns will also look great on women and men of African American origin.
You simply want to select a rich shade of brunette and that will include toffee, espresso, honey, golden brown and much more to suit your hair. Highlights of light brown will also do great if you want to brighten up your looks, perhaps to match your clothes or outfits.
Go for an ashy bronze brown if you want your hair to glisten. This will be great if you have a bronze skin. Create a deep brown base or an ashy brown one. This will help downplay the gold tones on your skin (if you have golden undertones) and create some balance. Otherwise, you will end up with too much yellow or more of an orange tinge which is definitely not good.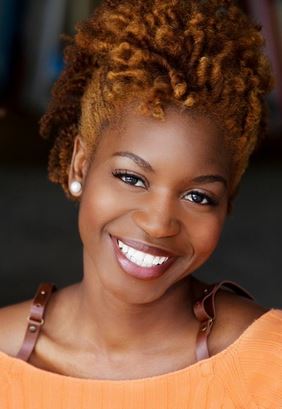 Espresso or a deep coffee brown is a good hair color for dark skin women (see Joan Small's photo), gliding and becoming lighter from the ear can really look great on a black complexion. Ensure you stay within two shades of your base color as this will it look real and easy to maintain.
Highlights for Dark Skin Tones
Always try highlights if you want to be even more flattering. For example, if you dye your hair brown, bronze, light red or auburn, consider trying blonde highlights. If you went with black hair or a deep brown shade, choose medium brown highlights. One tip to remember is that your highlights should concentrate around the face and the area on the top of your head in order to produce more realistic and the most flattering looks.
African American Hair Color  Chart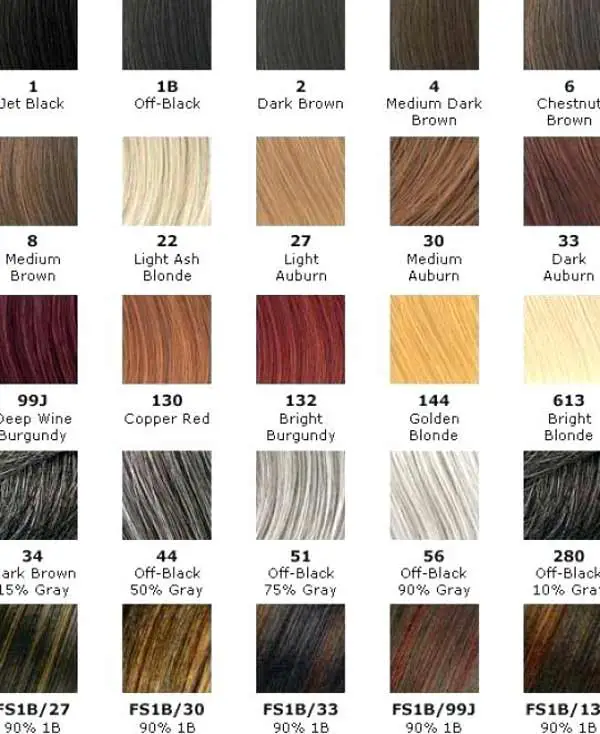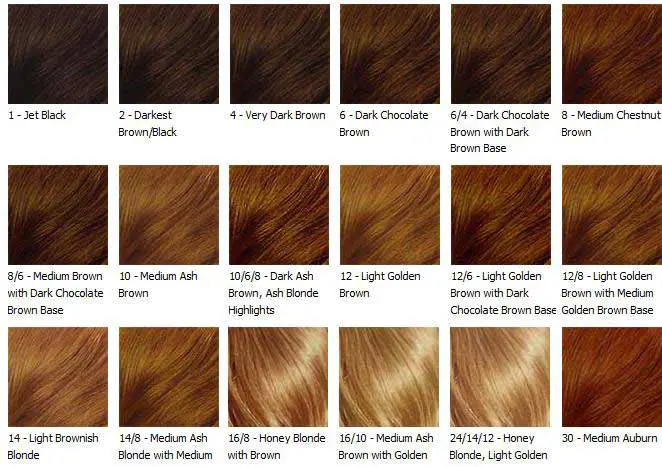 Below is chart showing ideas for various skin tones in addition to dark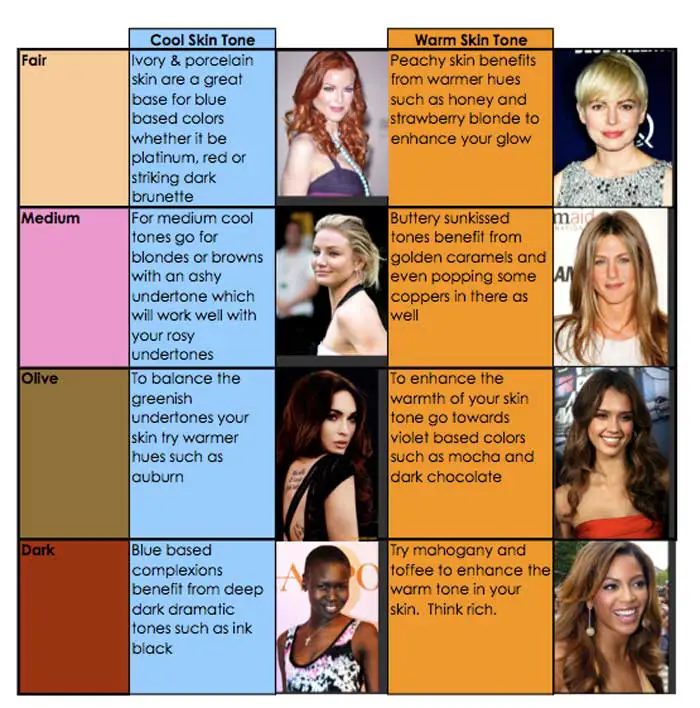 Hair Color Ideas for Dark skin Gallery

Sources: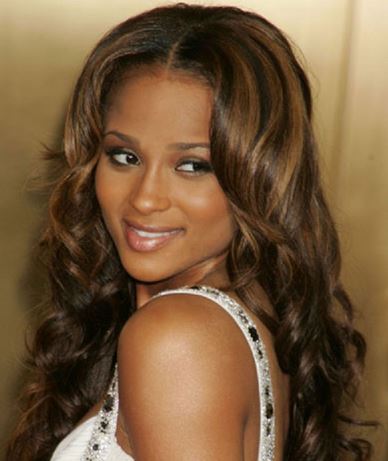 YouBeauty: