Best Medium Ash Brown Hair Color Dye Pictures, Highlights
Medium ash brown hair color sits right in the middle of lighter and darker shades of ashy brown hair tones. Who should color their hair medium ash brown? How does it look? Here's your guide on knowing how to pull off med ash brown hair, with highlights fitting your eye colors and skin tones. Also find out the best medium ash brown hair dye with reviews and pictures.
Have you ever wished to go brunette with your hair? Brunette hair colors are appealing in more than one way. It is hard to imagine anyone who has not thought of wearing brown hair colors at one point in their lives. Even blondes think of it as an alternative. In this series of ash brown hair color guides, you will find out how this shade of brown will look on you and if it is suitable for your skin tone and eye color.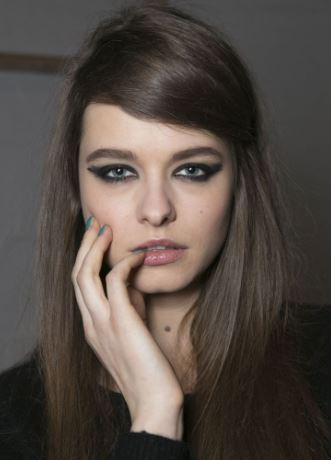 What is medium ash brown hair color, really? When your hair colorist talks about ash hair colors such as ashy browns ash blonde and so on they are referring to the ashy tones in the specific hair shade being discussed. Mostly, ash tones are used to tone down orange and red tints in hair. Medium ash brown hair dye is the tone between light ash brown and the other extreme tone of it, which is dark ash brown.
Sometimes, it can be hard to tell the difference between medium and dark ashy hues because of a number of things. If your hair is dark, for example, and is dyed a lighter shade of ash brown you are likely to end up with a darker shade, though not too dark, so you will fall to medium brown with ash tones in it. So, if you are doing your at-home hair color yourself, you should device ways of avoiding landing on the wrong shade. So, what skin tones is medium brown with ashy tones suitable for?
Medium Ash Brown Hair Color Ideas
Will medium ash brown hair color look good on you? The best hair color for your skin tone is dependent on many aspects of you. Complexion or undertones and eye colors are some of the basic characteristics your hair colorist and hairstylist will look at when determining a hair dye that will look good on you and also coming up with other ideas in your hair profile.
Medium ash brown hair colors are ideal for people with medium to cool skin tones. If you have pink undertones, this brunette hair shade will look good on you because it has blue and green tints in it that build the ashy tones.
Styles 101 notes that most brunettes with haze eye color, or gray or blue eyes have medium ash brown hair as their natural color. If you are doing contacts in this eye color range and would like to make them pop, enhanced or highlighted with hair coloring, then this is a good hair dye to try.
If your natural hair color is ashy medium brown, then you can wear shades such as cool blondes, wheat and honey colors if you want a change. These colors work well for people with cool skin tones. Ensure that you avoid anything that has bronze, yellow or gold in it as these are warm tones.
Basing on these ideas, you will quickly understand that the ash shade of brown is most suitable for summer profiles. These are mostly light, soft and cool. Some people in this class have green eyes, grey eyes or blue eyes as we have already noted. Skin complexions here include neutral beige to soft beige with pale to pink undertones. You can dye your hair with medium to deep ash brown hair dyes.
Use a Medium Ash Brown Hair Color Chart
Hair colors are confusing especially if you are just moving from one tone to another. Even the most experienced hair colorists can make a mistake if they are not careful and dye hair with a hair dye one level above or below what they intended.
If it is hard to identify this hair dye, you can use a medium ash brown hair color chart. On most charts, the color will be labelled, and most of the times in the online stores, clicking on the chart or color scale will take you to the specific hair dye you want to buy. Most top brands of hair dye such as Garnier, Clairol, Revlon Colorsilk and L'Oreal have hair color charts for brown hair.
Best Medium Ash Brown Hair Dye, Color Reviews
What is the best medium brown ash hair color? As usual with hair dye brands and products, it is hard to find a good product out there. A careless choice can end you up with damaged or even thin hair. Reviews of products are always a good place to start when choosing a good medium ash brown hair dye.
Knowing what it takes to go through reviews and check photos of medium ash brown hair can be tough. To save you some trouble, I did some digging and found a few brands that come highly recommended as good quality. Garnier, Revlon and L'Oreal are some of the leading hair color brands out there today. Clairol too is a trusted brand. Here are the best medium ash brown hair color products with brief reviews about them.
Revlon Colorsilk 40 Med. Ash Brown Dye Review
From Revlon Colorsilk, this hair dye has ash tones it and is recommended for men and women with cool skin tone. If you have a warm skin tone, you may use this box hair dye only to cancel out red and orange tones in your hair for a neutral result.
Revlon hair dyes are highly rated, this one commands a rating of 5 stars out of 5 on Amazon and drugstore as well. Other pros it has include being ammonia free, radiant and rich in color. It should however not be used on hair that is anything like light blonde. If you use it on dark hair, you are likely to end up with a darker shade.
L;Oreal Medium Ash 5A Brown Reviews
Another one of the best hair dyes in this tone comes from L'Oreal Preference line of hair products. According to the manufacturer, this hair dye is suitable for men and women with cool skin tones, and especially natural brunettes or anyone who is a dark blonde.
It is also a hair color suitable for olive skin tones as well as neutral skin tones. When dyeing your hair with this L'Oreal dye, ensure you your hair was not previously dyed a darker shade than medium brown or if it is lighter than natural medium blonde. If you do, it will end up with a greenish tone in it.
Garnier Nutrisse 51 Ash Medium (Cool Tea) Brown Review
Garnier Nutrisse 51 is a cool toned medium ash brownish hair dye. It is highly rated from reviews as the best hair dye to neutralize red tones or orange tones in brunette hair. If your hair is previously dyed lighter than dark blonde, do not use this hair dye. Also don't apply on hair darker than medium brown shade.
Medium Ash Brown Hair Color with Highlights
Highlights make a hair trend that lasts from season to season. Something else that can also make your hair blend into the trend is ombre hair. Whether you are dyeing from black hair to med ash brown, some highlights can add a little flavor to your style. So what highlights should you put on med brown hair with ashy tones in it?
You can have pale blonde highlights as they are cool toned and will blend well into an ashy tone of med brown.
Some colorists advise soft red highlights as well as caramel highlights. Personally, caramel highlights are my favorite with this tone of brown hair.
Medium Ash Brown Hair Color Pictures
Ideas of hair coloring are never enough sometimes. Some people still send me emails asking: How does medium ash brown look like? In fact, most need a comparison of medium ash brown vs. medium brown. Truly, the difference is very narrow and hard to determine if you have no experience with these shades of brown. If you are unsure what it looks like and you want to know how you will look like with this dye on your hair, these medium ash brown hair color pictures should help you figure that out.
Sources and References:
Stylecaster: Your Complete Hair Color Chart for Every Shade
Styles 101: Choosing your Hair color … what shade works best on you?
Stella De Zotti: Get the right hair colour for your skin tone