Best Purple Hair Dye and Best Violet Hair Color Brands
What is the best purple hair dye? There are many brands of hair colors out there, some high-end while others for home coloring. But what brand of permanent purple hair color is the best for dyeing dark hair (black hair)? Which one is long lasting and which one will give you pastel purple or a shade of violet that you want? Here are the top-rated purple hair dye product to check out.
Lilac hair or violet looks are quite a pop trend. Recently, Khloe Kardashian was seen wearing purple hair, shared on Instagram by her brother. But dyeing hair purple is not just for celebrities. Purple hair trends a lot, especially during spring. Dyeing your hair a bright purple color can make you look flattering and set for almost any other season. If you want to go that direction, what is the best brand of purple hair dye to count on?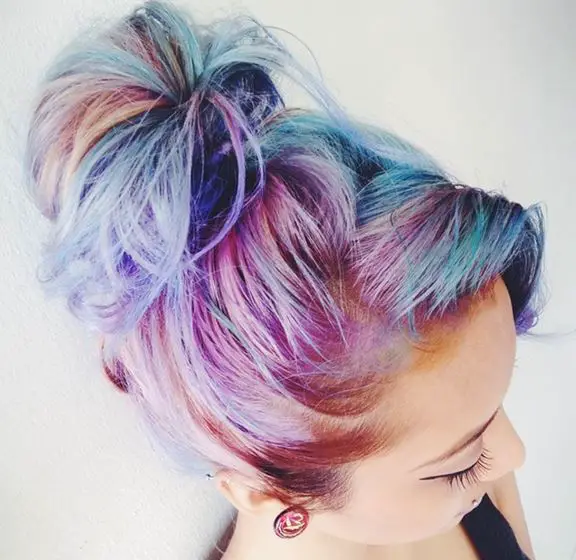 Best purple hair dye brands
Hair color brands – from high end to cheap options – are quite many. They can make it difficult to decide which one to buy. But when it comes to purple hair products, a few brands come up on top of the list. Are you looking for at-home hair color products or professional salon hair dyes? Check from the following brands.
Schwarzkopf: They have a wide array of professional colors, including bright hair colors. One of the best purple hair dye from this brand is the LIVE Color XXL Ultra Brights 94 Purple.
Manic Panic is also a top rated brand when it comes to bright hair colors. It's classic formula of semi-permanent purple hair cream, known as the Purple Haze is one of the quality products you can buy to dye your hair dark or bright purple.
Fudge Paintbox is a semi-permanent hair color brand that is known to electrify hair that appears to be otherwise dull. The extreme colors include dark purple and light violet shades of purple.
Splat Hair Dye Brand, from reviews and testimonials, is by far one of the best home purple hair dyes. You can try the Colorsplat Kit in Purple Desire to transform your hair a lively purple without going to the salon.
Sparks as a brand has a long lasting purple hair color. It is also known to have a rich shade of purple and will not fade easily. A product to try is the Purple Passion
Special Effects (SE): Pimpin' Purple #14 and Wildflower are some of the best purple hair dye products from the Special effects brand. These have also made their name in the category of bright and colorful hair dye products.
L'Oréal Paris: We all know L'Oréal as a brand that has both professional salon hair colors and dyes, as well as at-home box hair dye kits. Below, we have reviewed L'Oréal Feria Power Violet as one of the best violet hair dyes.
From all these top-rated brands, you can easily change your hair color to a bright and more flattering hue or shade. But even within the range of all these brands, there are slight variations, so be keen when selecting a good coloring product. Intensity, whether you can use without bleach and sun, are all things to consider.
Top 10 Best Purple Hair Dyes
Now that you want to go purple, which dye should you trust to give you the perfect shade of purple or violet? It is obvious that there are many products to choose from, but here at Best Hair Colors, we have sampled many and come up with the following list.
1. Splat Null, Lusty Lavender Kit – Long Lasting Purple Hair Dye
Splat can give a shocking intensity of color if used well. In the kit, you will find peroxide, bleach and the purple hair color itself. I have put it first because of its long lasting properties. Other than remaining vibrant for long on your hair, here are other things to know about this Lusty Lavender at-home kit.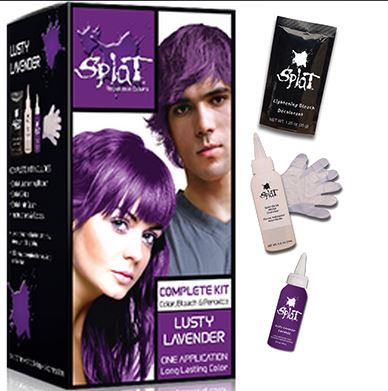 When used on unbleached hair, it will give you a subtle hint of color. So, if you do not want the intense violet or deep purple, apply it on your natural hair without bleach.
If you are looking for the intense purple color, use the bleach in the kit to lighten your hair first before dyeing it.
The dye is a stain so it will not damage your hair. Splat Lusty Lavender is a good purple hair dye because it is a semi-permanent stain and can wash out.
This color is going to fade quickly if you wash your hair daily, so the long lasting bit might actually depend on how you maintain your hair.
It costs about $7.99 on Amazon and Ulta (at the time of writing), which makes a good drugstore hair color for home coloring.
2. Schwarzkopf LIVE Color XXL HD Permanent Violet Hair Dye
Are you looking for the best permanent purple hair dye? Schwarzkopf are known for their professional touch when it comes to hair dyes and colors. For purple, they have a range of permanent hair colors. These include the Live Color XXL HD 86, 87, 94 and 46. The #46 one is more of a shade of red hair dye though as I always see it.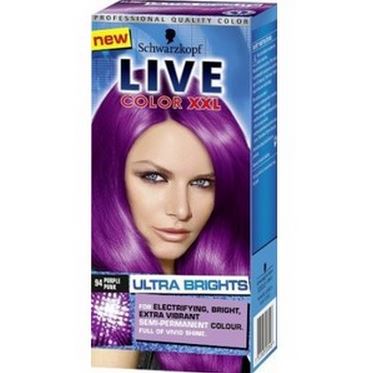 So, for our favorite in this range of semi-permanent and permanent colors, we found our top rated pick to be the Schwarzkopf LIVE Color XXL Ultra Brights 94 Purple Punk Semi-Permanent Purple Hair Dye. It costs about $7, which is a huge bargain for bright purple that is rated 4 out of 5 stars on average.
3. Manic Panic Purple Haze Ultra Violet Cream
You can buy this one at Sally's for $13.49. This ultra violet hair dye is good as a semi-permanent hair color. It lasts longer by a 30 percent. According to Sally Beauty's description, this hair dye will last longer than other semi-permanent hair coloring products. Other things to note about Manic Panic: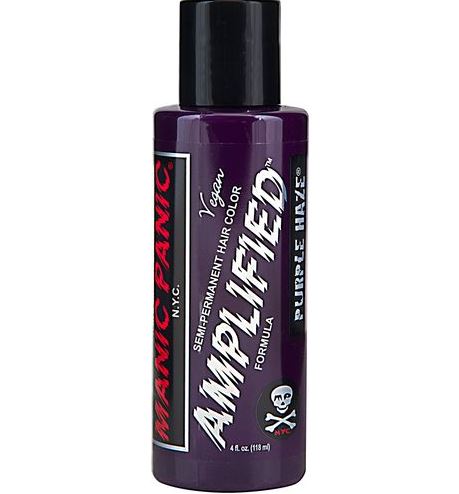 It is a vegan formula, hence has no animal and harsh ingredients that may damage your hair.
It not only colors your hair but also conditions it.
If you are looking for a vivid yet gorgeous, flattering shade of purple, then this is your best pick for your locks.
It also works best if you are trying to add highlights on hair colors such as bright blue or even auburn brown.
4. Sparks Long-Lasting Bright Hair Color, Purple Passion
Vivid. Bold. Intense. Brilliant color. That is what Purple Passion is. With or without bleaching your hair, you can use this hair dye on-the-go since it is a ready-to use product. Like Manic Panic, it also conditions your hair, giving you vibrant and healthy hair.
According to a review I watched on YouTube, this product is the best purple hair color for blonde hair. You can use it without bleaching your hair and end up with softly colored purple locks.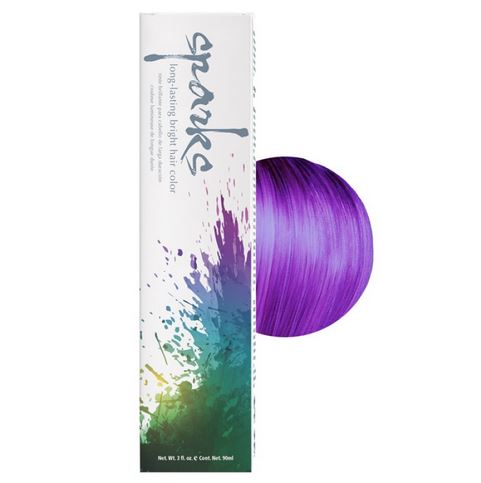 5. Special Effects Pimpin' Purple
This one is a semi-permanent formulation that is highly rated for its vivid results. I found the Amazon reviews rating it at an average of 4.6 out of 5 stars, which is totally amazing. The things worth noting about it include:
It is long lasting, and will last between 3 and 6 weeks.
If you lighten your hair first, it is likely to last longer, according to the manufacturer.
It is one of the most intense semi-permanent colors.
It also conditions your hair.
6. Vidal Sassoon Purple Hair Dye Pro Series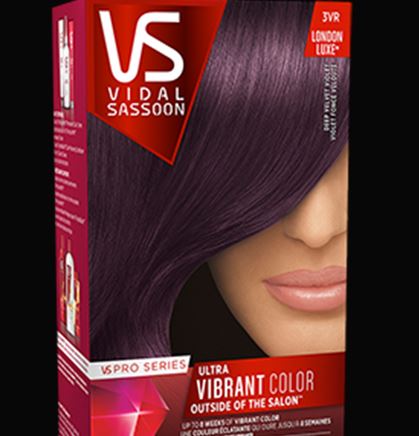 London Luxe Deep Velvet Violet and 5VR London Lilac are a dark shade of violet, rich and vibrant that will give you a bold look. It comes with its own water-resistant conditioning power, so you can be sure it will prevent fading out or your hair going green after dyeing. The Vidal Sassoon is highly rated for keeping hair with a vibrant violet color for up to 8 weeks.
7. Fudge Paintbox Raspberry Berret
For adding some attitude to your hair, the Fudge Paintbox is your go-to hair color product. It is good for both men and women. The raspberry beret color is highly rated on Amazon, Walgreens and CVS for its quality.
Something unique about this hair dye is its ability to mix it infinitely. It also contains fatty acids that will help with combing your hair smoothly. It is also ammonia free and will last up to a surprising 30 washes without fading or losing its hue.
8. Ion Color Brilliance Semi-Permanent Brights Hair Color Purple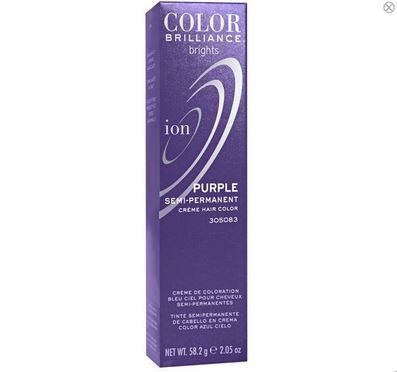 If you covet a rich color of brilliance that you see on celebrities, perhaps Ion Color is meant for you. According to Gregory Patterson, the famous hair stylist on the show called Project Runway, Season 14, this brand and product will give you a luxuriously rich color. It also gives a 100% gray hair coverage.
9. Best Dark Purple Hair Dye: Garnier Olia Oil Powered Permanent Haircolor Darkest Violet
Now if you are looking for the best purple hair dye for black hair without bleach, or a good black purple hair color, this Garnier product is one of the best for you. It is made using the "oil powered technology" which helps it propel the violet colorant into your hair.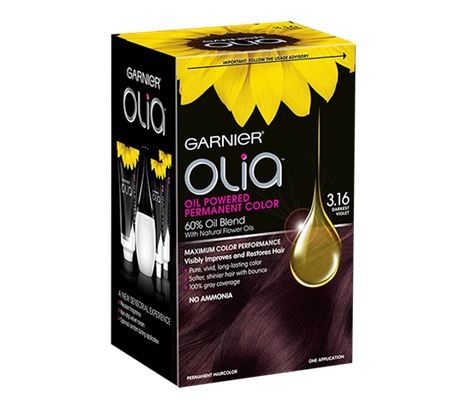 This hair color does not use ammonia (it is ammonia-free)
Gives a softer and shinier finish to your hair.
Costs just $9.99 from the Garnier USA website.
Gives a darker purple or violet shade, suitable for dark hair without having to bleach. Brunettes will find it great.
It also covers gray very well, which is not so common of most at home box hair colors.
10. Clairol FLARE Permanent Cream Hair Color Vanilla
Another one of 100 percent gray hair coverage, Clairol's Flair Vanilla cream is good for applying on your natural hair color. It is sold exclusively by Sally Beauty and is one of the cheap hair colors. It costs just $5.99. One tip on how to go purple, ensure you use a purple developer from Clairol for the best results.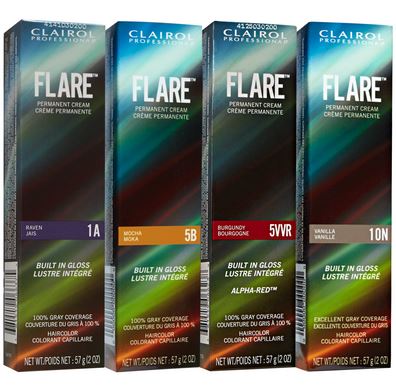 Best purple hair dye for dark hair
Dark hair can be a challenge to color without bleach. You might dye severally in order to get to the desired shade of purple that you are looking for. If not, most people end up with a messy shade, or a dirty look on their locks.
But what is the best purple hair dye for dark hair? L'Oréal Feria Power Violet is one of the best hair colors out there to transform your hair from natural black to a high intensity and shimmering violet color. Brunettes or girls with brown hair can use this dye to get a shade of purple they need. You may or may not bleach it if you like, depending with the results you will want to get. For a more intense violet, dye your brown hair or dark hair first.
Best pastel purple hair dye
Before you even think of a hair color product that will give you pastel purple hues, a few tricks can help you. If you are using any of the best pastel purple hair dyes on the market, remember to use a purple shampoo. This will not only help you get the right purple but also maintain the color for long. You can use shampoos such as Joico and Shimmer Lights.
Most of these hair colors can be bought at the drugstore, and other online stores such as CVS, Walgreens, Sally Beauty and even eBay. Good thing is that they are cheap and come with instructions that make it easy to use at home. In case you are not sure about the right shade to use so that you don't end up with dark purple or light purple, farther than the hue you wanted, consider going to the salon or consulting a hair colorist to help you with your choice.
YouTube Video on Dyeing Hair Dark Purple
Another video using manic panic purple haze.
Sources and References