How to use Jamaican Black Oil Castor Oil for Hair Growth-Reviews & Results
How effective is Jamaican Black Castor Oil for hair? How can this oil be used for hair growth/loss and scalp health? How does it differ from regular castor oil? Read on to find out more in addition to reviews, before and after results pictures, challenge, where to buy and ideas for best results
What is Jamaican Black Castor oil + Ingredients
Jamaican black castor oil is a highly effective restorative oil great for both hair and scalp health. It is made from seeds of the castor plant (Ricinus communis) just like other kinds of castor oil. It consists of 18 fatty acids.
The oil is well known for  being a great source of ricinoleic acid and because of its high ricinoleic acid content, castor oil is often has a higher price than other seed oils. The only difference is in the processing method used to extract the oils.
Jamaican black castor oil is made in a traditional, hand-processed way where the seeds are roasted, beaten with a mortar, boiled and then pressed. It is from the roasting which produces the black color and a richer, earthier aroma. If the castor oil is more irritating and should be avoided.
Ingredients of JBCO
Jamaican black castor oil ingredients include;
Pure castor oil
Ash– a byproduct of roasting castor beans. As is interestingly the ingredient that makes it more effective than regular castor oil.
Jamaican Black Castor Oil Growth/Loss-How does it work?
Jamaican black castor oil originally comes from castor beans of West Africa. Pure Jamaican black castor oil is rich in photochemicals and fatty acids, making the oil useful in various skin and hair treatments.
The presence of ricinoleic acid in the oil gives it antifungal properties, making the oil an effective treatment against bacteria, fungi and inflammation that result from such diseases as athlete's foot and eczema.
Properties of JBCO

Golden brown color.
Medium-Thick viscosity.
Mild characteristic Aroma.
Rich in Omega essential fatty acids.
How it works +Benefits of Jamaican Black Castor Oil for Hair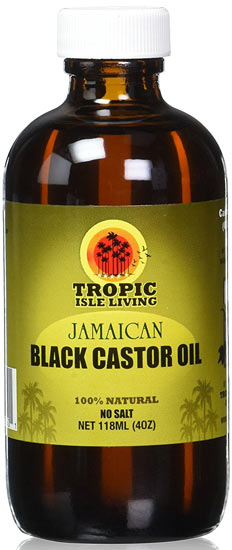 Stimulates hair growth: when it comes to hair growth castor oil works in two ways. When you massage your hair with castor oil it stimulates the hair follicles and encourages new and faster hair growth. It also gets easily soaked into the root of hair; it interacts with the hair follicles and encourages them to for additional hair.
The antioxidants in castor oil increases blood circulation to the scalp which increases oxygen flow and allows your scalp to get the nourishment it needs to generate new and healthy cells that will in turn aid in generating new and healthy hair.
Solves dandruff: when you apply castor oil onto your scalp it cleanses the scalp thoroughly without leaving it dry and flaky. It also removes the dirt and bacteria that clogs the scalp, which is the primary cause of dandruff and hair fall.
Dandruff is caused by too much sebum production in your scalp and it can be controlled by the anti-bacterial property of castor oil which can also be effective in curing dandruff caused by too much sebum production in your scalp.
Strengthens your hair: Each and every hair strand becomes stronger with the regular application of castor oil. When your hair is stronger it will stay in the follicle for a longer period of time.
Therefore there will be less hair breakage and hair loss. Broken hair strands can make your hair appear thinner but with the use of castor you will not be facing any such problem.
Acts as a lubricant: Castor oil can as well work as a lubricant for the hair. Natural lubricants that your body produces have a difficult time reaching your hair therefore castor oil helps to maintain a healthy amount of lubrication and it also assists in keeping your hair from getting tangled.
Conditions scalp: Regular use of castor oil helps as it conditions the scalp and existing hair. This will help in making your hair healthier and even the texture of your hair gets better. Healthy hair strands appear thicker than unhealthy hair strands and therefore the use of castor oil will make you proud of your thicker hair.
Solves dryness: The omega-9 fatty acid available in castor oil moisturizes and nourishes the hair and prevents the scalp from drying. Regular application of castor oil to your scalp and roots can also make dry hair turn into a soft and shiny braid within months. Dry scalp is one of the many causes of hair loss and other related problems.
Brings shine to hair: Castor oil is a humectants. Humectants draw moisture into the hair. Applying castor oil on hair will make it soft, shiny and strong. It also helps in hiding the appearance of curls, damaged and split end hair. With regular use of castor oil your hair will not develop split ends.
Balance scalp PH: Ricinoleic acid contained in the castor oil also has the ability to help balance the scalp PH and replenish scalp's natural oils. It can also remove some of the damage caused by harsh chemical hair products. Besides, the antioxidants of castor oil increase keratin in hair to make hair smoother, stronger and less curls.
Stops male receding hairline: A receding hairline is a popular problem in many men. Although there are many available commercial products for receding hair, castor oil is considered as the natural treatment, which is often used to stop the issue. With the benefits of the oil it can perfectly heal baldness, but it is a great treatment to stop excessive hair loss and hair thinning.
Prevents hair loss: Due to the antibacterial and anti-fungicidal properties ricinoleic acid available in castor it will also help prevent hair loss. By applying castor oil onto your scalp it protects the scalp and hair from infections that can cause hair loss.
Stops graying your hair: When you treat your hair regularly with castor oil your gray hair will vanish soon. It has been found that dark hair growth appears in place of gray hair after massaging the scalp regularly with the oil.
How to use Jamaican Black Castor Oil for Hair
JBCO can be applied to all hair types because it contains natural ingredients making it safe and effective for all hair types. It helps to deal with many hair issues like split ends, dryness, breakage, brittle hair, or color treatment damage. You can use it as a daily hair care maintenance in order to promote more hair growth.
How to use on hair and scalp
For your hair, apply castor oil directly to the scalp and hair. Massage it; make sure that the oil has been applied uniformly.
You can mix it with certain essential oils to get better results. Jojoba oil and unrefined coconut oil can be added to castor oil before applying them to your hair.
After applying wash it off with water or shampoo. You will notice how your hair will become softer, smoother and shinier.
How to use the Jamaican black castor oil to prevent Hair loss.
The best method to use the castor oil is to rub a portion of oil on your palm and apply it over the scalp and roots, making sure that the bald spots are not spared.
After applying the oil, keep the area and influence of castor oil covered for the whole night and wash your hair the next morning.
The castor oil is extremely thick; hence you should consider rubbing only a small portion of the oil at time. If you infuse too much oil in the hair, it can be difficult to wash your hair the next day.
Note: The process has to be repeated once every week and you might notice a difference in 6-7 weeks. You can also add a little conditioner with castor oil in order to work out the moisture ratio. Castor oil can also be effective in case your hair is not growing normally. The only important factor to notice is that you wash your hair the very next day otherwise the castor oil will be ineffective.
In case you have dandruff and dry hair:
Mix 1 tablespoon of olive oil with 1 tablespoon castor oil and half a lemon juice.
But if you have dandruff and oily hair:
Mix 1 tablespoon of castor oil, 1 tablespoon of honey and 1 tablespoon of aloe vera gel together and then also add juice from half a lemon.
Apply this mask onto the roots of your hair for 30 minutes before shampooing to get rid of dandruff as well as nourish your hair. Or you can apply directly to dry areas of your scalp before shampooing.
Jamaican Black Castor Oil vs Regular Castor Oil
The key differences between Jamaican black castor oil and regular castor include the following:
Processing: Both yellow castor oil and Jamaican black castor oil are made from the castor beans, but all their differences are due to the processing method utilized. Yellow castor oil is made by pressing fresh castor beans and there is no heat involved. Therefore the term cold-pressed is used. Due to the absence of heat there is lower risk of degrading the oil.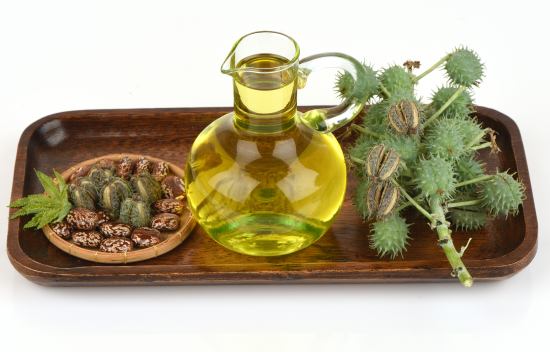 It is important to note that manufacturers use chemicals in their process for example hexane. Jamaican black castor oil is developed by first roasting the bean. Therefore resulting in a dark color and burnt smell. From the ash of the roasted castor beans. This method is used in Jamaica.
Color: The most obvious difference between the two oils is the color. Traditional castor oil is usually yellow in color, the lighter it is, the more the pure it is. On the other hand, Jamaican black castor oil is darker in color due to the burnt ashes of the castor beans.
PH level: the way a castor oil is processed can result in differences in the PH and consistency of the resulting product. The ash found in Jamaican black castor oil results in a higher PH which makes it an alkaline product that is believed to have more clarifying properties.Infact; alkaline PH levels can help also in opening cuticles.
Benefits: Both types of castor oil are known for being heavier oils which are perfect for the cold and winter seasons. Packed with fatty acids, they have many benefits for the scalp and hair. For example ricinoleic acid one of the 18 fatty acids found in castor oil is known for its anti-inflammatory properties.
That is the reason why castor oil is so often used for scalp conditions and hair growth. But yellow castor oil and Jamaican black castor oil benefit the hair, but due to the roasting of castor bean, there are some more added benefits for using Jamaican black castor oil.
Jamaican Black Castor Oil Hair Reviews
A substantial number of users have reviewed JBCO and the feedback really wont make you run away. Most of the
feedback is positive. On Amazon alone, over 4600 users have reviewed this oil. The specific brand is Tropic Isle
Living Jamaican Black Castor Oil. It has 4.4 out of 5 star rating. 67% have given the product 5 stars while only 17 % have star rating below 3. Below is a screenshot as per this writing.

Most users agree that results are amazing not just for hair but also scalp, skin and eyebrows/lashes among other uses
For those who have given the oil low scores, they claim it is itchy, smelly and allergic. Some users have mentioned availability of fake JBCO in stores.  According to  those who have used the product, here the benefits the product comes with.
Can serve as a hair and scalp conditioner; a skin moisturizer and healer
A massage oil for aches, pains, fibroids and lumps in the breasts.
A powerful laxative and can be used as first aid for cuts, wounds and burns.
Black castor oil seals moisture in the hair with a protective coat.
It's also the only oil in nature with ricinoleic acid which helps to destroy viruses, bacteria, yeast and moulds that cause many skin problems.
The black castor oil also helps to remove uric acid from the body, which is the source of many inflammations.
Below is another recent review from a popular vlogger

Bottom line, it's a matter of personal preference. Some people say that the Jamaican black castor oil works while some disagree, so everyone's experience is different.
Jamaican Black castor Oil Hair Growth Challenge Before and after Results + Pictures
More before and afte pictures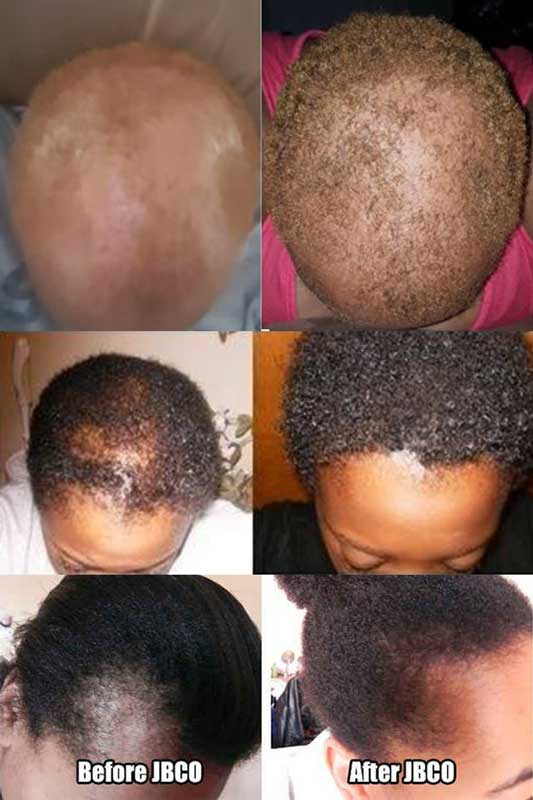 Where to buy Best Jamaica Black Castor Oil + Tips and Ideas
Buying
You can buy JBCO from your local beauty stores but this depends on the place you reside. You can as well get the oil from online stores it or directly from castor oil manufacturers' websites. Here are some of the popular stores where you can get it
Amazon
Walmart
Wallgreens
Ebay
Sally's Beauty Store
House of Nutrition
From Manufacturers
Tropic Isle Living
Sunny Isle
Buyers can choose among different brands such as Tropic Isle Living and Sunny Isle. The product usually comes in original 8oz sized bottles and brands include an applicator for easy use on hair and skin.
More tips and ideas for the best  results
Ensure you buy the product from trusted dealer to avoid fake products
To avoid allergic reactions, make sure you try a tiny amount on your inner arm. This will help to determine if you skin will react to the oil.
For better results combine the oil hair serums and essential oils
If you do not like the ashy smell combine it other oils such as argan, almond oil etc.
Look at the instructions on the packaging…it is important