How to Lighten Dark & Brown Hair without Bleach-No Damage, Naturally at Home
Lightening hair becomes necessary when you want to dye afresh, go blonde or want to go a few shades lighter. Many commercial hair bleaching products are harsh and can leave your hair damaged – brittle, weak, with breakage and having lost its natural shine.
To avoid damages from bleach, you can use natural lighteners, including honey, baking soda, lemon, cinnamon, and vitamin c to lighten dyed black hair or dark brown hair a few shades lighter
Usually, "Virgin hair lightens really well and the process is generally much easier." According to Bellatory, which is true. When it comes to dyed hair, removing hair dye can be a bit difficult.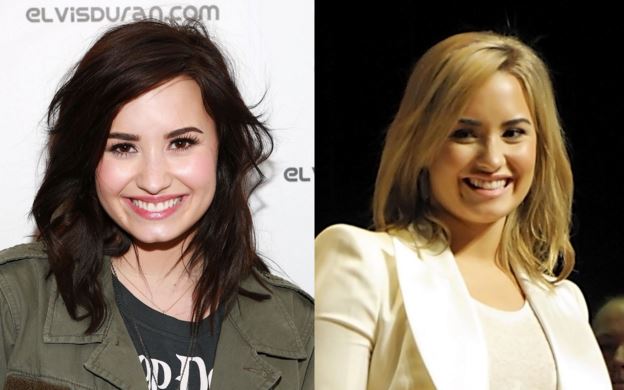 Naturally, Lighten Dark Hair with Honey
Honey contains bleaching properties. However, apart from lightening your colored hair, honey will moisturize and restore your hair's health. When you use honey as a lightener, it will not damage your hair. It will work as a natural treatment for dry and damaged hair. Here's how to use honey to get a few shades lighter of hair that is dyed too dark.
Ingredients: pure honey, water, apple cider vinegar (or olive oil). The vinegar will work as a conditioner. If you opt for olive oil, it will add to the moisturizing effect of honey. Here's how to lighten dyed hair with honey.
Add water to a generous amount of honey – preferably half a cup.
Mix to get a consistent but loose solution.
Add about 4 tablespoons of olive oil or apple cider vinegar.
Mix well to get a consistent solution.
Apply this hair lightening paste to the hair that is dyed too dark. Ensure you massage it into the hair so that all locks are covered.
Cover the hair with a plastic shower cap and let it sit for about 60 minutes.
Wash and rinse your hair thoroughly to get the honey out of your hair.
Shampoo and condition it as usual.
This dyed hair lightening treatment can give you varied shades of the hair color you have. Try varying the amounts of time you let the honey stay on your hair to see if you can get the right shade you want. If you would like to get very light hair – close to blonde – add a little hydrogen peroxide to the mixture.
NOTE: If your hair is dyed dark brown or black, DO NOT use peroxide. You will end up with orange or brassy hair that is very unattractive.
Using Cinnamon to Lighten Dyed Hair without Bleach
Another way to lighten colored hair without bleach is using cinnamon powder. Apart from bleaching your hair, cinnamon is believed to have hair growth benefits. According to Nature Helps, "The unique spicy powder contains antioxidants, vitamins and other components which can help improve the condition of the scalp. In addition, it restores damaged hair structure, strengthens them, gives them a natural shine and stimulate hair growth."
Ingredients you will need to make a dyed hair lightening treatment with cinnamon include organic cinnamon powder, a tablespoon of lemon juice, and a deep conditioner. Here are the steps to lighten dyed hair with cinnamon.
Add 1 tablespoon of lemon juice to 4 tablespoons of cinnamon powder.
Add a cup of deep conditioner of your choice, preferably hair lightening conditioner.
You can add half a cup of honey – optional.
Mix these ingredients to make a consistent mixture.
Dampen your hair in the shower.
Apply the mixture as you massage it into your hair.
Cover your head with a plastic cap.
Leave for about 3 hours or overnight.
Wash it off in the morning.
Repeat this treatment 3 to 4 times to get the best results of lightened dark dyed hair. If you want to get highlights with this home remedy, only on areas where you want to get them. Adding honey is the best way on how to lighten dyed hair fast or overnight using cinnamon powder.
Lemon Juice to Lighten Dark Brown Hair
The citric acid in lemon has bleaching properties. Although lemon will not lighten dyed hair over 5 shades lighter, it can give you natural and gradual results. In most cases, lemon juice us used in the sun. According to Instructables, "The lemon juice acts like an accelerant to the sun's natural hair lightening abilities. It's magnifying the amount of lightening the sun can do, which creates the subtle highlights."
Be careful when using lemon juice because it can dry out and damage your hair easily. There are two different recipes: one for dry dyed hair lightening and another for lightening natural hair that has been colored.
Ingredients you will need if you have normal dyed hair include: 6 fresh lemons and warm water. You will also need to have a small hand spray pump for use with this home remedy.
Squeeze the fresh lemons into a measuring cup.
Add ¼ a cup of warm water into the juice.
Stir to mix well.
Pour the mixture into the spray bottle.
Using the pump, spray the mixture onto your hair. Spray until you make it damp.
Sit in the sun to expose your hair to the rays for about 2 hours.
Wash the hair as usual with shampoo and condition it.
Repeat these steps weekly until you get the lighter shade you want.
Note that lemon contains citric acid. This can have a severe drying effect on your dyed hair. Ensure that you moisturize it adequately after this dyed hair lightening treatment.
Sitting in the sun can also damage your skin due to sunburn and sun poisoning. Always wear sunscreen with SPF 30+ to protect your skin from damage.
If you have dyed hair, you can also use lemon to lighten dyed hair. Instead of warm water, use a moisturizing conditioner in your ingredients. Here's how to lighten dry dyed hair naturally using lemon juice.
Squeeze the lemons into a bowl.
Add conditioner and mix well using a whisk.
Protect your clothes and skin with a towel around the shoulders.
Scoop the mixture and rub it into your hair with your hand.
Comb your hair with the lemon lightener in it using a wide-toothed comb.
Expose your hair to the sun for one and a half hours to two hours.
Wash your hair as usual with shampoo and then condition it.
Repeat this home remedy for lightening dyed hair weekly until you get the right shade you want.
Notes and Cautions
Sitting in the sun activates the citric acid. This makes the lightening process faster.
DO NOT USE lemon juice on your hair if it is black or dark brown. In an attempt to lighten your hair that is dyed too dark, you will end up with orange brassy hair.
Lemon juice can be unpredictable. You are unlikely to know the final color you will get especially if you dyed your hair black. In general, this natural hair lightening remedy works well for brighter or lighter hair colors.
How to lighten dark brown hair with cinnamon
You can also use cinnamon to brighten dark brown hair. You can also apply it on hair extensions that appear too dark than the color you hoped to get. Cinnamon is a natural hair dye and you should not expect to lighten dark brown hair to blonde using it.
Cinnamon powder will brighten hair two shades lighter. The ingredients you will need include the following: Ground cinnamon powder, raw honey, a little lemon juice and a good moisturizing conditioner. Have a plastic shower cap ready as well. Here's how to lighten dyed hair with cinnamon.
Mix 3 tablespoons of cinnamon powder with 1 cup of honey, 1 cup of deep conditioner and a tablespoon of lemon juice.
Let the mixture sit for 30 minutes so that the hydrogen peroxide in honey gets activated.
Brush your hair to detangle it.
Dampen your hair. Ensure that you do not soak it.
Put a little of the mixture on your skin to test for cinnamon allergy. If you don't get a reaction, proceed to the next step.
Apply the mixture throughout your hair using your hands.
Cover your hair with a plastic cap.
Leave it to sit for about 4 hours.
Rinse your hair and wash it with a good shampoo.
The process of lightening dyed hair with cinnamon is very gradual. Ensure that you repeat as necessary after a few days to get the shade you want. Note that dark brown hair lightens naturally to a light brown or to a reddish shade.
"Don't expect results of lightened hair after first application of cinnamon on hair. Only chemical dye can provide sufficient change of hair color." [NatureHelps.me].
Vitamin C to lighten Dark hair
Vitamin C contains citric acid. This acid has a lightening effect when put on hair. You can use it to brighten dyed hair at home with your own home shampoo. Here's how to lighten dyed hair a few shades to medium brown using vitamin C.
Crush about 20 tablets of vitamin C in a bowl to make a fine powder.
Add a little shampoo, preferably anti-dandruff shampoo.
Mix to make a consistent paste.
Dampen your hair.
Massage the paste in the dampened.
Cover your head with a shower cap.
Leave it to stay for about two hours.
Rinse your hair as usual.
Apply a deep conditioner to keep your hair moist.
With these 5 natural recipes for hair lightening, try to use a good moisturizing ingredient. Use a moisturizing shampoo, or add olive oil to your recipes to help moisturize your hair after the lightening. You can use these remedies to lighten indigo dyed hair or henna dyed hair too.
You can get light brown from dark brown, lighten red hair to strawberry blonde etc. Purple, pink, ginger and gray hair colors can also be altered naturally at home.
Use Baking Soda
Baking soda works in a similar way apple cider vinegar works. It can strip hair dyes and chemical buildup from your hair. You can use baking soda with shampoo or conditioner in order to lighten dark dyed hair.
Go to the shower.
Sprinkle your hair with a little baking soda,
Rub the powder in your hair with your hands to ensure all the hair gets in contact with the powder.
The paste and foam that forms in your hair will lighten your hair easily.
If your hair is too dark, use this remedy once a week until you get the light shade you are looking for.
Hydrogen peroxide bleach dyed hair fast
Hydrogen peroxide is a strong bleaching agent. Most of the salon bleaching solutions use this compound. When using it, be careful because it can irritate the scalp and cause a reaction such as scalp bumps and pimples. Here's how to use hydrogen peroxide to bleach dyed hair fast.
Put 1% hydrogen peroxide solution in a spray bottle.
Spray it carefully on your hair, making sure all the strands are covered.
Cover and leave for 25 to 30 minutes.
Wash out the peroxide with cold water.
For slower results overnight, mix with your conditioner and leave it overnight. Rinse with cold water in the morning. If you prefer not to use any of these remedies, try dish soap. Several treatments can get rid of dark hair dye too.
Best hair dye to lighten freshly dyed dark hair
Is there a lightening hair dye? Some hair colorists may advise you to dye your hair with a lighter shade. While this can lighten the original dye, the results are very unpredictable. The hair dyes can react and you will end up with a color you did not anticipate.
The best hair dye to lighten freshly dyed hair would be more than 4 shades the color you are trying to fade. Also, get a good quality hair color. Choose from top-of-the-crop brands such as Garnier Nutrisse, Schwarzkopf, etc.
The right procedure to lighten dyed hair with dye is to bleach and dye afresh with the right fairer shade you are looking for.
Other ways to lighten dyed black hair
You can also brighten dark hair without sun or without the use of the natural treatments discussed above. With a developer, shampoo or even dish soap, it is possible to lighten dark hair a few shades lighter.
Hair lightening shampoo and conditioner
A clarifying shampoo is potent with surfacants. These will remove hair dye, grime and other chemicals sticking on your hair. The only downside is that the shampoo can be damaging to your hair. To lighten it without damage, ensure that you condition your hair thoroughly.
Some conditioners can also help achieve a lighter shade of the dyed hair. "Sheer Blonde Go Blonder Lightening Conditioner by John Frieda gradually lightens blonde while nourishing hair to reveal your ideal sun kissed look all year…" [Ulta Beauty] Alternatively, you can also make a homemade conditioner that will gradually lighten your hair. See sources and references below for a good recipe.
Watch this Video on Fading Dyed Hair
Sources and references