Honey Hair Lightening- How to,Lemon,Cinnamon, Before and After Pictures
Trying to lighten or bleach your hair at home with honey? Learn how it works, recipes with lemon and cinnamon, before after pictures plus more tips for dark, blonde and brown hair.
If you are a fun of home remedies, then you will agree with me that honey is one of the most useful natural ingredients that are  found in any home. In addition to the almost endless uses that you can put honey to at home, you can use it to lighten hair. Read on and have fun learning how to bleach your hair to your style with honey.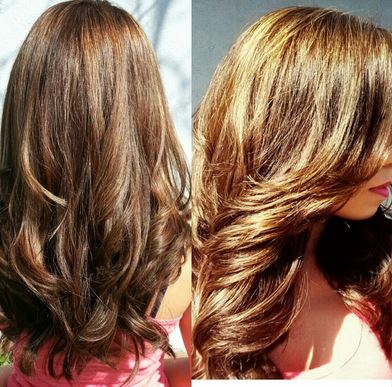 Does Honey Lighten Hair Permanently?
Does honey lighten hair quickly? Lighter hair is good and fashionable for summer. There are many ways of getting light hair, which may include dyeing hair blonde or  with a lighter shade of hair dye, such as from black hair to light brown hair color. If you do not want to do so, you can lighten hair with honey, lemon or hydrogen peroxide.
Honey is one of the best household bleaching agents. It contains bleaching properties and will strip your hair of its pigment, leaving it a shade or two lighter. The reason most people prefer using honey to lighten hair color is that is not as harsh as most hair lighteners or hair bleaching products.
Using honey for hair lightening is preferred because it is safe and simple, can be done at home. Other ingredients may be used to help the process, including apple cider vinegar, cinnamon powder, olive oil and a few more. So, how does honey lighten hair? It simply strips it of the hair color pigment, but bleaching it safely or gently.
Honey has an enzyme that produces small traces of hydrogen peroxide, a widely accepted hair bleaching agent. You shouldn't however expect drastic results as you would get using a synthetic dye. You may have to apply honey onto your hair several times before you can get the desired results.
Is the lightening permanent?
The results are not permanent. Your hair is likely to regain its color slowly over time, so you will need to do a few more bleaches over time.
Also, the permanent results may depend with your natural hair color. For example brunettes can easily get lighter hair colors such as ash blonde as compared to women with dark hair. Black hair can be bleached to dark ash blonde, or a richer shade, though the results may not be permanent.
Possible Side Effects
One of the major side effects of using non-organic hair bleaching products is that the bleaching process leaves your hair feeling brassy or with an orange tint. If you are looking to achieve light hair highlights, honey is one of the good natural at home ingredients to use for hair lightening.
How to Use Honey to Lighten Hair
While honey can be applied directly onto your hair, it helps to mix it with water in order to thin it and make spreading it on your hair easy.
Directions
In a small bowl, mix honey and water in the ratio of 4:1. For example, you can add a tablespoon of water to 4 tablespoons of honey. You can as well use apple cider vinegar in the place of water; in which case the apple cider vinegar acts like a conditioner.
Apply the mixture using your finger and massage it gently into your hair. Continue until all your hair is covered with honey if you want the whole head of hair lightened; otherwise apply on the hair strands (or locks) in the parts of the head for which lightening is desired.
Cover your hair using a shower cap or plastic wrap and leave it as such for 2 to 3 hours. If possible, let the plastic wrap or the shower cap intact overnight for best results.
Rinse your hair with warm water to wash the honey off before shampooing and conditioning your hair as you normally do. Finally dry your hair by patting it gently with a towel or using a blow dryer.
Voila: That is all it takes to use honey to lighten your hair. Your hair will at this stage have a shade of color similar to that of honey.
Lighten Dyed Blonde Hair with Honey
So you saw a lady wearing a red highlight (or reddish shade) at the mall and thought how fancy she looks. You can create red highlights to lighten hair that you dyed. You too can achieve the same results using honey and Jamaican sorrel or hibiscus. Here is how to lighten dyed hair using honey:
To a saucepan containing 2 cups of water, add 2 cups of fresh or dried Jamaican sorrel.
Heat the mixture to a boil
 Allow the sorrel to soak for 2 to 4 hours, but if possible leave it overnight
Strain to obtain the resulting liquid and mix it with 2 tablespoons of honey and one tablespoon of cinnamon
Apply the paste onto your hair and massage gently
Cover your hair with a shower cap or a plastic wrap for 1 to 2 hours before rinsing it
Depending on the hue desired, you can also use the following ingredients in the place of Jamaican sorrel:
Reddish hue: Henna powder or ground coffee
Strawberry hue: Hibiscus petals
Naturally Lighten Hair with Honey, Lemon, Cinnamon and Conditioner
Honey is a fantastic natural remedy that works great in lightening hair. But for even better and/or faster results, you may want to consider a combination of lemon (a very popular natural remedy to lighten hair), ground cinnamon, and deep natural conditioner.
To make this natural combination, you will need a small bowl or basin, a cup of honey, 2 tablespoons of cinnamon, a cup of deep natural hair conditioner, and 2 teaspoons of lemon juice.
Instructions
Pour all the ingredients into the basin and stir thoroughly
Once the paste is well blended, apply it to wet hair and massage all over your hair or on the parts desired if you want to make light highlights on your hair
Use a shower cap or a plastic wrap to cover your hair with the paste still on and leave it on for 2 to 3 hours, or overnight if possible
Wash the paste off with water and pat your hair dry with a towel
Repeat as required to get the desired results
Lighten Dark Hair with Honey Fast
Honey is a versatile ingredient and if you read around you will find it used in multiple combinations to lighten hair. Here are some more options that you can use it to lighten dark hair with honey:
Honey + Olive oil for natural hair lightening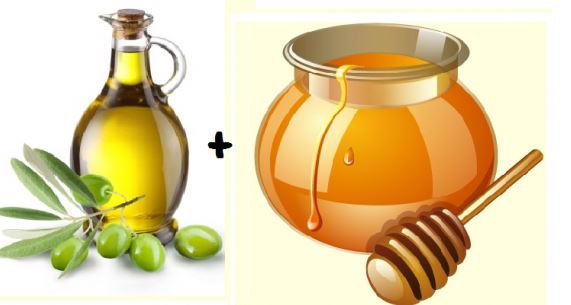 You may consider using a combination of honey and olive oil in a ratio of 1:1 and applying them as you would apply honey alone (see instructions above). Some people also add half a banana as the third ingredient to nourish the hair.
Honey + Conditioner Recipe to Bleach Hair at Home
Another great way to lighten dark hair with honey is to add some honey into the bottle of your regular hair conditioner. Shake the mixture thoroughly and use the conditioner as usual after shampooing.
NOTE:
Although some people recommend mixing honey and hydrogen peroxide, you should not use it for black and very dark brown hair; otherwise you may end up with an orange shade that you may not like.
Lighten Brown Hair with Honey
Wondering how to lighten brown hair with honey? Well, this is as easy as preparing a honey solution (by mixing honey with water) and applying it to your hair as explained in the section above. You may also want to use honey along side other ingredients in various combinations such as:
Honey and apple cider vinegar
Honey and hydrogen peroxide: Honey contains enzymes that produce hydrogen peroxide, the substance responsible for the bleaching effect on hair. Mixing honey with hydrogen peroxide improves its effectiveness and is a great way to achieve drastic results.
Honey and conditioner (discussed above)
Honey and Jamaican sorrel – gives your hair a red highlight
Honey Hair Color Lightening Before and After Photos, Results
As you will note the before and after pictures below and in the article, honey can really change the shade of your hair by one or two levels. If you do several bleaches, you can almost achieve the same levels of black hair bleaching as those of using chemicals hair bleaching products such as shampoos and even strong hair bleaching hydrogen peroxide. Here are a few before and after results of using honey for dyed hair lightening.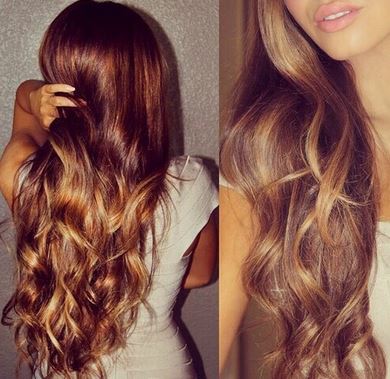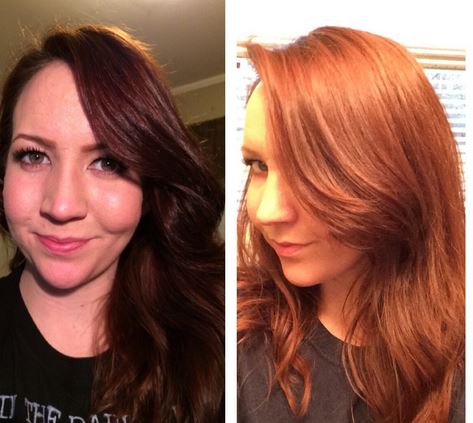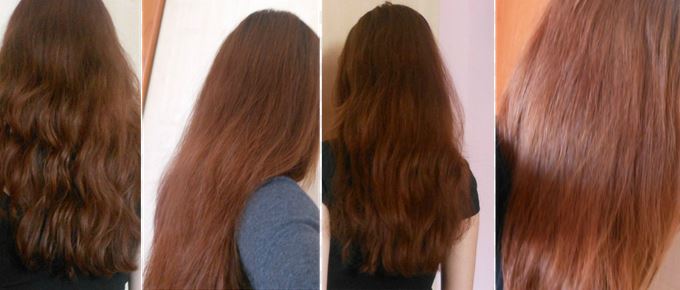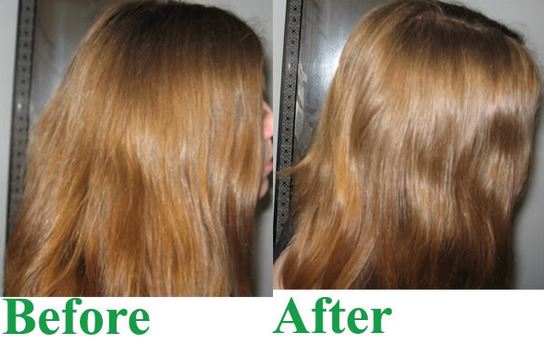 Sources and References
http://www.naturallycurly.com/curlreading/hair_color/honey-hair-lightening-fact-or-fiction/
https://snapguide.com/guides/lighten-your-hair-with-cinnamon-and-honey/