How to make your Hair Curly for Men-Best Curl Enhancing Shampoos
As a man of style, you probably must have tried a number of hairstyles but this time you want curls. How do you make your locks curly naturally be it you are a black or white man? Are there good curl-enhancing shampoos for men with straight and wavy hair? Read on to find out.
Curly Hair and Men-How it forms & types
Hair is primarily composed of keratin, a protein, which grows from the follicle. Keratins and other proteins are formulated in the cells of the hair follicle. All of the proteins become a part of the hair shaft and contain sulfur atoms.
When two sulfur atoms pair up and bond, they form a disulfide bond. If the two sulfur atoms in the same protein are at a distance and join to form the disulfide bond, the protein will bend. This is how your curls are created.
Some men and women are born with hair that curls naturally. For others, some curl-enhancing techniques and products will need to be used. More on this coming up shortly.
A curl is the hair section ranging from when the hair is curving in the opposite direction the distance between the initial start of the curve until the point where the curve changes direction is a curl.
Curly hair is known to have an S-shape. The curl pattern may resemble a lowercase "s", uppercase "S" or sometimes an uppercase "Z".The hair is usually voluminous, climate-dependent and it is also prone to damage. Lack of proper care can cause less defined curls. There are two types of curls which include:
Types
Curly (loose): This is curly hair that usually presents a definite "S" pattern and tends to combine thickness, fullness body and/or frizziness.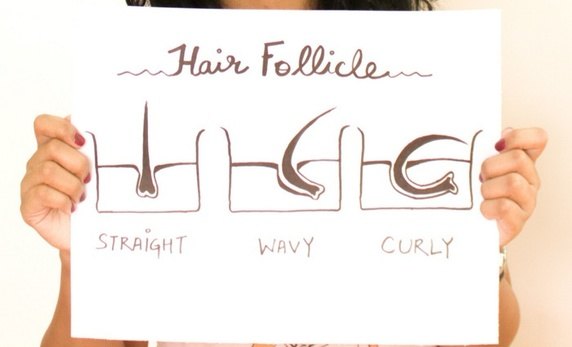 Curly tight: It is like the curly loose but with tighter curling like a spiral.
You can be born with naturally curly hair, or straight hair(or wavy hair).The amount of curl,wave,or lack is therefore dependent on the number of disulfide bonds between hair proteins found in the hair shaft, the greater the number links, the curlier the hair and the fewer the number of links the straighter the hair.
Curly hair can be puffy, coarse, and dry and much more but it only remains that curly hair will form a curl at a given particular length as genetically determined. You may find that you have two curl types on your head which is perfectly normal.
Before jumping into the curly hair types you should first examine your hair. Curly hair is more difficult to identify in men than in women simply because men tend to have shorter hair which many times masks the true hair type of a male.
In order to identify your curly hair type, you go in front of the mirror and pick a lock of hair from the top center of your head, ensuring that you do not pull or extend the lock, it should remain in its natural shape. This area is the one on your scalp which is exposed the less to daily wear and tear, such as friction with a pillow during sleep, so the hair on this area yields the closest image of what your natural curl type or shape is.
Once you grab the lock of hair, place the ruler alongside it and measure when your hair forms a curl. If your hair is less than 6 inches, perform the measurement starting from the scalp that is you place the ruler on the scalp whereas if the hair is longer than 6 inches you should perform the measurement starting from the end of the lock.
Repeat the measurement three times and work out the mean average of how long it takes for your hair to form a curl.
The curly hair types
Type 1: 2 to 3 inches to form a curl
Type 2: 1 to 2 inches to form a curl
Type 3: 5 to 1 inch to form a curl
Type 4:125 to 0.5 inch to form a curl
Type 5: up to 0.125 inch to form a curl
If your hair takes over 3 inches of length to form a curl you have straight hair, not curly hair.
Benefits of curly hair for men & women
Less damage: Since your hair does not require heat, or chemicals to look the way it does there are fewer chances of you damaging it. So your hair will look fabulous and strong always.
Heat insulation and cooling: Curlier and drier hair are beneficial in climates that are hot. This is because the hair provides a layer of protection against direct sunlight and keeps the scalp cool. Through its shrinkage, it can absorb water and sweat which provides a cooling effect.
Those with hair that is straight and oilier in these same hot climates would need further protection from the direct sun rays and would be more susceptible to scalp burn and overheating.
Sensory: The hair on your head as well as on your body can pick up and respond to movement, change in temperature, climate, air quality, humidity and other environmental factors.
The spiral of a curl or coil is able to give off and receive large amounts of energy. It is this spiral pattern that energy flows because your DNA molecules resemble and since it's on your own crown it is said to promote your psyche overall.
Protection: The most valuable organ housed in your head is the brain. It requires all of the protection it can get and your hair can protect your head from ultraviolet radiation, excessive direct heat or cold and also act as cushioning.
It is believed that you have accumulated and retained hair on your head because of its nearness on top of your body and direct connection to the sun elements. The more volume and density of the hair through its curls and coils the more protection it can provide.
Less maintenance: Curly hair needs less maintenance because you only need to shampoo your hair but you can also get by without doing it a day or a few. And when you do wash your hair or even get it wet it dries curly with little effort. Therefore having curly hair is a time saver.
Best Curl enhancing Shampoo for Men with Straight and Wavy Hair
Shampoos contain something that could be called a curl enhancer which contains a polymer as the main ingredient. They also contain deep cleaning surfactants, along with proteins and moisturizers to help keep the cuticle layer smooth and the hair shiny and also enhances your to curl.
Some of the best curly enhancing shampoos for men include:
A curl-boosting shampoo with nourishing argan oil to restore elasticity, shine and manageability. Moroccanoil® Curl Enhancing Shampoo gently cleanses to reveal noticeably soft and smooth curls that are full of definition and free of unwanted frizz. A blend of hydrolyzed vegetable protein and Abyssinian oil strengthens and protects, for weightless curls that look and feel healthy with bounce and movement
Johnson's shampoo and conditioner
Straight sexy hair shampoo
Deva curl No-Poo
TIGI catwalk curls Rock Shampoo
Davines Love Curl Enhancing Shampoo
L'Oreal Paris Smooth Intense Ultimate Straight Shampoo
Motions Straight Finish Cleanser
Just For men Shampoo-In Hair Color-Medium Brown
Moroccan oil curls Enhancing Shampoo
Other Products to make Men's Hair Curly-Oils, Creams, Gels and Texturizers
Oils
Hair oils are a favorite of beauty experts everywhere and there is a good reason for this. The oils contain essential fatty acids and they help in lubricating your hair therefore helping in:
healing split ends
sealing moisture and detangling
strengthening each strand of your hair therefore increasing manageability
combating dry scalp and dandruff
balancing oil production at the scalp
acts as a sealant
There are two main categories of hair oils and they include:
Carrier oils: These are vegetable, nut or seed-derived oils. They are usually odorless, can be used alone or used to transport or carry the smell and properties of an essential oil.
Essential oils: They have a highly concentrated smell that contains specific therapeutic benefits normally extracted from plant sources and they are later diluted with carrier oils.
The best oils used to enhance curls include:
Coconut oil
Olive oil
Castor oil
Grape seed oil
Jojoba oil
Sweet almond oil
Avocado oil
Argan oil
Rose oil
Gels
Gels have the main function of holding and setting your hair and can be used for both straight and curly hair. The best curl enhancing gels include:
Bed Head TIGI Manipulator.
Devacurl Defining Gel
ECO Styler Olive Oil Style Gel
Kinky-Cury Curl Custard Gel
L'Oreal Paris Lock It Extreme Style Gel
Curl junky Gel
Creams
Creams help to hydrate dry, coarse curls, controls and conditions curls, keep your curls soft and shiny, hide split ends and dryness and some promote tight curl patterns.
Some of the best creams which enhance curls include:
Beyond the Zone Noodle Head Curling Cream
Cantu Shea Butter Coconut Curling Cream
Mizani Iron Curl Heat Styling and curling cream
Jane carter solution Curl defining Cream
Keune Design Line curl Cream
How to make your Hair Curly Naturally without Heat and Products
You can also get your curls naturally by doing the following:
Training curls with washing
Follow the following ideas to train hair into curls
1.       Brush your hair out before showering:
You should give your hair body and lightness by brushing it out before you wet it for the shower. Running a brush through your hair will prevent your hair from becoming dull and clumping therefore giving it body and lightness afterward. Brushing alone cannot give you curls but it's helpful in the process of enhancing curls.
2.       Rinse your hair regularly
If you want naturally curly hair, rinse your hair regularly to keep it clean and fresh, but do not use shampoo more than once or twice a week if you have naturally straight hair. This is because the shampoo will dry out your hair and take away its natural oils, which helps to give your hair body and curl. If you want curlier hair you should not wash it but rinse your hair.
3.       Wash your hair less
If you want to help train your hair to curl naturally you should stop washing it so much. Regular rinsing helps to keep your hair lighter, keeping the dirt and build-up out of your hair but it also allows the natural oils in your hair to keep your hair silky and light, therefore, giving it body and curl in the right conditions. Shampoo dries your hair out and weighs it down over time, making it less likely to curl.
Different people will need to wash their hair more or less. If you have greasy hair you need to wash it often but if you have dry hair try washing it once a week or less and rinse it daily.
4.       Let your hair air dry
If you want curly hair, you should not use a blow dryer or towel to dry your hair. The best way to get hair to curl naturally is to let it dry on its own, preferably overnight.
Sleeping on your hair might make it look kinked up and messy but it may also help to give it the kind of curl you are looking for depending on your type of hair. In general, if you want curlier hair, it's better to bathe at night compared to the morning.
Be Creative to enhance Curls
Try a heat curler or roller curlers
If you have medium or long hair using a curler is another easy method and quick way to get your hair curled up. You should use small-gauge curlers in your hair overnight to get tight curls or try drying your hair with a hair curler after you bathe to get the best effects.
Get the right hair cut
If you want curly hair, it's a good idea to get a haircut that stresses the kind of curl you want. For men, it can be tricky but you want to start out with short-medium hair to get the most bounce out of the curls you have.
Train your hair into 360 waves
You can train your hair into waves which helps the appearance of curly hair. This practice takes time and some dedication with daily combing and use of pomade you can get your hair to grow in rounded waves extending around your head.
Consider getting a perm
Getting a permanent wave from a hair stylist is the easiest way to get your hair curled up this is because permanents are the surest and easiest way to quickly curl up your hair and they are most commonly given to men.
Getting Curls for African American (Black) and White Male
For black men's hair it is naturally curly however the curls can be tight. There are ways to produce looser looking curls without the use of permanent chemicals. African American hair comes in different grades of curl. You should therefore keep it clean and neatly trimmed in order to get a great looking curly hair style.
Some products which can be used by black men to make hair cool include:
Good shampoos
Moisturizers
Using the twist and separate technique
Using the straw set technique
Tutorial 1-Curls without heat White male

Tutorial 2-Curls without for Black Men

Sources & Citations
Natural Hair Magazine