Ginger Hair Color Dye – On Dark Skin, Chart, Formula, with Highlights and Ideas
Thinking of trying out a ginger hue on your dark skin but don't know how you can achieve that. Don't worry—in this article we will mention everything you need to know on ginger hair color on dark skin, chart, formula, some maintenance tips, and highlight ideas.
Defining Ginger Hair Color Dye
Ginger hair color is a natural yet bright shade of copper/orange red with a hint of blonde. Ginger hair is not very common, but in some regions like Ireland for example, ginger-heads make-up around 30% of the total population. This hue remains a very popular choice for women of light pink skin, or even dark hair.
Typically ginger hair color will suit you if:
You have light skin with pink undertones and blue or green eyes
You have medium to dark skin with brown or hazel eyes
Ginger hair color may not look good on you if:
You have light yellow skin with dark eyes
Ginger hair dyes are available in the market in both permanent and semi-permanent form and it's possible to dye your hair this shade at home or at a professional salon. We will include some detailed instructions on how to achieve that shade through the rest of the article.
Ginger Hair Color Pictures
Celebrities have been spotted with this shade many times, and it seems to be a popular choice among female celebs with dark skin. Here are some pictures to get an idea how it looks on various medium to dark skin tones.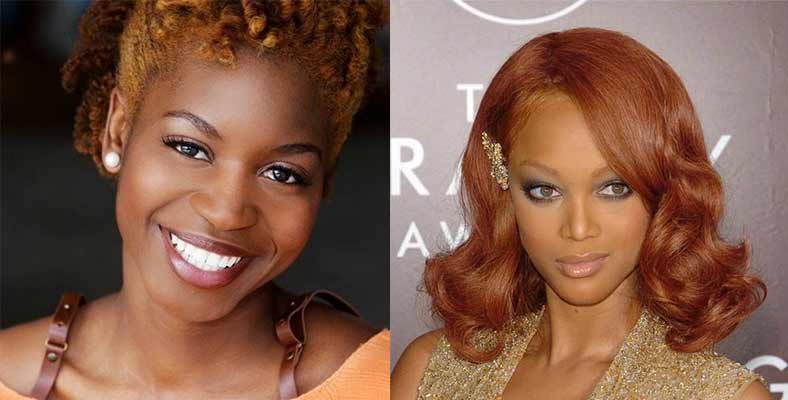 The pictures below show various shades of ginger hair color on light-skinned celebrities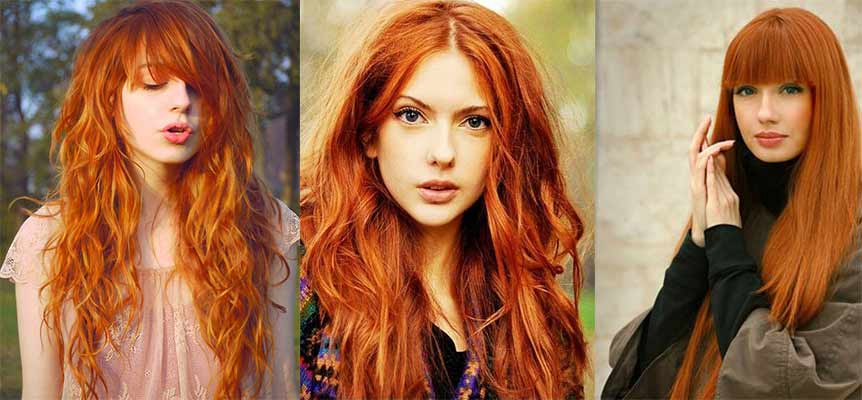 Ginger Hair Color chart, Formula & Code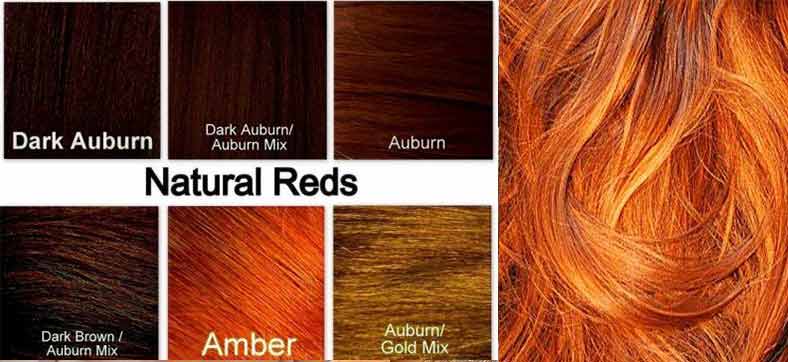 As said earlier, it's possible to dye this shade at home but you will need to follow the instructions carefully as this shade is quite risky and may look turn out too yellow or uneven if you do a mistake. Individual results may vary, but some things should be considered regardless to get the best results. Here are some steps that will help:
Step 1: Choose the appropriate ginger shade of your choice. Some ginger shades for example play on dark copper hues while others tend to have stronger golden blonde hues. If you have naturally dark hair and you don't want a big change or you are not sure how this shade might turn out on you, it's safer to go darker first than lighter—both for your hair and the final coloring result. Here is a chart here:
Step 2: Bleach or lift your hair at least one shade if you have naturally dark hair. If you have naturally dark hair, you have to bleach your hair at least once to get this shade, especially if your natural hair color is black or brown/black to begin with. Some good and powerful bleaches you could use at home include L'Oreal quick blue powder bleach and Manic Panic's Flash Lightening Hair Bleach kit.
Make sure you follow the instructions in the package and never leave your hair more than the indicated period of time as the bleach will damage your hair. If you are going for a darker ginger hair shade and your hair is not black or dark brown to begin with, you may achieve this shade with no bleach, just by using a 6% or 30 vol. developer along with the ginger shade of your choice.
Here are some mixing formulas for most basic ginger shades:
Formulas for getting a dark ginger shade:
No1: L'Oreal Professional in shade 7.44 Dark Copper Blonde + 30 vol. developer
No2: Matrix Professional hair color in shade 6C + 30 vol. developer
Formulas for getting a medium ginger shade:
No 1: Chi Ionic in shade 8RB (one part) + 6RB (half part) + 1 ½ part of 30 volume developer
No 2: L'Oreal Professional in shade 7.44 Dark Copper Blonde + 30 vol. developer
Formulas for getting a light ginger shade:
No1: Matrix Hair Color in C-9 Copper Red (one part) + C-4 Auburn Red (half part) + 1 ½ part of developer

Best Ginger Hair Color Dye for Dark Hair & Skin
Dark Hair
If you are looking for some Ginger Hair dye for dark hair with some minor lifting but not dramatic results, you may try some of the home-kit versions below:
Revlon Colorsilk Luminista in shade 160. This is a deep ginger hair shade with strong red hues. Perfect for those with medium skin and brown, hazel, or blue eyes. The formula contains also agents that reflect light for more shine and brighter looking results.
Garnier Nutrisse in shade 6.60. A deep to medium true ginger shade with fiery red hues. The formula is non-damaging to the hair and contains extra nourishing agents.
L'Oreal Paris Infinia, in shade 6.45. A rich deep ginger shade with mild copper and brown hues, perfect for those looking to brighten up their naturally dark hair color. The formula contains protection and anti-fade agents for prolonged results.
Ginger Hair Color on Dark Skin
If you have afro-hair and dark skin, achieving a ginger shade is possible but it's recommended you use  a strong 30 developer or bleach to get a shade that is two tones lighter.  Some good hair brand options for this category include:
Clairol's Textures and tones in Flaming Desire. This is a true ginger blonde shade suited for Afro-American natural hair with conditioning agents for added care and long lasting results.
Crème of Nature line in shade 7. 6 Bronze Copper. This a natural medium copper shade with golden brown undertones and no red undertones present, suited for those with dark hair and skin that just want to brighten up their natural hair color. The formula also offers exotic shine and natural nourishing agents. If you want a more intense Ginger Copper shade with red undertones, the shade 6.4 is also a great option.
Dark and Lovely in shade Red Hot Rhyme/ 376. A lovely deep ginger shade with mild red undertones suited for those with dark hair and skin that don't want a dramatic change. Formula features an anti-fade system for longer lasting results.
How to Color your Hair Ginger Ideas-Highlights, on Brown Hair
Ginger hair dye on brown hair/from dark brown
If you want to color your hair ginger and add some highlights and low lights, the best process is to dye your hair a solid color, using a professional grade formula. It's best to dye your hair a deeper/darker shade as you basis color for the highlights to show though—they highlights should be ideally one or two tones lighter than your base color for best results.
Here are some example formulas you could try, with Highlights:
Chi Ionic in shade 8RB (one part) mixed with 20 vol. developer as a base + 8CG mixed with a 30 or 40 volume developer for the highlights.
L'Oreal in shade 7.43 (one part) as your base color mixed with one part 20 vol. developer + 9.03 mixed with a 30 volume developer as the highlight color.
These formulas are ideal for those who want to achieve natural looking highlights that are just a shade or two lighter than the base color. If you want more contrast and dramatic results, using shades like L'Oreal 8.3 or Chi Ionic in shade 9CG or 8G is the way to go.
Alternatively you could use bleach to add highlights like the bleach suggestions listed earlier in this article but keep in mind that this might be damaging for your hair and it's hard to cover up the highlights in case you change your mind as they will most likely show up after a few washes.
The process for adding highlights is as follows: You dye all your hair a solid hair color and wait for it to dry (It's best to do it a day or two before you add highlights). Then using a hair cap for highlights or a fine tooth brush, you'll take out individual hair strands around 3 to ½ of an inch thick. If you just want to add some highlights on top of your hair, you'll have to divide your hair into an upper and a lower part and add highlights to the higher part.
For lowlights, you will do the same but you will add them to the lower part/division of your hair instead. You could also bleach or lift the tips for an ombre effect but if you want the change to be more gradient and natural, you'll need to visit a professional hair salon or colorist for this.
The same hair care rules that apply with other shades, apply to this shade as well. Generally speaking, if you haven't used any bleach to get a light ginger blonde shade, no fancy products or care is necessary—just a good shampoo and hair conditioner for colored hair will do. Otherwise, if your hair is highlighted or bleached to a light ginger blonde shade, frequent treatments are a must to preserve the results and protect the hair from damage.