Rose Gold Hair Color Dye, Formula, Brunettes, Dark Skin Highlights, at Home & Trends
If you have tried previously golden hair color shades but want to try something a little bit different this time that will look absolutely glamorous without looking clownish, perhaps you should go for a rose gold hair color or dye. One huge advantage about rose gold hair colors is how well they blend with a variety of both hair colors and skin tones. In this article, discover what rose gold color is, dye/color formula, ideas for brunettes and highlights on dark skin, DIY how-to at home ideas, best brands plus more.
Defining Rose Gold Hair Color Dye-Trends & Celebrities with it.
What is rose gold hair color?
Rose Gold hair color is actually a rich yet  golden brown shade with cool peachy pink undertones.  It's actually one of the coolest and most unique shades of golden brown and doesn't have that yellow tinge as with other golden shades. Depending on the depth of color, rose gold shades range from light brown rose gold, to dark blonde, and even light blonde shades with rose gold finish.
Who is it for?
Rose Gold shades are ideal mostly for young women that like to experiment with their style and want something different that doesn't look cheap, clownish, or gothic. It makes a very interesting twist for those that have naturally (or dyed) golden blonde hair and looks great on light colored brunettes and natural blondes with green, blue, and gray eye colors. Brunettes can also pull of this shade if they have vibrant and intense features like big green, blue, or black eyes and big lips.  More on brunettes coming shortly
How it looks like-Celebrities with rose gold Hair color
If you are curious to see how rose gold looks in Celebs with various skin tones and natural coloring here are some famous women that embraced this trend:
Blake Lively has been seen sporting a very light rose gold shade with a pearly finish while Cara Delevingne is shown with a medium to light golden rose shade with a natural finish: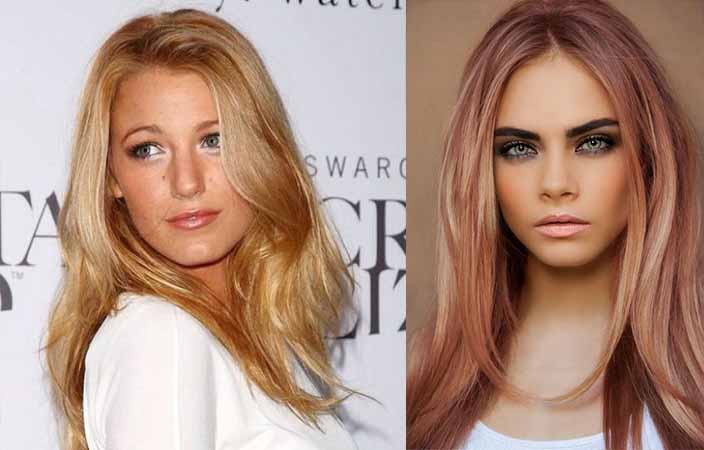 Katy Perry, showing off a multi-dimensional rose gold shade with highlights: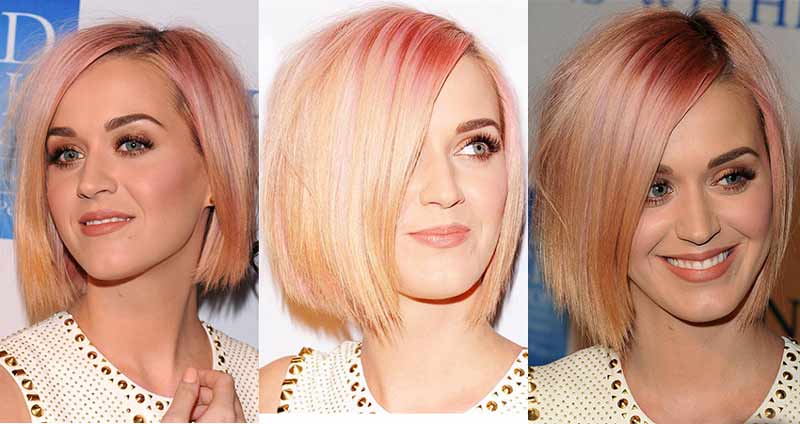 Kate Hudson, sporting a light blonde shade with golden rose tips: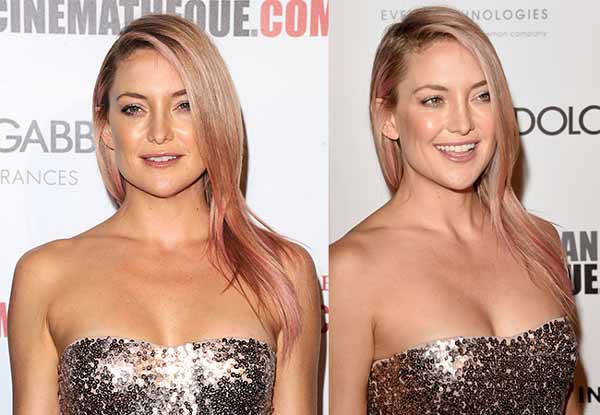 Glamour rates Hailey Baldwin's rose gold hair as the prettiest. Kylie Jenner, has also been seen with  a very light golden rose shade: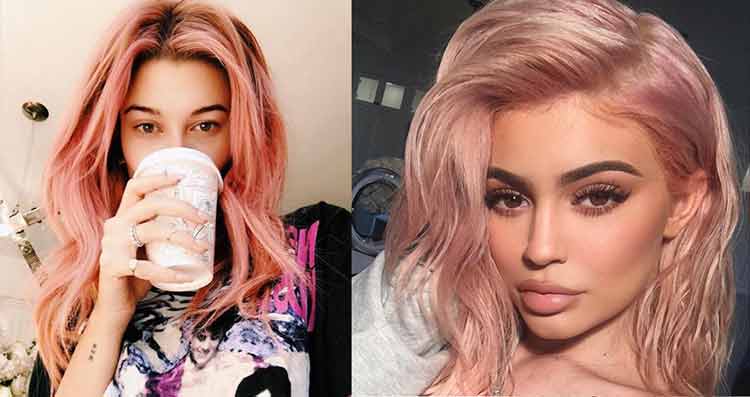 Trends
Rose gold color can look all solid, beginning from the roots but most women that try on this trend use a rose golden hue as an ombre lowlight or highlight shade, with darker roots–and this is the no1 trend under rose gold color on Instagram and Pinterest.
Rose Gold Hair Color Formula-Redken, Matrix & Paul Mitchell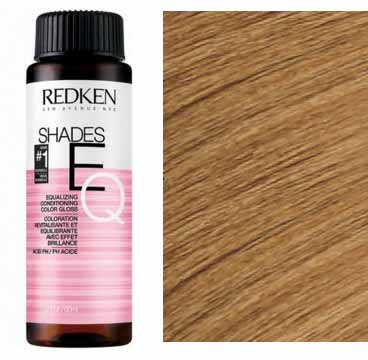 If you are a professional or a home DIY hair dye user, here are some rose gold formulas to try out per brand of professional color:
Redken flashlift mixed with a 20% hair developer (applied to all hair lengths or separate hair sections if you are going to use this as highlight color) + Shampoo and toning afterwards with Shades Eq gloss in 9Gi + Pravana Pastels in too cute coral applied applied to the lengths of dry hair
10 vol. Matrix Light Master (9 level of lightening) followed by mixing Matrix Color Sync in 9C+10MM+ Clear: 1:2:3
Paul Mitchell Formula: Pre Lighten hair to level 8-9 and follow with a mix of shines XG-7RV  +  clear shine (equal parts of each)
Goldwell Formula: Goldwell colorance lotion (60 ml) + 10 V. developer (25 ml)+ 8K (2 ml) + 6VV (3 ml)
Dark rose gold hair color formula: The general formula for a rose golden hair color is a pre lightening hair to a level 8 or 9, and then apply a translucent rose gold color to the lengths of the hair.
Rose Gold Hair Color on Brunettes + Highlights
Although rose gold hair is frequently sported by blondes, brunettes can also sport this shade.
Most hairstylists agree that for brunettes, it might need a little more work because in most cases your will need to be bleached first. The safest and most unique way to blend this with your natural color, is to apply it only in the middle shaft to the tips of the hair, while leaving the roots naturally darkened.
There are other easier and low-maintenance rose gold hair options for brunettes who would like to avoid hours of foil and bleach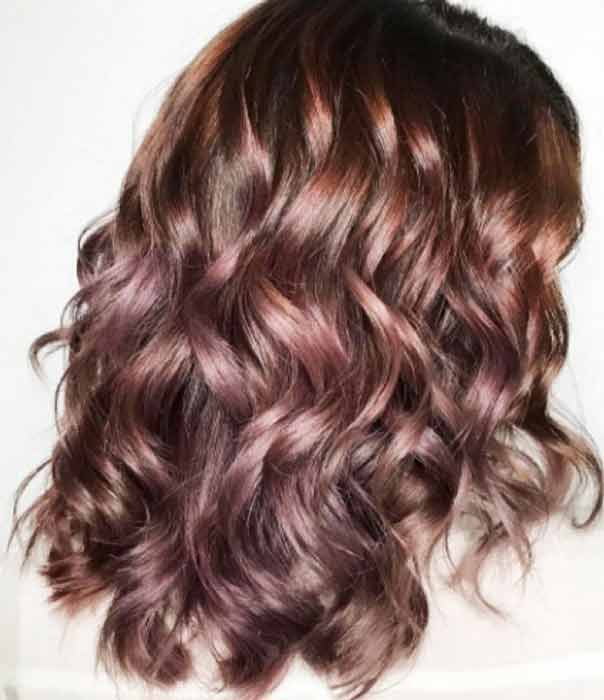 One option by Hannah Edelman, a New York stylist, involves melting warm Pravana Vivids brown hues with iridescent pink tones. Balayage effect is what they call it. According to Hannah, the resulting look is deceptively subtle but it requires five different tints made from greens, reds, yellows, and oranges, believe it or not.
Edelman adds that she concentrates the darker tones near the bottom of the hair and keeps the lighter tones near the crown in order to give the hair additional, ultra-flattering dimension
Another option for those who want to skip bleaching their hair is to try a few babylights of raspberry. Apply babylights hair color in all parts of your hair but give more attention to base.
Rose Gold Highlights on Dark Skin Ideas
If you've wanted to try blonde but your dark brown or black hair doesn't always agree with it, try adding a rose gold rather than a blonde. The warmth of the red hues will tie in better with your warm dark hair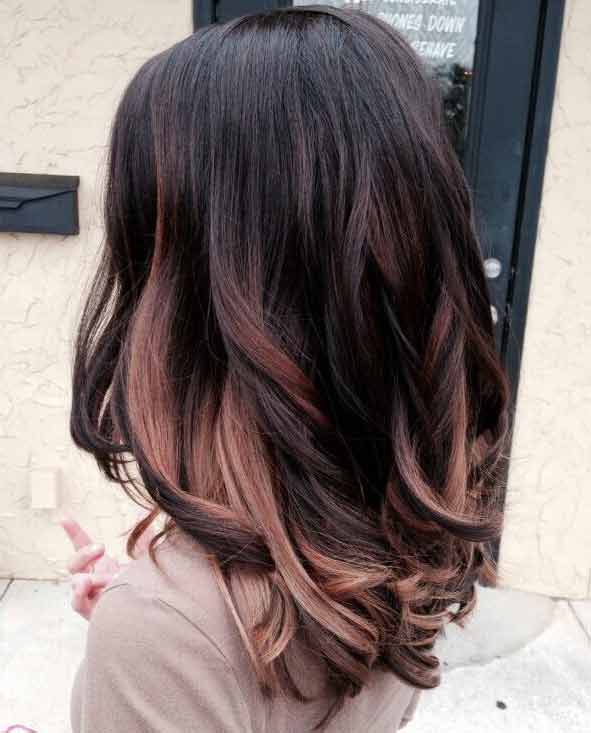 For dark-skinned beauties who are inclined to go ultra-pale with your rosy gold tones, opt for a radiant light blend of colors like in the photo below. For a stunning yet sexy look, match it up with strong, perfectly groomed brows.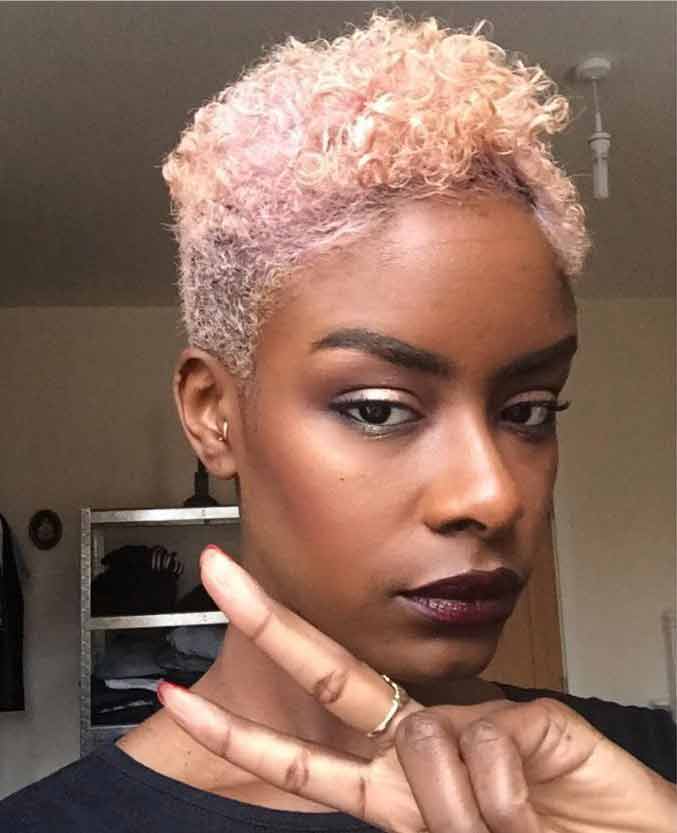 Rose Gold Hair Color at Home: How to Dye
Getting a rose golden hair at home is a bit tricky, but if you wish to go DIY and save money–or at least see how the color will look on you without going to the salon here are the essential steps to try this at home:
For temporary results
If you hair is already naturally medium to light or bleached medium to blonde, simply apply a pastel peachy pink conditioner, temporary color or hair spray/mousse to your hair strands. Some good product choices are: Color Brilliance Ion Metallics line in shade Rose Gold, Color Smash hair shadow in Rose and Shine, Bumble and Bumble in shade blush.
For semi-permanent and permanent looking results
If you want more long-lasting results the steps to get  a rose golden hue at home are as follows:
Step 1: If you hair is dark to medium brown, you should aim to lighten your hair at least two tones and preferably to anywhere from level 7-9. It is perfectly fine if you have a bit of yellowness or a green tint showing through as golden rose is a color that is very forgiving to these undertones and doesn't need to be extra cool.
Step 2: Make sure your hair is fully dry and apply your target golden rose shade. If you want a salon-looking result, consult the professional formulas highlighted in an earlier section or get a DIY home kit like L'Oreal Feria Smokey Pastels in P2 smokey pink.
Step 3: Mix a 20% volume developer with the rose golden hair dye of your choice in equal amounts. If you are going to mix two shades to achieve a rose golden shade, they will need to amount in total to 50% of the mixing ratio.
Step 4: Apply all over your hair or to individual hair strands and leave for up to 45 minutes.
Step 5: wash off and apply a peachy pink conditioner to your hair strands for enhancing and locking in the color. Some products you could try are: Keune pink flush color craving and Overtone vibrant pink conditioner.
Does Rose Gold Hair Color Fade? Maintenance Tips
Just like any other color, rose gold will fade over time. How fast it will fade will depend on your hair care regimen. You can make it stay longer by following the tips and ideas below.
Reduce your hair washes, and shampooing,
Invest in a good color protecting conditioner.
Preserve your rose gold hair color with a sulfate free color-safe shampoo
Mask your hair regularly with a nourishing hair treatment or coconut oil, to keep your hair healthy and shiny.
Try and avoid steaming hot water washes, heat styling tools that might damage your rose gold hair. If it is necessary that you style using heat, opt for gentler forms like blow-drying, and use a heat protecting spray.
Avoid chlorinated pools or wear a swimming cap especially if you initially bleached your hair to get the rose gold
Best Brands of Rose Gold Hair Color Dye
The best brands for sporting a rose gold shade are:
Overtone in Vibrant pink
Bleach London Rose color line (for enhancing the color)
Schwarzkopf Igora royal pearlescence in P 6-89
Ion Color Brilliance in Rose Gold
Matrix Color Sync in 9C+ 10MM
Rose Gold Ombre Hair Color and more Video Tutorials
Tutorial#1  Ombre Hair Tutorial
Tutorial#2  DIY
In addition to the aforementioned how-to  tips at home  here is more from one of the most viewed YouTube video on going rose gold.