Best Essential Oils for Hair Growth, Thickness, Dry & Damaged Hair
Growing your hair naturally can really be challenging as it really takes time and effort just to gain a few inches of hair. Growing healthy and lustrous looks is also the second part of the challenge. However, you can speed up the process with minimum amount of cost, and most importantly without any fancy chemical junk or treatments DIY.
The question is: Why essential oils for new hair growth? If you have noticed, many commercially bought hair growth formulas contain some type of essential oil together with other chemical ingredients. And yes, you've guessed it. They really work. Even just a few drops of essential oils in  a carrier base are enough to trigger new hair growth naturally due to their strong invigorating properties.
Read on the rest of the article on how to make it according to your hair type.
Best Essential oils for fast hair growth & thickness
There quite a few essential oils for growing hair fast, however, the following essential oils have been proven to encourage new hair growth for all hair and scalp types with minimal irritation:
Lavender oil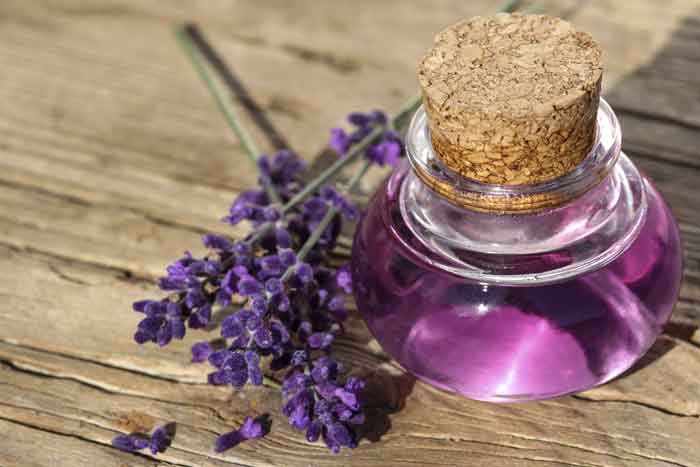 Lavender may be famous for its aromatic and calming scent but this isn't the only use of the plan's essential oil. In fact, Lavender oil can be useful in DIY recipes for encouraging new hair growth too. The mild astringent as well as rejuvenating properties of the oil make it excellent for hair growth recipes–it helps treat dandruff and scalp issues and at the same time help trigger the growth of new and stronger hair follicles with minimal to none irritation.
Rosemary essential oil
Rosemary essential oil is another versatile aromatic oil than can be used diluted in hair growth recipes. It has uplifting, rejuvenating, astringent, and invigorating properties and has been used for centuries for reversing the onset of gray falling hair.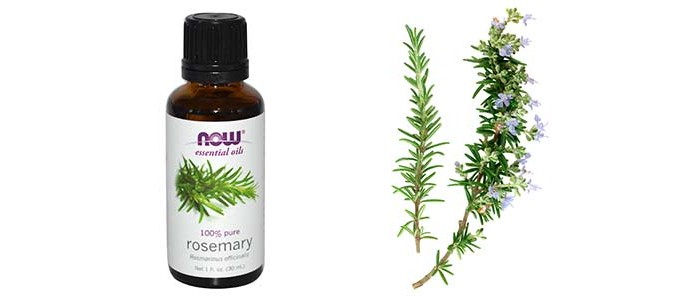 So if you have a few gary hairs popping up and revealing your age, you can try using rosemary essential oil to counteract this. It also stimulates the growth of new thicker and stronger hair so that is an all-around great essential oil to use for falling, thinning, and gray hair at the same time.

Bergamot or neroli essential oil.
Bergamot or neroli oil are also great for treating hair fall problems as well as scalp issues and fostering new hair growth. The oil is one of the few essential oils with PH balancing properties which means that you can use this to balance dry and scaly scalp–or in the contrary, oily skin roots. Since we all know that scalp issues can prevent new and healthy hair growth, you better take care of your scalp naturally before you do anything else. And the bergamot oil can do that and more.

Essential oils for black hair growth 
Besides the above oils that anyone regardless of their scalp and hair type can use, if you have afro-hair and want to grow your hair naturally and faster, you can try these oils too:
Peppermint oil
Peppermint oil is so aromatic and stimulating that it can't be left out when we are talking about new hair growth recipes. It has astringent, antibacterial, antifungal and invigorating properties which make it ideal for treating scalp issues like dandruff as well as fostering new hair growth.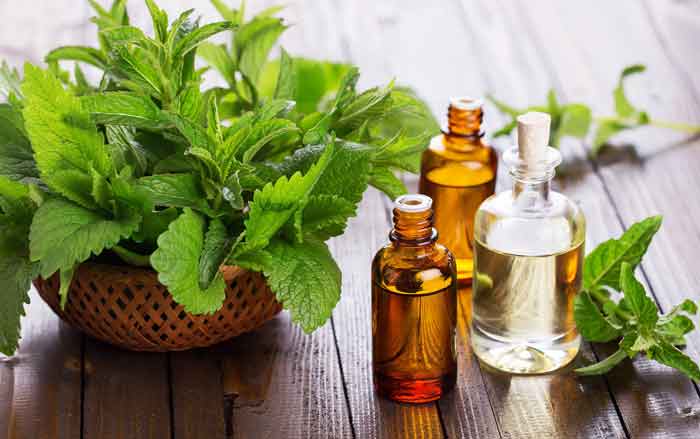 Thyme Oil
Thyme is another oil with impressively antioxidant, antibacterial, antifungal, and invigorating properties. Plus, it can also help with blood circulation towards scalp and encourage the delivery of nutrients that will help with new hair growth. If you have black afro hair with scalp issues, you should give this a try.

Best Essential oils for dry damaged hair
 Sandalwood oil
Despite its strong woodsy aroma, sandalwood oil has quite significant balancing and invigorating properties. That means you can either use it as a treatment for new hair growth, as a scalp treatment, and as a dry/split end treatment. It's good for all that. 
Chamomile oil
Chamomile has a reputation of being one of the most mild oils but that doesn't mean that it doesn't work for a variety of purposes. In the case of dry and damaged hair and scalp, chamomile oil diluted can help treat dry scalp issues and encourage the growth of silky smooth and lustrous looks, while helping keep split ends at bay too.
Rose oil
Rose oil has hydrating and emollient(softening or soothing) properties. Thus your hair will remain moisturized all day long.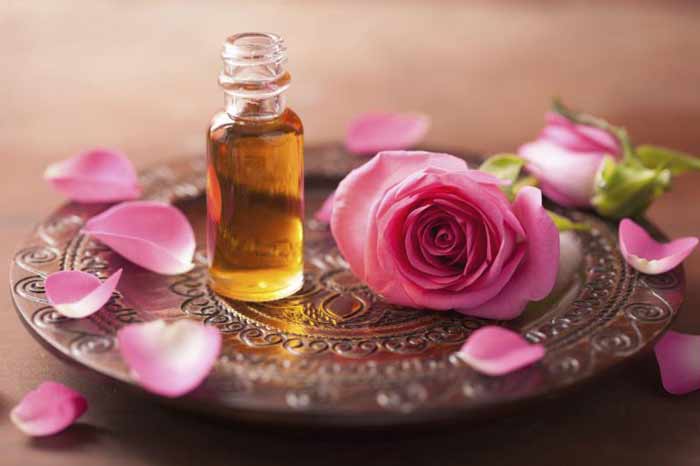 Oil from roses also acts as a scalp tonic due to its antiseptic, stimulating and antimicrobial (bacteria and virus) propertis
It also thought to possess anti-inflammatory properties which make it good for scalp health
How to mix essential oils for hair growth + Recipes
Pay attention to this guide as it's extremely important to mix essential oils right. Keep in mind that you can't use them undiluted and directly onto your scalp or you may risk irritation at best or small burns afterwards.
In all times, essential oils should be diluted in  a carrier base oil like for example, jojoba oil, almond oil, coconut oil, avocado oil, grapeseed oil, argan oil, and olive oil.
Ideally  depending on your hair type, you can use this mixing ratios:
For all hair types: 2-5 drops of essential oil per 100 ml of carrier base oil. So if your carrier base oil measures 250 ml, you may add up to 12 drops of essential oil.
For coarse hair of thick porosity: 3-6 drops of essential oil per 100 ml of carrier base oil.
For oily hair with greasy roots: 4-7 drops of essential oil per 100 ml of carrier base oil.
For sensitive scalp and dry hair: 2-3 drops of essential oil per 100 ml of carrier base oil. 
Essential oils for hair growth recipes
We have chosen the following DIY recipes because they work for all hair types in encouraging new hair growth. Here are a couple:
Recipe No 1: All-purpose lavender and rosemary oil hair and scalp treatment 
Ingredients:
-100 ml of almond or jojoba oil
-2 drops of lavender essential oil
-2 drops of rosemary essential oil 
Directions: Mix all these together in a dispenser/dropper bottle and shake well to incorporate the oils. Before use, apply a few drops of the mixture to your scalp and gently massage to absorb. Leave the mixture overnight and wash off the next morning for best results. Repeat once a week for at least 6 weeks to maximize your hair growth.
Recipe no 2: Extra balancing and aromatic oil for new hair growth.
Ingredients:
-120 ml of argan oil
-3 drops of chamomile oil
-2 drops of sandalwood essential oil
-1 drop of peppermint oil (optionally)
Directions: As in the recipe above.
One thing to keep in mind when mixing that many are not aware about, is to use clear colored oils and not dark oils like olive oil for example as this will darken your hair roots (unless this what you want).
Also, besides massaging the hair treatment essential oil mixtures to your scalp and possibly hair ends, you can try adding a bit over your comb to comb through your hair and distribute evenly. This will also work on other issues besides scalp.