Golden Blonde Hair Color Dye, Dark, Light, Medium, Chart & Highlights
Golden blonde is one of the most popular shades of blonde as it is seen in women of various ages and skin colors, although it looks best on women that have pale peachy or golden undertones, and green, hazel, or light brown eyes. It's relatively easy to achieve and doesn't require any excessive bleaching or specialty color products as long as the hair looks vibrant and shiny and is in healthy condition overall.
Golden Blonde Hair Color Chart & Formula
Below are photos of different of celebrities with golden blonde hair.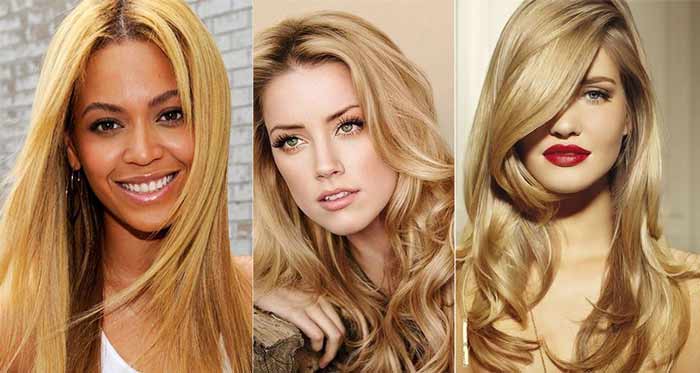 To get the perfect golden hue you are looking for,  read on the rest of the article.
Golden blonde hues range from dark golden brown to light golden blonde (5-6 shades). Here is a sample of various golden hair swatches: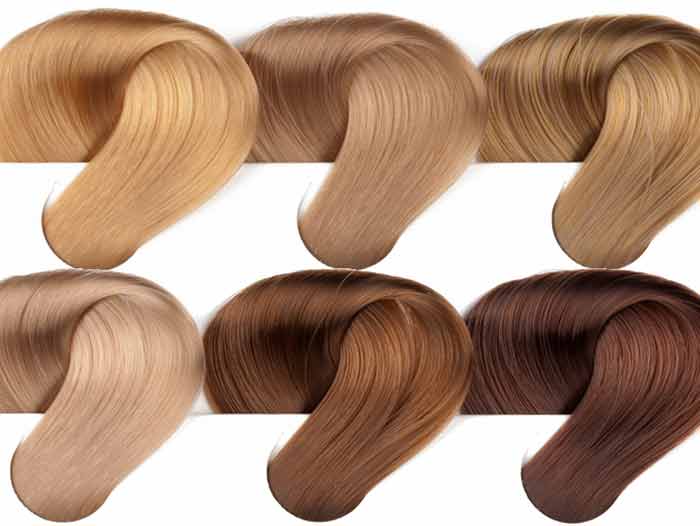 Formula
Golden hair can be easily achieved by anyone without bleaching unless you are starting with very dark hair and you want to go for a light golden blonde.
if you want to add more depth to your natural golden color here are some formulas you could try out:
L'Oreal Majirel in shade 7.03 (one part) + 9.03 + 1 ½ part of 30 or 6% volume developer.
Wella Koleston Perfect in shade 88.0 (one part) + 1 ½ part of shade 99.0 + 1 ½ part of 30 or 6% volume developer.
Matrix So color in 7G Dark Golden blonde ( 1 part) + 8 G Medium golden blonde (half part) + 1 ½ part of 6% volume developer.
Best Dark Golden Blonde Hair Color
If you want to go for a natural golden blonde hair at home, here are few top shades to try out:
L'Oreal preference in shade 8G. This a beautiful golden shade with the right balance of cool and warm hues if you like golden locks that don't have a greenish tint. This shade is also ideal for natural light brown haired or dark dirty blonde women who want to brighten up their golden color just 1-2 shades.
Schwarzkopf Nectra color in shade 7.55 dark gold blonde. This a beautiful multi-dimensional dark golden shade ideal for medium brown girls with brown, hazel, or green eyes. The formula is also infused with natural nectar and botanical extracts for nourishing hair and adding a sunny-kissed shine.
Garnier Nutrisse, nourishing color foam in 7G/Dark Golden Blonde. A great natural dark golden blonde shade that resembles the color of sunny sand with a very subtle frosty finish. The formula also contain nourishing agents like Avocado oil, shea butter, and olive oil.
Light Golden Blonde Hair Color
Light golden blonde hair can be achieved at home by using a lifting agent or bleach and the hair dye of your choice or a hair dye in light golden color and a 30-40 vol. developer. Some good shades for this purpose are:
Garnier Nutrisse in shade 93, Light Golden Blonde. This a very light golden shade ideal for natural dirty blondes that want to go 2 shades lighter than their original color and add a neutral to warm golden tone to their hair.
Revlon Colorsilk in shade 75 warm golden blonde. This is a light golden shade with warm beige undertones rather than a greenish tint, ideal for those with light brown hair, dirty blondes, and ginger blondes that want a brighter yet balanced light golden color in their hair.
Medium Golden Blonde Hair Color
Medium Golden Blonde color is ideal for natural blondes or light brown gals who just want to brighten up their existing tone one shade. It is also great for brunettes with hazel eyes and golden or neutral skin undertones like for example Angelina Jolie, Keira Knightley, and Jessica Alba. Some DIY kit suggestions you could try out include:
Garnier Nutrisse in 83/Medium Golden blonde. A beautiful radiant shade with neutral to ash undertones perfect for those who want to calm down the redness in their skin or revive its natural golden sheen.
Clairol in Shade 8G/Natural Medium Golden blonde. This medium blonde shade has neutral to warm undertones and compliments ideally those with green, hazel, or light brown eyes.
Dark Golden Blonde Hair Color with Highlights & Lowlights
If you want to add even more depth and dimension to your natural golden color, you could try the following highlight and low light combos like:
Platinum highlights
Red highlights
Brown highlights
Light blonde highlights
Brown lowlightsFor a natural sun-kissed result, it's best to go to a professional salon although you can get a good result at home if you purchase a special highlighting kit with all the colors and tools you need to make your highlights and low lights. Some good kits to try out are: Clairol's Frost and Tip and L'Oreal touching highlight kit in Golden Honey blonde.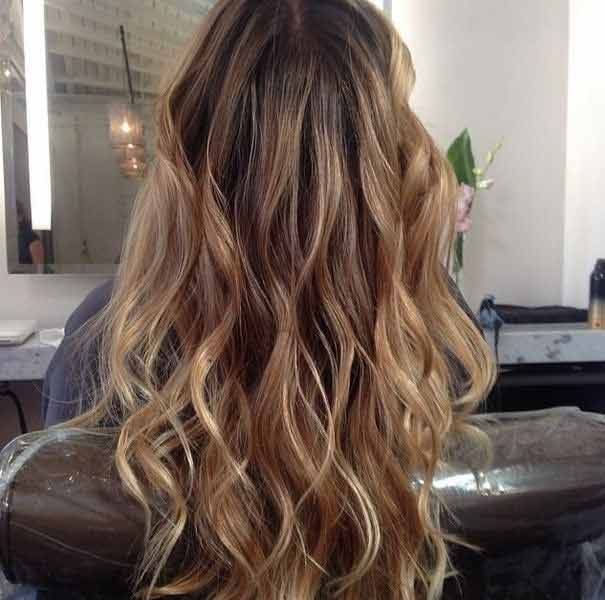 Golden Blonde Hair Dye on bleached Hair
Golden blonde hair dye on bleached hair (bleached to a pale blonde with neutral undertones) is very easy to achieve and usually requires a 20 vol. developer if you are going for something a tad darker without going too dark.
However, if you want to go from a pale platinum blonde to a dark golden shade, it's best to go to the salon as home kits may work at first but after a few washes, your bleached blonde hair will turn into an ashy color with a greenish tint instead of a rich golden blonde.
If you have decided to go DIY though, make sure you use professional formulas like Matrix So-color and L'Oreal Majirel wit a 3% vol. developer or mix two shades to add acheive a more natural and multi-dimensional look.
Golden Blonde Hair on African American-Dark Skin
Golden blonde hair is a shade that has been worn for years by many dark-skinned celebs like Beyonce, Tyra Banks, Ciara, and Iman and show that way that not only fair skinned gals look good with this shade. If you have grown tired of your black or dark brown African American hair, perhaps you could try out a golden hue, especially if your skin has neutral to golden olive undertones.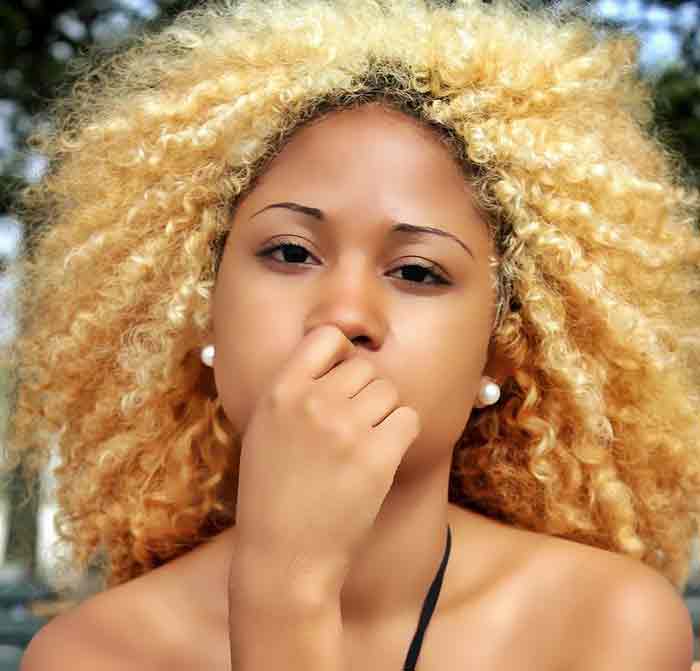 Some of the best shades for this purpose include:
Dark and Lovely in Golden Bronze. A beautiful golden bronze shade with mocha brown undertones and a subtle frosty finish.
Clairol Textures and Tones in Light Golden Brown. A very rich and warm golden shade with bronze undertones and no hint of green.