Glow in the Dark Hair Dye-Permanent & How to make Instructions
Want your hair to shine bright in the middle of the night like a star? Glow in the dark hair dye is all you need. Read on to finds its availability, when and how to use it, if temporary or permanent, how to make DIY, ideas for blue and red hair dye, best brands plus more
Is there Glow in the Dark Hair Dye?
If you are reading this, perhaps you are wondering whether there is indeed a glow in the dark hair dye and whether you can actually achieve this shade DIY. First, find out what it is.
Definition/Meaning
Glow in the dark hair dye is actually a hair color dye that contains special fluorescent pigments of color that get extra vibrant and  glowy in the dark back light and are U.V  reactive, meaning that they glow under U.V light.
They may look normal under normal daylight, but once the darkness sets in or there is a special U.V light, the color will get activated and emit a neon glow although technically, it doesn't emit any amount of light.
Unlike normal hair dye which contains regular pigments of color, this type of hair dye contains fluorescent or glow powder pigments that react to U.V light only to look vibrant.
Glow in the Dark Dye Pictures
Picture #1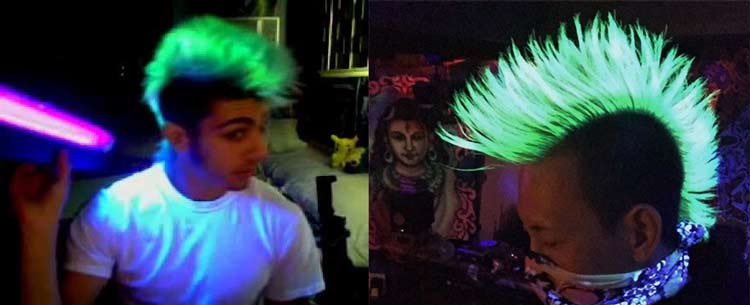 Picture #2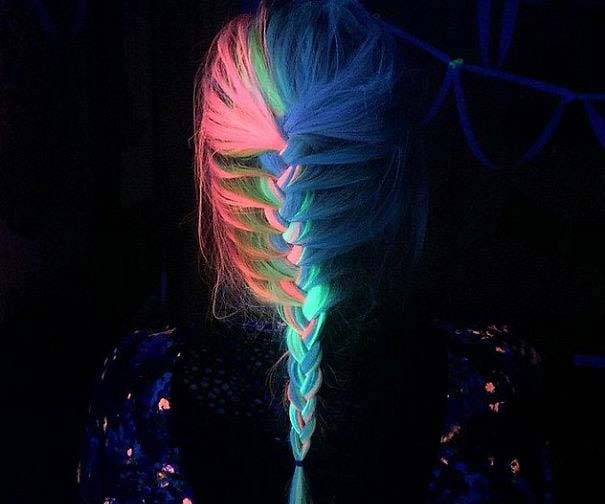 Picture #3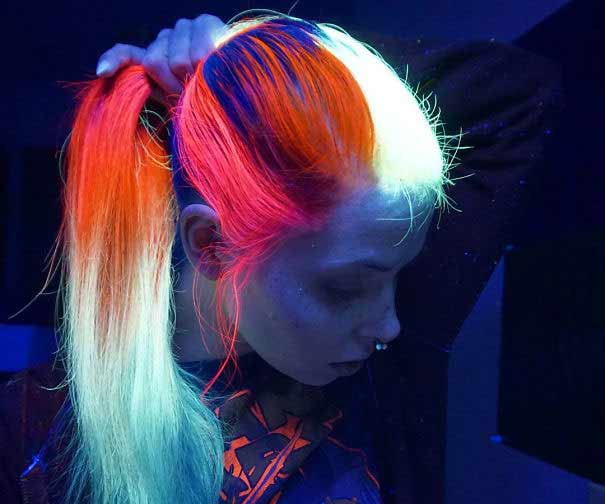 What occasions is it for?
Neon Color hair dye is mostly appropriate for wild themed parties and halloween as it looks extra neon, unique and cartoonish. It is also ideal if you want to catch the attention of others but it's best to avoid it in formal situations and parties with officials and older people as it will draw negative attention.
Availability
There are actually quite a few brands that carry glow in the dark hair shades and are mostly found online or in big beauty supply stores like Sally's beauty. Most formulas are available in gel, cream, spray, or mousse form and ara applied very easily on the hair without much fuss or expert knowledge of mixing and developing ratios.
Is Glow in the Dark Hair Dye Permanent or Temporary?
Glow in the dark hair dye is temporary in general (at least the current brands that carry glow in the dark shades)  and lasts typically anywhere from 1-6 washes. This is because the fluorescent pigments and phosphors contained in these hair dyes can't last too long and begin to fade out, unable to produce energy and glow for longer periods of time.
The only semi-permanent choice that lasts a bit longer than a 6 washes is UV hair color rinse, which doesn't contain any ammonia or peroxide and is quite friendly on the hair.
How to Make Glow in the Dark Hair Dye
How to make glow in the dark hair dye at home:
Step 1: To make glow in the dark hair dye, you will need a hair shampoo, a conditioner, a blow-dryer, and a glow in the dark hair-spray, cream, or gel.
Step 2: Wash and condition your hair with a shampoo and conditioner a usual.
Step 3: Towel dry your hair and blow dry it till its completely dry
Step 4: Apply the glow in the dark hair dye of your choice to all the individual sections of your hair or only in certain sections as lowlights or highlights.
Step 5: Test your new hair dye in the dark to see if it glows and you are all set. If you find that it doesn't glow enough, try applying another stroke of  glow in the dark hair gel/spray.
Glow in the Dark Blue & Red Hair Dye Ideas
Glow in the dark blue hair dye. If you want to try a dark blue hair dye that glows in the dark,  Sparks long-lasting Bright hair color and PaintGlow glow in the dark hair gel in blue shade and PaintGlow UV hair Hair Chalk In blue.
Glow in the dark red hair dye. For a rich red glow in the dark shade, try PaintGlow Glow in the dark hair dye in red, and Manic Panic's Amplified Semi-permanent hair color in wild fire.
Neon glow in the dark hair dye. For that typical neon yellow-green tinge, try a hairspray like Black Light and U.V reactive hair spray and Glomania, U.V neon green hair gel.
Glow in the Dark Hair Dye Manic Panic-How to use + Reviews
Although Manic Panic doesn't carry an exclusive UV reactive range, the following neon colors of DYE HARD temporary hair color gel line glow in blacklight: electric banana, electric flamingo, electric lizard, and Electric sky. Hot Hot pink, Wildfire, Cotton Candy pink, and Electric lizard from the amplified range also glow under a black light.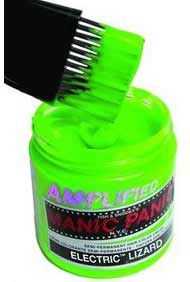 How to use:
For best results, Manic Panic suggests that you pre-lighten your hair before using a U.V neon hair color. If your hair is already light blonde, you won't have to do this step but if you have dark brown or medium brown hair, bleaching your hair at least two tones is recommended. If your hair is extra dark to begin with, you may need to bleach 2-3 times to get it light enough with no orangeness/brassiness showing through. Manic panic carries their own bleaching kit called Flash Lightening with instructions inside on how to use it. Typically bleach takes no more than 20 minutes to light your hair.
Wash and rinse your hair and let it dry completely. Wear some plastic gloves to protect yourself and mix your desired Manic Panic Neon hair dye in a small bowl with a special brush applicator.
Apply the hair dye to the lengths of your hair, section by section and then tie everything with a hair clip and a plastic wrap to avoid color dripping. Wait for around 30 minutes and then rinse off with water and shampoo as usual.
Manic Panic glow in the dark is one of the most  popular UV neon hair dye brands as it's used by both celebs and ordinary people for dying hair a crazy UV shade. Most users who tried this gave it a 4+ star rating and loved their gentle conditioning and vegan friendly formula that doesn't contain any ammonia.  Also, most users reported getting semi-permanent results with these that lasted a few weeks before fading out.
Splat Glow in the Dark Hair Dye-Instructions & Reviews
Splat Glow is another popular glow in the dark hair dye that has temporary results and lasts a few washes. If you don't want to commit to a semi-permanent glow in the dark shade this brand and product range is ideal.
To use simply apply the hair color gel on to dry hair and leave until your next wash out to remove it.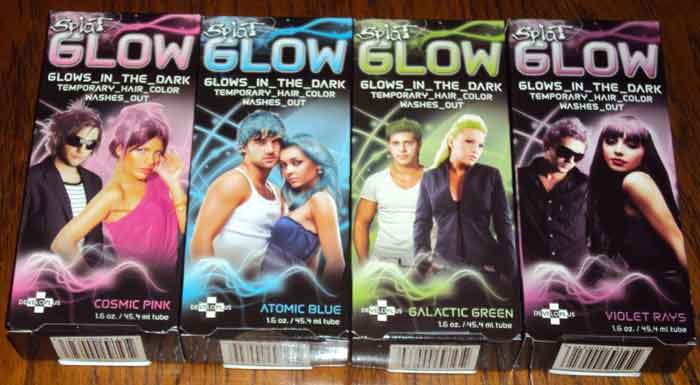 Pravana Glow in the Dark Hair Color
Pravana is another good brand that carries 5 UV neon shades: Neon Pink, Neon Orange, Neon Blue, Neon yellow, Neon Green. The hair dye doesn't require any mixing agent and you can apply this directly to your hair as long as it's dry.

Other Glow in the Dark Hair Products-Iglow Hair Gel & Uv Hair Rinse
Other brands of glow in the dark hair products you could try out are Paint Glow hair gel and Moon Glow gel and hair mascara for applying streaks
Where to buy or get Glow in the Dark Hair Dye
If you cannot get DIY at home, you can get or buy it from online stores like;
Amazon
Aliexpress
Also check it in your local beauty stores.