How to Dye your Eyebrows-Tinting, How long it lasts, Best Kits, Before and After
Seeking to enhance the look of your eyebrows? Find out what brow tinting is, how long it lasts, tips and ideas on how to dye your eyebrows, dark, lighter naturally at home the best tint kits in addition to before and after results with pictures. Also learn if it is safe to dye around your eyes.
What is Brow Tinting?
Brow tinting is  cosmetic procedure that uses semi-permanent vegetable dye to enhance color, shape, and thickness. Some refer it to eyebrow dying or coloring. You can purchase a  DIY eyebrow tinting kits from most pharmacies and supermarkets and do the dying at home or alternatively you visit a salon where a beauty professional will handle the procedure.
Beauty experts agree that benefits are almost instant. According to Umbreen Sheikh, owner of Wink Brow Bar in NYC, tinting instantly makes you look groomed and adds more structure. You don't have to fill them in every day or use powder, so it's also convenient and time saving.Compared to other brow care routines such as shaping waxing, tweezing and threading, this procedure does not take away you hair. However in some cases, brow dying is done along with hair removal.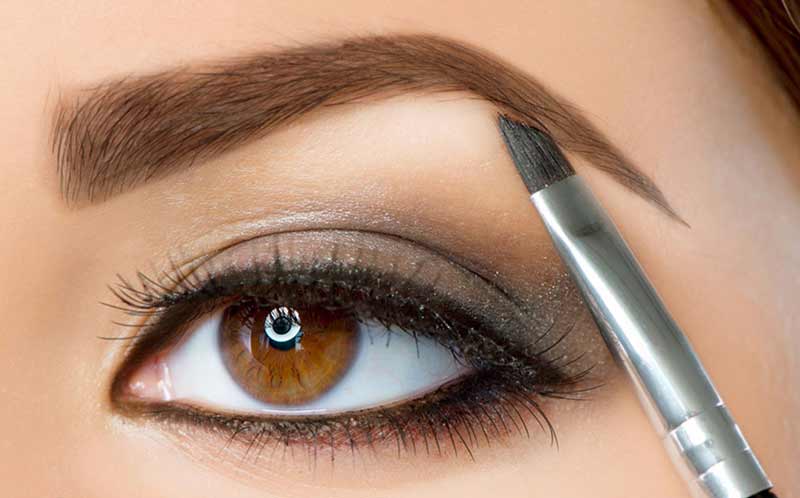 How long does Eyebrow Tinting last? Is there Permanent Eyebrow Tint?
The whole procedure of eyebrow dying is usually semi-permanent. As you may have noticed, the coloring substances (dyes) are said to be semi-permanent. In fact the kind of dye, organic vegetable dye in particular, is thought to last longer than regular dyes.  At least it will stay for some time but not forever.
Apart from the dye being semi-permanent the hair(brows) themselves are not permanent. They grow, shed, and new ones come again. It is estimated that eyebrows shed within 6-8 weeks. The bad news is that they fall out taking the tint with them. However this will depend on an individual and other factors such as health, status, genes etc.
Basing on the facts above it possible to the have estimate how long  eyebrow tint can last. According to Allure, one of the popular beauty with an audience of millions, the vegetable dye itself lasts about 21 days (three weeks) to 30 days ( four weeks/one month). This duration may vary from one person to another. Bottom  line, there is no permanent eyebrow tint. Tint lasts for a limited period.
Who is Eyebrow Dying for?
For those who have changed their hair color
The change of hair color would prompt you to dye your eyebrows in order to match. Depending on the hair you have plaited, you ought to get the right match of the dye for your eyebrows. If your hair type color is blonde, red, or you just want to make your already brown brows bolder, you could darken them to your liking.[1]
According to Zoey Van Jones, a California based Brow studio, "Darkening the brows can refine and enrich the overall shape of the brow. If you darken your hair color, you can simply fill your eyebrows in, and/or have dyed darker to match."
For those who hate gray hair on their eyebrows
Gray hair on the eyebrows can be as a result of several factors that include melanin pigment imbalance, poor diet, hormonal imbalance, malnutrition, heredity, autoimmune disorders, smoking and the normal aging process.
The occurrence of this is very annoying in some people yet not in others. In the event that the above occurs, you might want to do away with it using any possible means. Some people pluck it physically, some use tweezers to pull out individual hairs. This process is however painful and is not likely to solve the problem completely.
It is important that you consider going for a dye that will help you tint your brows to the perfect match of your scalp hair. This is more reliable, convenient and devoid of pain if any is likely.
For those who want thicker appearing eyebrows
Brows naturally lighten from the sun and this means that the ends of the ends of your brows are at times not prominent as the inner corners. Age also contributes to the lightening. According to Stevi Christine (a makeup artist), "The main reason why most women need to tint their eyebrows is due to years of over tweezing". She goes ahead to point out that, "the older you get, the more your brows [2]seem to fade away, so tinting them is a better way of making them look fuller and more pronounced".
For those who want to add more beauty and definition t0 their face
It is worthwhile to boost facial symmetry and create an attractive and high contrast look. This can be done if you pick up a facial tint or dye that works well with your facial features. This whole picture builds up a frame that would give a good looking picture of you.[3]
An alternative to Eye Pencil
Brow tinting is a good alternative  if you're fed up of using an eye pencil .
Eyebrow tinting works well most women , and it's perfect if you're looking for a way to streamline your beauty routine.
Choosing the best Eyebrow Tint/ Dye Kit
What should you consider before selecting the best dye for eyebrows? Here are ideas to help select the eyebrow tinting kit

Skin tone vs. the hair color
Always find out the color goes hand in hand with your skin color. According to the Brow Color Chart by julep.com, fair skin with blonde hair matches warm brown dye, medium skin with black hair matches with rich and cool brown dye, dark skin with auburn hair matches warm brown dye. In a nutshell, to know your best dye should consider your skin color for effective results.
Factor in the natural shade of your brows
A lighter brow color will always look more natural because it recedes, filling in the gaps between your actual brow hairs. If you have fair skin, blonde hair and naturally dark brows, you might consider warm and brown shade of dye.
Consider the type of dye you use.
Consider the type of brow dye you are going for. Most of them come with the dye, developer options (or oxidizing agent), mixing bottle and apply. Always, go for vegetable-based eyebrow dyes. Apart from that, ensure you do not go for very hard or strong brands since they might have damaging effects.
There are types of eyebrow dyes, which come with bleaches, and you are required first to bleach your eyebrows before applying the dye. Ensure the bleach does not irritate your skin. Finally, you could narrow down to brands that use only natural ingredients such as henna instead of synthetic brands.[4]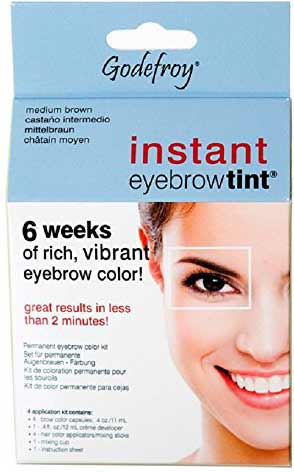 Best Eyebrow Dye Kits
Based on various reviews of dye kits, the list below provides a brief list of some of the best kits available. However, the list is not all inclusive as there are very many brands and people prefer some over others from time to time;
Godefroy Instant Eyebrow Tint, Medium Brown
1000 Hour Eyelash & Brow Dye Kit
Eylure Dylash – Eyelash & Eye brow Dye Kit 45 Day Mascara
Godefroy Instant Eye brow Tint Dark Brown
Julienne Eyelash Eye brow Tint Tinting Kit Dye Dark Brown Tint Brush Dish Oxidant[5]
Eyebrow Tinting at Home
The procedure is very simple and it uses very locally available materials.
Requirements:
Caffeinated grounded coffee OR Instant Espresso 1 tbsp.
Milk 1 tbsp. (more if needed).
Honey 2 tsp.
Cocoa powder 1½ tsp.
Directions
Place 1 table spoon of grounded coffee in a bowl.
Add milk to the bowl.
Stir it until you get a fine mixture.
When its mix finely add 1 tsp. of honey in it (save 1 tsp. for next step)
Thereafter, mix it carefully.
Add 1 tsp. of cocoa powder in the mixture.
Next add small amount of milk until coffee mixture is like creamy soup
Check the consistency and then add one more tea spoon of hone and ½ tea spoon of cocoa powder.
Stir it until it's mixed completely into a smooth mixture.
How do you apply?
Wash your face with mild soap or face wash it would be great if you wash it with gram flour.
Pat dry face with soft towel or tissue.
Now apply Vaseline on the skin around the eyebrows which you don't want to be stained.
Leave the hair area to dye.
Place the coffee mixture on your eyebrows carefully.
You can use mascara brush, spoolie, wooden stick or Q-tip.
Apply completely on your brows.
Leave it until you get the desired color.
Clean your brows with wet tissue napkin or wipe.
Do not wash your face with face wash for at least one hour[6]
How to dye Eyebrows Darker Naturally
Commercial dyes contain dangerous chemicals that can irritate and damage the eye if not properly used. Using a combination of henna and indigo, which are homemade products to darken your eyebrows, allows you to achieve the look you want without the chemicals.
How to dye
Dip a cotton swab in petroleum jelly and rub around your eyebrows to prevent staining the skin. Take care not to touch the eyebrow hairs.
Use the eyebrow brush to brush your eyebrows inward toward the center of the forehead.
Dip a cotton swab into the henna and indigo mixture and brush onto eyebrows. Take care to only apply to the hairs, not the skin. Apply a thick layer, making sure to apply from the outer tip of the eyebrow inward. Wipe excess dye off with a cotton swab dipped in petroleum jelly.
Leave the dye on your eyebrows for 20 minutes. Wipe with a dry washcloth, paper towels or cotton pad. Remove as much as possible, then remove any remaining dye with a damp cloth, paper towel or cotton pad.[7]
Dying Eyebrows Lighter
In order to dye your eyebrows lighter, you will need:
Facial Bleach
Vaseline
Cotton swabs (optional)
A spoolie
A washcloth (one that you don't mind getting stained)
Hair dye or purple shampoo

Steps:
Before you use it, test the bleach and make sure the bleach you are using is compatible with your skin. You could know this by testing some bit of the bleach on a small part of your skin as you scout for any reaction.
Then prepare your eyebrows
Being assured of the bleaching agent compatibility, use spoolie to brush the hairs upwards to make sure you will coat them when you apply some Vaseline to the skin around your eyebrow to avoid the bleach from touching it.
Having done that, now apply the bleach
Once you've brushed them upward, use a spoolie or cotton swab (whichever you prefer) to apply the bleach onto one eyebrow. Use just enough bleach to cover the hairs in order to avoid any of the excess from falling into your eye or from touching your skin too much. Also, make sure you are covering all of the hair so that you don't end up with patchy eyebrows.
Give the bleach time to work
Leave the bleach on for about a minute, then gently remove the bleach with a damp washcloth and see how it looks. If you still want them lighter, repeat step 3 until you is happy with the results.
Clean off and prepare for the dye or purple shampoo
After you've reached your desired lightness, you can clean off your brows and prep to dye them
Apply the dye or purple shampoo
Apply some of the dye or purple shampoo to your brows with the hairs combed upward (making sure not to touch your skin). You can leave the dye on for a few minutes since hair dye is not as harsh as the chemicals in bleach.[8]
Dying Eyebrows with Hair Dye Safety
Is it safe/recommended?
Hair dye is specifically designed for use on the scalp. It can hence be dangerous when it comes to use around the eye area. In some cases, rashes, allergies and blisters can develop with the worst risk being blindness. This is because the chemicals contained are very harsh and the skin on your brows may not stand the strength.  It is therefore neither safe nor recommended for this purpose.[9]
How can it be used?
Some people however go ahead and use it to dye their eyebrows. If at all you want to go ahead and do it, do not carry out the exercise on your own but go to a professional. Also, remember that there's a lot less hair in your brows than on your head. That means there's much less between your skin and the dye, so skin irritation is also much more likely.[10] Apart from that, you also ought to consider checking with an expert to help you do that. This will help you minimize the risks likely.
 Eyebrow Tint before and after Results +Pictures
The before and after results of eyebrow dying are  super amazing…you will be tempted to go for this treatment right away. Below are some photos showcasing the results in pictures.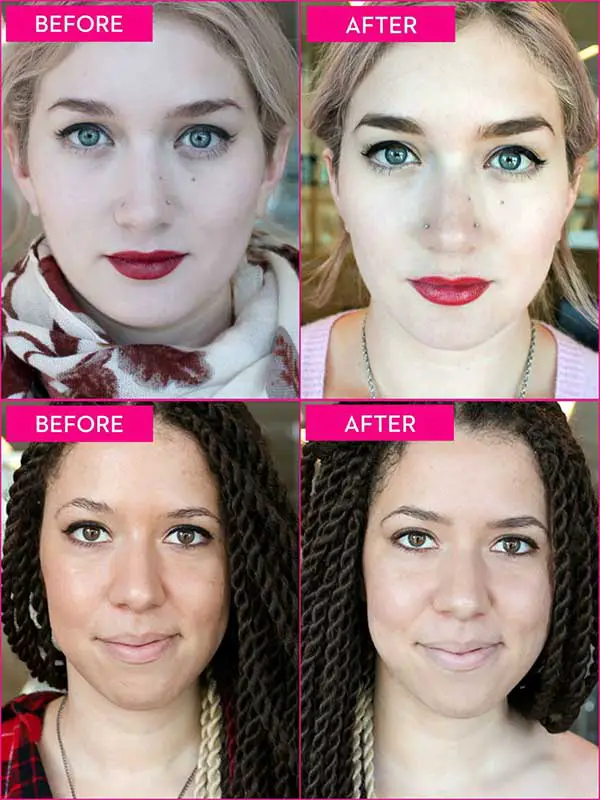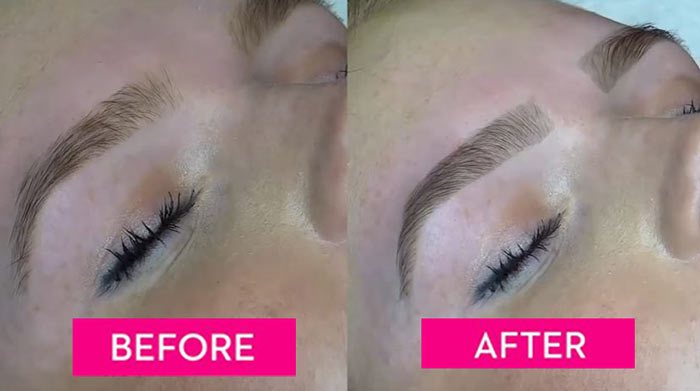 Godefroy Eyebrow Tint-Review
Below is video tutorial illustrating how to use Godefroy eyebrow tint and review, and results. enjoy watching…

Resources and References