Mocha Hair Color Chart, Highlights Ideas with Pictures
What is mocha hair color? For what hair colors is mocha suited for? What brands work best for both dark and light shades? Find out more in addition to mocha hair color chart and  with highlights
What is Mocha Hair Color? Who can use it?
Mocha Hair Color is a gorgeous shade of brown that resembles the color of mocha—which is a mix of chocolate and coffee shades and suits a wide variety of eye colors and skin tones—from light skin undertones with light eyes to the darkest, and everything in-between. This is the reason why it has become so popular among female celebrities like Miranda Kerr, Jessica Biel, Eva Mendez and ordinary women.
Who can use mocha color?
If you are wondering if mocha hair color is for you, the answer is YES if:
You want a subtle, natural change from your regular natural hair color
You don't want to bring our warm hues in your natural brown color
You want to achieve a shade that is not limiting and suits all types of make-up and clothes
You don't want to use any amount of bleach that will lighten your hair to an extreme
You have dark brown, hazel, or green eyes
You are feminine, classy, and alluring personality at the same time.
Mocha hair color comes with many variations, ranging from dark brown mocha colors to light mocha colors with a hint of caramel and cinnamon hues. Here is a brief guide on the best brands and shades for each mocha color tone.
Warm Mocha Hair Color
Warm mocha hair color as it names suggests is a warm shade of mocha that almost looks like café latte. Warm mocha hair color is great for reviving all skin tones.
Suggested brands and shades:
L'Oreal Preference line in 5 GC, Iced Golden Brown. This is light warm brown shade of mocha with a glazed icy effect. This shade is ideal for those with light eyes and warm or cool undertones.
L'Oreal Feria line in shade T53/Cool Medium Brown. This a warm medium mocha brown shade that is foolproof and suits most skin tones and eye combos.
Revlon Colorsilk Beautiful Color line in shade Medium Rich Brown 47. This a true medium mocha shade that supplements ideally warm skin tones and dark brown eyes. Green and blue eyes with neutral undertones will also match well with this shade.
Garnier Nutrisse Ultra Colour line in shade Iced Coffee/4.15. A great medium mocha shade with an icy finish that looks very shiny and bright under natural and artificial light. This shade also suits dark brown, green, and blue eyes regardless of the skin under tones.
Clairol Natural Instincts line in shade Dark Warm Brown Roasted Chestnut. This is a medium warm mocha shade with golden undertones that suits ideally light brown, hazel, and green eyes.
Dark Mocha Hair Color
Dark Mocha hair color is the darkest mocha hair tone and resembles the color of coffee and dark chocolate, with warm to neutral undertones.
Suggested shades and brands of this shade:
L'Oreal Excellence line in shade 5AB/Mocha Ash Brown. A dark mocha shade with ashy undertones that looks great on brown and blue eyes with neutral to pink undertones.
Clairol Natural Instincts in shade 35/Ebony Mocha Brown Black Hair Color. A dark blackish brown shade of mocha with neutral undertones. This shade will look good with many skin colors and skin tones.
Revlon Colorsilk in Dark Soft Brown. A rich dark brown shade of mocha with neutral to cool undertones. This is great for dark brown, blue, and green eyes.
Garnier Nutrisse line in Reflective Bronze Black/BL33. A blackish brown shade with subtle golden and bronze undertones. This shade looks ideal for those with dark brown, green, or blue eyes and neutral light to medium and medium to dark skin tones.
Pictures of Mocha colored Hair
Here is a collection of mocha colored hair in various shades with photo: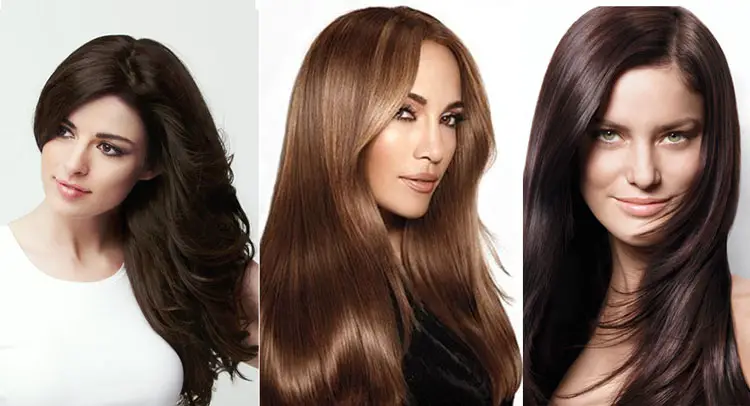 Light Mocha Hair Color
Light Mocha hair color is the lightest hue in the range, and is ideal for those with fair skin and hazel, green or blue eyes.
Suggested brands and shades for this tone:
L'Oreal Excellence Cream in Light Chestnut Brown/6CB. This a warm light brown shade with golden undertones. This would suit great those with fair skin and warm or peachy undertones.
Revlon Colorsilk Beautiful color in 54/Light Golden Brown. A light to medium mocha shade with neutral golden undertones. This shade is ideal for those with fair skin and green eyes, but can work just as well with other skin tones.
Garnier Nutrisse Line in shade 63/Light Golden Brown (Brown sugar). This a light mocha shade with frosty finish that would look good on those with cool pink undertones and blue eyes.
Clairol Natural Instincts Crema Keratina Line in shade 6/Light Brown. This a light brown golden shade that works well with almost any skin tone and eyes, and is also suitable for those with dark features.
Mocha Hair Color Chart-Matrix

Matrix mocha hair color chart
Matrix So Color professional hair dye range carries a specific line of mocha shades, starting from the darkest to the lightest. Here is a description of each from left to right:
The darkest mocha shade in the range. This shade almost looks like a more icy version of black and has slight cool ash undertones.
A dark brown shade tad lighter than the 4M shade with slightly warmer dark red chestnut undertones.
A very similar shade to 5M which is a dark brown with subtle golden undertones.
A medium shade of mocha with subtle golden undertones.
A light shade of mocha with warm golden undertones.
The lightest shade in the range. This a light blonde mocha shade with golden ashy undertones and subtle darker mocha highlights.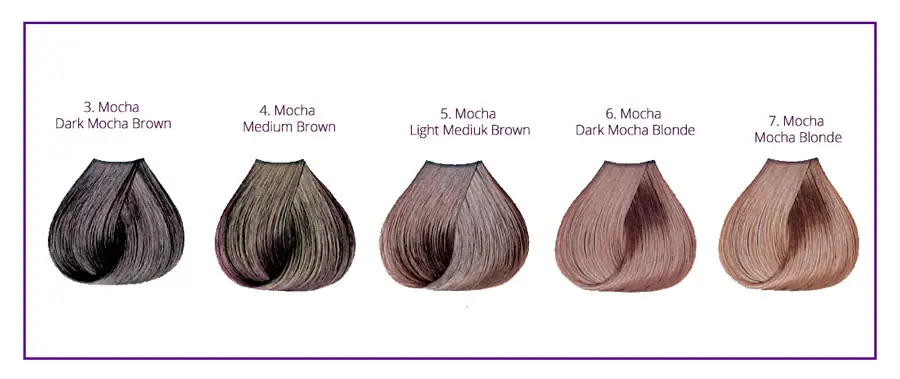 Mocha Hair Color with Highlights
Mocha hair color can look even more impressive with the addition of highlights among the same range. There are some DIY home kits you could try for this purpose, but if you want to achieve a professional looking result at home, trying some professional grade hair dye formulas is the way to go. Of  course you need to consider the idea mixing ratios, depending on the highlight combo you want to achieve. Here are some formula ideas below.
For caramel highlights
If you have black or dark brown hair to begin with, you won't need any lifting for your base color, but you will need to lift your hair in the caramel highlight sections. You could try this formula:  L'Oreal Professionell Majirel Line in shade 4.4 (base color)/20 vol. mixing developer + shade 7.45 (for the caramel highlights)/30 vol. developer
Formula for adding red highlights
L'Oreal Professionell Majirel in shade 4.56 (base color)/20 vol. mixing developer + shade 5.60 or 7.62 for adding red highlights/30 vol. developer
Formula for Mocha hair color with almond highlights
Matrix so color line in shade 5M (as the base color)/20.vol developer + shade 7M (of the same range, for adding almond highlights) with 30 vol. developer.
Formula for mocha hair color with cinnamon highlights
L'Oreal professional line in shade 4.4 (base color)/20 vol. developer + shade 7.4 (for adding cinnamon highlights)/30 vol. developer.
No matter the highlight shade you want to achieve, the process is as follows:
Step 1: Mix one part of the base color with one part of the mixing developer in a bowl with a brush or special applicator. The exact amount you are going to use depends on the length and the volume of your hair but for most hair lengths among the medium range, one tube of each will do. Tip: remember to stock up on developer as you may run out and you want have enough amount to cover your whole hair.
Step 2: Apply the base color to all your hair and leave for 45-50 minutes.
Step 3: Wash and rinse with a color protective shampoo.
Step 4: Dry your hair and add the highlights within 2 days after applying your base color.
Step 5 (optional): if you are going to dye your hair with the base color and add highlights at the same time, take out a few sections with a thin comb and rub them in aluminum foil before and after you add the highlight color to separate them out.
Step 6: Add the highlighting color to the sections you want to highlight. These may be individual hair strands or low-lights, or highlights applied from the medium shaft to the tips for an ombre-effect. Leave in for another 45-50 minutes and rinse/wash as usual.
Tip: The  darker your hair is, the higher strength of developer you'll need for adding the highlights, as anything too low might not lift the hair to the shade you want. For most hair colors of the medium range e.g. light brown/dark blonde, a 30 vol. developer will do—otherwise, if you have a darker base color and want to get a blonde mocha shade in your highlights, a 40 vol. developer is necessary.