Chocolate Cherry Hair Color Dye Ideas
If you are fed up with plain brown hair but don't want to change dramatically your hue, dyeing your hair to a chocolate cherry shade is ideal. This one of the best autumn fall hair colors.
Chocolate cherry is basically a rich brown shade with obvious cool dark red undertones. This shade has been spotted in celebrities like Ariana Grande, Selena Gomez, Cheryl Cole, Rihanna, and thousands of ordinary girls on popular social media like Pinterest and Instagram.
Who can use Chocolate Cherry Hair Color?
This shade is ideal if:
You have dark hair to begin with e.g. black, dark or medium brown.
Your hair has no strong golden undertones. This is because golden is on the opposite color spectrum with Red and your tips may fade to green unless you use a neutralizing color.
Your skin is fair, medium, or dark with neutral undertones. If your skin has fair olive undertones, this shade might make you look washed-out.
You don't want to lift/bleach your hair more than a shade, causing added damage.
You don't have any prior experience in dyeing your hair and want a change that is almost fool-proof.
This shade can also be used on natural or bleached blonde hair, but you'll need extra color care e.g. shampoos, treatments, to make it last longer as it tends to fade easily. Some good color care product choices for this shade include:
John's Frieda Radiant Red shampoo, conditioner, and mask line
Pureology's reving red shampoo
Clairol's nice and easy, ColorSeal Gloss for Radiant Reds
Redken, color extend lien of shampoo, conditioner, oil, and mask/treatment.
In general, this shade suits all eye colors but looks especially great with dark brown and dark green eye colors. It also looks best on those with neutral to pink undertones or medium olive skin undertones, like the likes of Ariana Grande.
Chocolate Cherry Hair Color –Mahogany, Cocoa Brown & Dark
Now, despite being a particular shade of its own, chocolate cherry hair color has its own variations including dark, mahogany, cocoa brown, etc. Here are some pictures…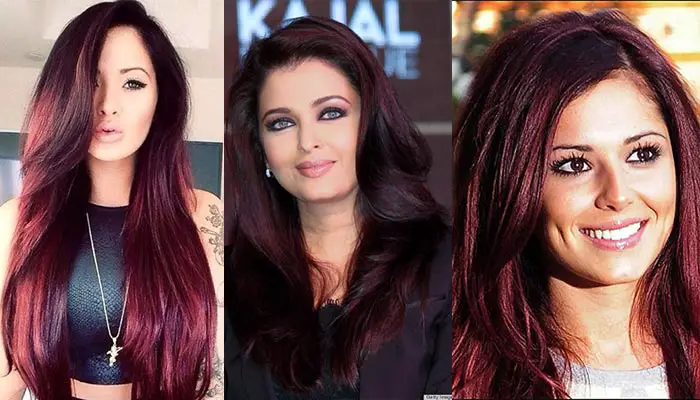 This a rich cherry shade with strong wine red undertones, suited for those with fair skin and dark brown, grey or green eyes.
In the following image we can see two variations of chocolate cherry. The first is a dark deep true cherry shade with plum undertones and the second is a warmer shade of cherry red, with a subtle "ombre" effect.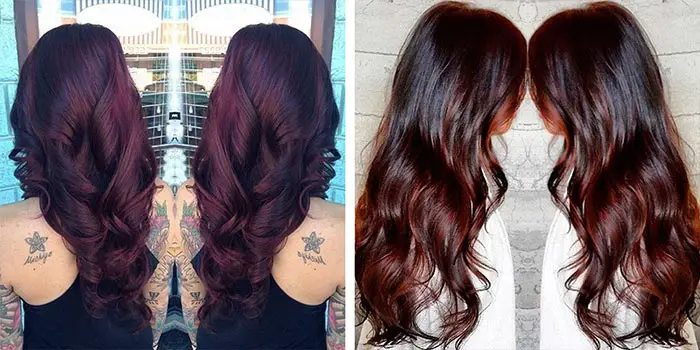 In the following picture, left is a vibrant chocolate cherry shade in dark skin, with brown eyes while on the right is a bright red cherry shade that gives a pin-up emo- note on the hair and suits those with extra fair skin, green or blue eyes, and neutral to pink skin undertones.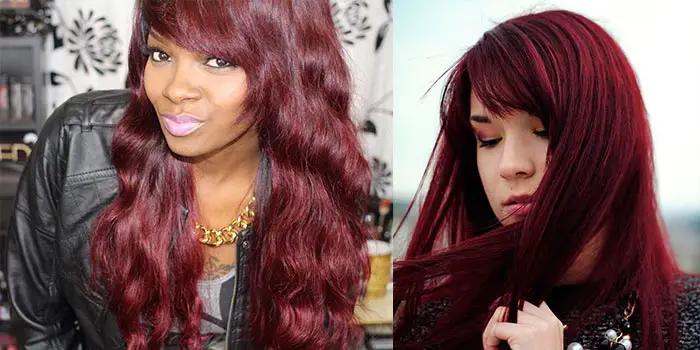 Chocolate Cherry Hair Color Formula &How to get
If you are not using any home-DIY hair dye kits, you may achieve this shade by mixing two or more colors with the appropriate developer.
In general, this shade requires the minimum amount of lifting for dark hair, and in most cases, a 20/6% volume developer will do. If your hair is blonde to begin with, you will need the lowest amount of developer possible e.g. 10/3%. As a general rule, darker hair will need a medium strength develop to subtly lift their hair and blonde hair will need a low strength developer to darken them.
Here are some professional mixing formulas for achieving a chocolate cherry shade. If you do the steps right, you'll get a professional-looking result at home.
Formula 1 (dark red cherry shade): L'oreal Proffesionnel Majirel series in shade 4.4 (one part) + shade 6.54 (one part)+ two parts of 6% mixing volume.
Formula 2: (medium red cherry shade): Goldwell Topchic Series in shade 5RV (one part) + 6RV (one part)+ two parts of mixing developer in 6%/20 vol. strength.
Formula 3: (rich chocolate cherry shade for light brown or dark blonde hair): Godlwell Topchic 5RB (one part) + 6RR (one part) + two parts of mixing developer in 3%/10 volume.

Chocolate Cherry Hair Color with Red & Blonde Highlights +Ideas 
If you want to add some depth and contrast to this shade, you may choose to add some red or blonde highlights, for a natural-looking result. Here is how to get these at home:
With Red Highlights
Choose your desired cherry red shade and bright red shade for adding your highlights. A good combo for adding brighter red highlights is this: L'oreal Majirel Professional Color in 5.64 (base color) + shade 6.66 for highlights.
To make your highlights, take out thin individual hair strands of a ½ inch think, where you want your highlights to be.
Secure these sections away from the rest of the hair.
Start mixing your base color with a 20/6% volume developer.
Apply to dry hair away from the sections you wish to add highlights.
Mix the 6.66 with a 20/6% volume developer and apply to the sections you want to highlight, keeping them away from the rest of the hair, wrapped in aluminum foil.
Keep both hair dyes for 45-50 minutes and wash and condition as usual.
With Blonde Highlights
Blonde highlights on cherry hair may add more contrast, but they are the trickiest to achieve as you will need to bleach individual hair strands to add blonde highlights.
Here is a good formula for this purpose: L'oreal Majirel in shade 5.64 (base color) combined with a 20 vol. developer + 900S (highlights) combined with a 40 vol. developer.
The process is the same as with the steps highlighted for adding red highlights. Just make sure you use a 20 vol. developer to mix with your base and a 40 vol. developer for adding blonde highlights.
If your hair is already bleached or natural blonde, only use your base color and leave out individual hair strands that are already blonde for your highlights without dyeing them.

Chocolate Cherry Hair Dyes-Feria & More
If you decided to dye your hair at home, here are some suggestions for this shade from various commercially available brands.
Most of these formulas will give you permanent-looking results that will last more than 15 washes, depending on the range and brand.
L'Oreal Feria in shade Chocolate cherry 36. This is a very dark chocolate cherry shade with cool plum undertones and is ideal for those with naturally dark hair with no need for bleach. The formula is also ideal for adding multi-faceted shine and natural highlights that show through in the sunlight.
L'oreal Feria casting crème gloss in shade Black cherry. This is a true cherry shade that totally resembles the color of a dark cherry. It's best suited for those of dark eyes and light, medium or dark skin with neutral undertones. This is a semi-permanent formula with conditioning and shining agents to make hair look glossy and healthy. Since this is a semi-permanent formula with no ammonia and bleach, keep in mind that it may come out darker than expected.
Garnier  Nutrisse Ultra color in Reddish brown B2. This is dark cherry shade with strong burgundy undertones. This shade is ideal for those with dark hair, looking to slightly lift their natural hair color 1 shade. Another shade on this range is 56/Sangria red. The formula contains natural nourishing oils like Avocado to moisturize and nourish hair shaft while dyeing it.
Revlon Colorsilk beautiful color in shade 48/Burgundy. This is medium to dark rich cherry red shade with strong burgundy undertones. The formula claims to cover grey hair by up to 100% with no addition of Ammonia. This also contains conditioning ingredients for keeping the hair in a better condition.
Schwarzkopf palette in shade 872. This is a rich, cherry with strong red wine/Bordeaux undertones. This is perfect for those with fair skin and neutral to pink undertones, and blue or green eyes. The formula promises to deliver extra rich long lasting color and an intensive nourishing formula enriched with natural oils. This brand is mostly available in Europe, but U.S.A consumers can find it online through eBay or amazon UK
Clairol Natural Instincts in shade Malaysian Cherry/20 R. This is a true medium cherry shade suited for those of medium brown to dark blonde hair. This shade looks especially good on hazel and green or grey The formula also contains herbal ingredients and no ammonia, for preventing sensitivities and allergies.
Clairol's textures and tones in shade 4RC/cherrywood. This is a dark red cherry shade and formula suited for dark skin and Afro-American hair. It's a permanent hair formula, with conditioning agents for keeping Afro-American hair in tip-top condition.
Dark and Lovely hair color in Red Hot Rhythm. This is a warm cherry red shade suited for those with dark Afro-American hair who want to lift their natural hair color 1-2 shades. The formula claims to be fade-resistant, giving natural true-to-tone results and nourishing dry Afro-American hair.
Most of these brands and their ranges are available at big supermarket chains like Walmart, Tesco (in the UK), Sally's beauty supplies, and online at Amazon.com and Ebay.co.uk or online beauty supply stores.
Sources: