Turquoise Hair Dye-Permanent, Blue, Dark, How to Dye, Ideas & Tips
Turquoise hair dye is one of the best of its kind. Dying with this color gives you a unique,  bold and brilliant look. Read on to find what this color dye is, who it is best suited for, pictures, how to dye your hair turquoise, best brands including manic panic, ideas for blue, ombre, green, highlights and more.
Turquoise Hair Color- What is it and who is it for?
What is Turquoise Hair Color?
Turquoise hair color is a bright shade of light blue with very subtle cool green undertones, that resemble the color of day sky. It is considered to be something between pastel and bright and looks extra fun and unique during summer.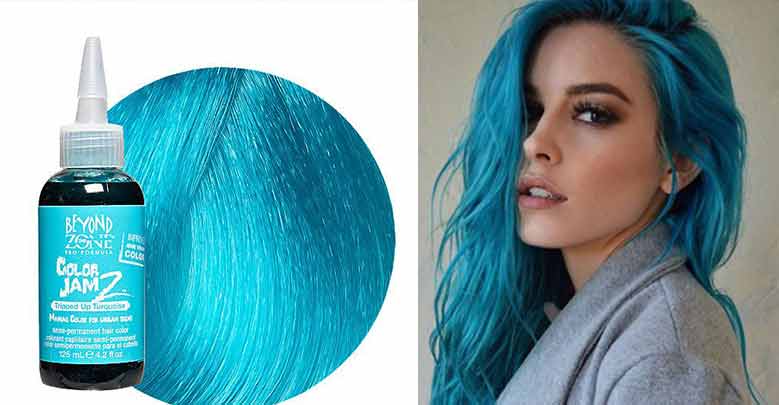 Who it is for?
Turquoise color is ideal for young and older women who like to look unique and complements greatly women with blue, green, and black eyes as it leans on the cooler side. Most pale skin tones with peachy to neutral undertones will look good with this shade. Darker, afro-american skin tones may pull this shade off temporarily but heavy make-up is necessary otherwise it may clash with the dark hues of the skin.
Turquoise color is also ideal for festivals, rave parties, and spring or summer parties by the beach.
Pictures of turquoise hair
Light Skin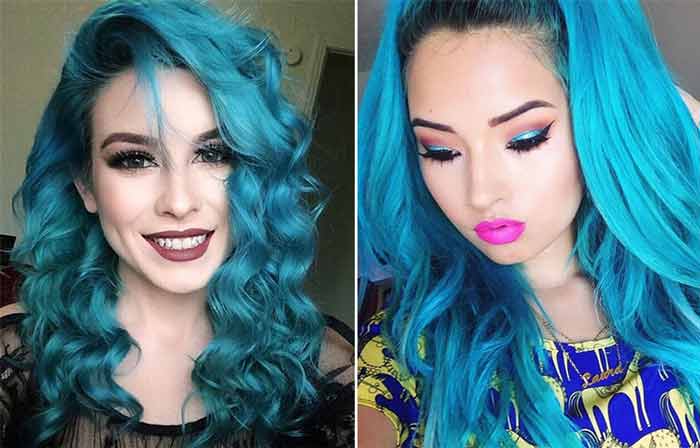 Dark Skin Pictures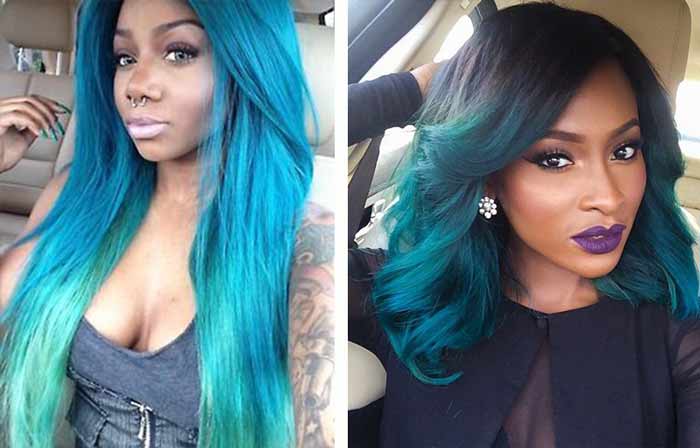 Turquoise on Men hair Pictures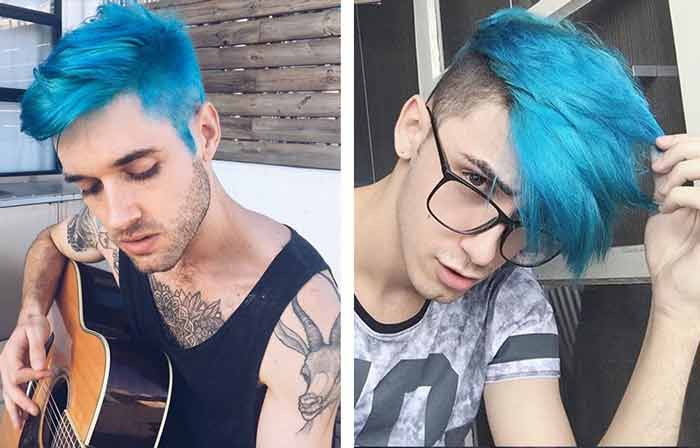 How to Dye Hair Turquoise
The basic process for dying your hair turquoise is as follows:
Step 1:
For this color to work, you will need to have naturally pale blonde hair, or bleached light blonde. If you have dark hair, you will need to bleach your hair more than two times to get this shade and follow with a blue/purple based toner or treatment.
Of course, you can't go from black to pale turquoise  overnight as this would be very damaging to your hair and you risk hair falling off or getting a green shade instead. To get the result you want while minimizing damage, bleach your hair one day, follow with a purple based and conditioning treatment when washing, and re-bleach your hair  5-7 days after the first initial bleach.
If your hair is still yellow/orange, this is a sign that you may have to apply a bleach for another time or at least treat your hair with purple/blue based toner.
Some good bleaching kits for this purpose are:
Manic Panic Amplified Bleaching Kit
Crazy Color Bleaching Kit
L'oreal precision powder bleaching agent
Redken Blonde Idol in Purple
Joico Color Balance purple shampoo and conditioner
Step 2:
Follow the instructions mentioned in the package and mix either with a 20 vol. developer (applicable for most cases) with the hair dye or apply the hair dye alone over dry hair, if the package instructs so, with a special hair dye comb. Tie your hair in a bun, wrap it around optionally with a plastic wrap to seal in the color, and leave on your hair for 30 minutes.
Step 3:
Wash your hair with a blue/purple based shampoo and conditioner to enhance its cool blue undertone, rinse, and dry hair as usual.
Best Turquoise Hair Dye Brands-Manic Panic Atomic, Sally Beauty
Manic panic atomic turquoise review, On Bleached hair and Fade
Manic Panic atomic turquoise is probably the most popular choice for getting a bright yet light blue based turquoise color. Most users that tried in major markets like Amazon and other websites, gave it on average 4.4 stars and claim that the label is accurate and this is true to its color.
However, there are a few cases that mentioned that the color fades to a pale green after a few washed, but one possible reason is that their hair had a yellowish/greenish tint already and wasn't bleached enough. Given that your hair is bleached and toned enough to neutralize yellowness, this will work fine and will begin to fade in two weeks, depending on your hair porosity and condition.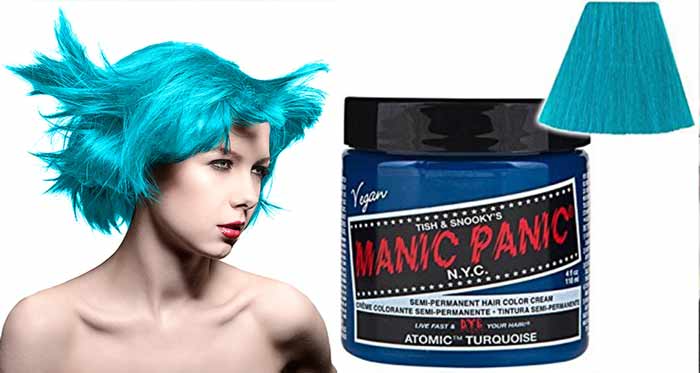 Sally Beauty Supply
Sally beauty supply has a good selection of teal hair dyes like Ion Brilliance's semi-permanent hair color in Azure, Manic Panic's hair color in Atomic turquoise, N'range color in Twisted teal, and Living Colors semi-permanent color in turquoise,
Other Brands you could try out are One n' only Prefect Intensity in Electric teal and Beyond the Zone in Tripped Up Turquoise.
Turquoise Hair Dye, Blue, Ombre, Green & Highlights
Turquoise blue hair dye
For a blue based turquoise hair dye, you can mix manic panic's atomic turquoise (2 parts) with one part of Fudge Paintbox in whiter shade of pale to make the shade a tad lighter and more pastel teal blue. Follow with the steps mentioned earlier and use a blue/silver or purple based shampoo and conditioner throughout the washed to maintain its blue hue and prevent greenish tints.
Turquoise hair ombre
Turquoise ombre hair is a bit tricky to achieve DIY but with a bit of practice and some gentle strokes of color, you can get the result that you want.
To get turqoise ombre hair, bleach your hair tips to a pale blonde (unless you have a pale blonde shade already) and take out multiple random hair sections (they don't have to be the same length and thickness, the more random, the better) and apply the turquoise hair dye of your choice leaving  for 20-30 minutes, then rinse as usual.
Turquoise green hair dye
If you want to go for a green turquoise shade, you won't need any excessive bleaching or purple toners as yellow blondes are a perfect base for getting a turquoise green shade because of the yellow and  blue pigments that will mix and dye your hair to   a more greenish tint.
Alternatively, you can mix in two teal shades like Raw Super Green (one part) +  Pravana teal escape (one part) or La Riche turquoise (one part) + La Riche apple green (half part) and apply all over your hair following the steps highlighted above.
Turquoise Hair Tips & Ideas
Apart from the above turquoise hair looks, you could also try an all over turquoise hair color with blonde and purple highlights, a turquoise blue with a few random wild red highlights, or a two-toned gray roots.  If you want things to be extra colorful and interesting, you could also mix it with random highlights in the colors of the rainbow like green, red, and yellow.
Magenta, Violet & Turquoise Hair Dye Tutorial-Video