Vegetable Hair Dye and Why You Should Use Vegetable Based Hair Dyes
Vegetable hair dye is also known as organic hair color. It is made from natural pigments. Vegetable based hair dyes are generally safe for use during pregnancy, for eyebrow coloring, gray coverage and even for cancer patients. Here are the best tips and brands of vegetable hair colors.
What is a vegetable based hair dye?
Vegetable hair dye (or in other words plant or organic hair dye) is a type of hair dye that is based mainly on naturally sourced ingredients like for example Henna, Berries, and Black Walnut with no use of harsh chemicals like Ammonia, Parabens, Formadelhyde, etc.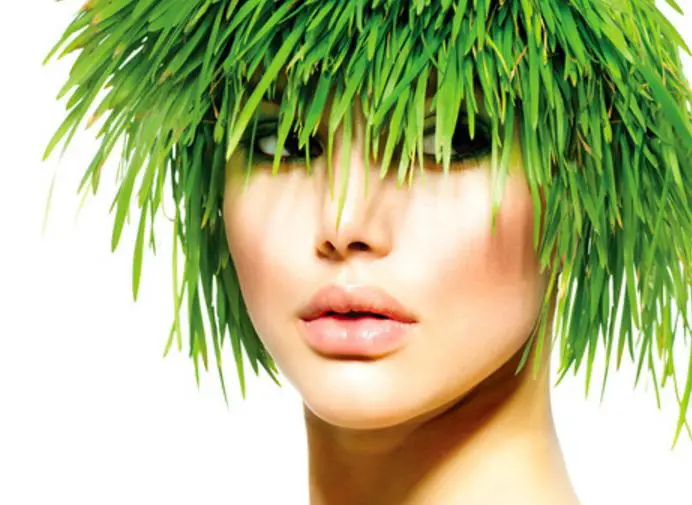 See also:
A vegetable based hair dye contains natural pigments that can give a natural looking result (up to 2 shades darker or lighter). A vegetable based hair dye has the following characteristics:
1. Gives usually a semi-permanent result
Due to the fact that vegetable hair dyes don't contain any chemicals that can penetrate the hair structure and change drastically its color, they offer mostly semi-permanent results.
This means that typically, results will last a few weeks at best or around 8-12 washes. After that period, the color will begin to fade to its original level.
2. Darkening hair
Is more suitable for darkening hair rather than lightening it. Again, due to the fact that vegetable hair dyes don't contain any chemical lifting/bleaching agents, they are suited more for dying the hair to a darker shade.
It is impossible to go from a dark brown color to a light blonde with this type but it's possible to darker your dark blonde hair to a dark brown or dark red with no problems. If you want to lighten your hair with this hair dye, expect only 1-2 tones of lightening at best which may come in the form of natural highlights sometimes.
3. Improves hair health
It usually contains natural nourishing agents that help boost your overall hair's health. Most plant based hair dyes contain nutrients and herbal extracts that nourish or moisturize your hair whilst dying it.
This depends on the brand as not all brands carry contain the same herbal agents. The most commonly found ingredients in vegetable hair dyes that also help with hair and scalp health: chamomile, henna, olive oil, argan oil, coconut oil, and tea tree extracts.
4. Gray hair coverage with vegetable dye
It doesn't cover completely any graying hair but may help blend them with the rest of their hair color. The natural pigments in natural hair dyes can't cover completely any graying hair as they can't penetrate their hair's texture to change it from the inside.
Is Vegetable Hair Dye for me?
The answer is YES if:
You want to dye your hair a natural looking shade
You don't want any permanent results
You want to enhance your natural hair color with no big change
You want to darken your hair rather than lighting it
You want something safe and natural for obvious health reasons
You are possibly allergic to chemicals used in hair dyes
You are pregnant or suffer from a chronic health condition
Is vegetable hair dye safe?
Vegetable hair dye is considered to be generally safer than chemical based hair dyes as it contains mainly natural ingredients.
This is the main reason why people belonging in sensitive groups of the population like pregnant women or cancer sufferers are advised to use herbal hair dyes. The lack of any heavy chemicals here like Ammonia or Parabens greatly decrease the risk of developing adverse health reactions.
With that being said, not all herbal hair dyes are equally safe as different brands contain different ingredients and some may even contain chemical agents in their formulas.
For this reason, you should always check the product's list of ingredients to see if there's anything suspicious before trying the hair dye. Some people are also allergic to certain herbals or nuts contained in the ingredients and it would be wise to avoid any herbal hair dye that contains potential allergens.
Best vegetable hair dye brands
Fortunately, there are many botanical hair brands in the market offering mainly or exclusively natural /organic hair dyes. The top 5 best brands are:
1. Herbatint
Herbatint, as its name suggests, is a herbal-based hair dye brand that contains plant proteins in the place of ammonia and plant pigments to dye the hair naturally.  This brand claims to be certified organic non-GMO.
The hair dye formulations also do not contain any ammonia, alcohol, parabens, and other potentially harmful chemicals. The brand also caries both a permanent and a semi-permanent hair dye range.
Their color range consists of 30 color options featuring dark brown shades, red and copper shades, and ash blonde shades.  It is worthy to mention here that the product has won an award as the best natural hair dye in 2008. Price range: $12,99-$17,99 per dye.
2. Palette By Nature
Palette by nature is a purely botanical color that is free of common hair dye chemicals like Ammonia, PPD, Resorcinol, azo-dyes, peroxide, parabens, etc. The brand has also been approved by the American Contact Dermatitis Society as one of the safest hair dye options for people suffering from dermatitis and scalp issues.
It is also animal, vegan, and environmentally friendly. The brand offers hair dyes for both men and women and has a special line for blending graying hair.  The main hair dye range is available in 15 shades. Average price is $24.
3. Tints of Nature
Although its formulations are not 100% organic, Tints of Nature is a U.K based hair dye brand that uses 60% naturally derived ingredients and is free of Ammonia, Parabens, and Resorcinol chemicals.
Their hair dyes also contain hair nourishing agents like orange and chamomile extracts as well as vitamins C and E to help boost hair and scalp health. Tints of Nature is currently one of the very few brands that offer highlighting kits both for dark blonde, and dark to medium brown hair.
One of the brand's claims is delivering natural yet professional looking hair color at home. The brand also claims to feature hair dyes that offer up to 100% coverage of gray hair. The brand has won a 2016 Beauty Health Award for its performance.
4. Light Mountain
Light Mountain is a U.S based brand that offers USDA approved organic hair dyes and hair care products based on Henna plant. The brand claims to not use any Ammonia, Peroxide, or any chemicals whatsoever in their products.  Each hair dye kit comes with a colorant and a conditioning agent, sold for the price of $7. Available in 12 natural looking shades.
5. Logona
Logona is a hair  a German hair dye brand that boasts in being the first of its kinds to offer natural hair dyes, with a history that dates back to 1985. Logona hair dyes are 100% natural and contain absolutely no chemical ingredients. They are also environmentally, vegan, and animal friendly.  The brand carries two basic hair dye lines: one in powder form (based on Henna) and one cream/liquid form available in 12 natural looking shades.
Uses of organic vegetable hair colors
Vegetable hair colors can be used in a wide variety of applications, for special/targeted and sensitive skin areas. Here is a brief guide for each.
1. Organic vegetable hair dye for eyebrows
Although there is not currently any commercial brand that carries a herbal eyebrow tint, it's possible to dye your brows safely with henna. If it's in powder form, you can mix it with water and apply the mixture to your eyebrow hair for 20 minutes or as instructed in the package.  You should end up with a natural looking result that is 1 shade lighter or darker.
2. For cancer patients (after chemotherapy):
Cancer patients can use vegetable hair dyes provided they contain exclusively natural ingredients and contain no chemicals like Ammonia and parabens as these have been found to be carcinogenic. Some safe natural hair dye options and brands include: 100% natural henna hair dyes and organic hair brands like Logona and Light Mountain.
3. Vegetable hair colors are safe during pregnancy
Pregnancy is also a very sensitive condition and it is advised for pregnant women to avoid any chemical based dyes are these cause nausea and have a risk of causing adverse reactions due to the skin being more sensitive during pregnancy. Some safe brand options include: Surya Brasil Henna Cream, Hennalucent, and Aubrey Organics.
4. Organic dye for grey hair coverage
Although it's a bit hard to cover any graying hair with a herbal hair dye, some hybrid hair dyes that contain both herbals and non harsh chemicals or artificial pigments may do the trick. Most hair herbal dyes will naturally blend any gray hair with the rest of the color and make it look more uniform. A recommended brand for covering up to 100% of gray hair, both in men and women is Tints of Nature.
5. Hair color for allergic patients
Although 100% natural hair dyes are generally safe for allergic patients it would be  wise to check the product's list of ingredients first to weed out any specific allergens, regardless if they are natural or not. Allergic patients should also perform patch tests on small areas of their skin e.g. wrists to test if the formula is fine on their skin or if they develop signs of irritation e.g. redness, itchiness, etc.