Hypoallergenic Hair Dye or Non Allergic Hair Dye Products and Brands
What is hypoallergenic hair dye? What are the best hair products and brands that are non-allergic? A hypoallergenic hair product, or any cosmetic product for that matter, is one that is less likely to cause an allergic reaction when used. Here, learn the best safe brands and tips to prevent allergic reactions to hair dye.
As a matter of fact, a great number of men and women across the globe suffer from sensitive skin and scalp. This condition makes it extra hard to find the right hair products such as hypoallergenic hair dyes as there is a potential of scalp sensitivity developing after using ordinary hair products.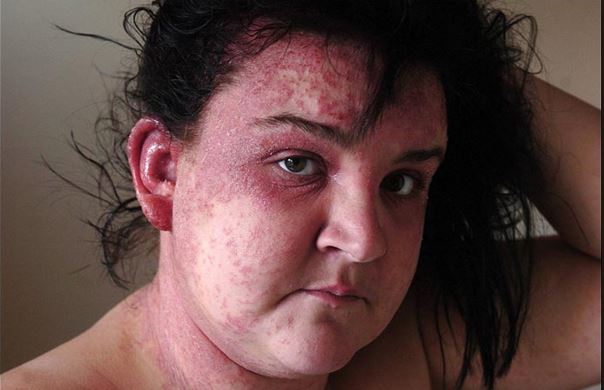 Products that often cause allergic reactions or skin sensitivity are often loaded with skin-irritating chemicals such as:
Parabens
Ammonia (bleaching agent)
Hydrogen Peroxide (bleaching agent)
PPD
Resorcinol
Sulfates
EDTA
Propylene Glycol
DMDM hudantoin
Some of these ingredients like PPD and Resorcinol, have already been banned in some countries as they are highly likely to cause allergic reactions that go beyond  skin irritation, like for example: distortion of the hormones or increased risk of developing skin disorders and even cancer.
Therefore, it's best to refrain from the use of these chemicals, especially if you have a history of skin sensitivity, skin disorders, are pregnant, or have a serious health problem. When you use a hair dye with any of these or similar chemicals, you may experience reactions like:
Scalp redness
Itchiness
Flakey-dry skin
Burning
Dermatitis
Overly oily or strange-behaving scalp skin
If the hair dye drips in other parts of the skin e.g. the face, it usually causes a red, burning sensation and itchiness around the skin area. Besides skin sensitivity, some people report breathing difficulties (feeling out of breath), nausea, and dizziness when smelling and breathing chemical-loaded hair dyes.
Is there a hypoallergenic hair dye?
Most hair dyes found in the market today that offer permanent results, usually consist of chemicals that may potentially cause adverse allergic reactions. The purpose of adding these chemicals is to improve the texture of the product, give more long-lasting results, or preserve the life and effectiveness of the hair dye.
Now, the question here is: Is there a hypoallergenic hair dye? The answer is, yes, but it's not often clearly labeled as hypoallergenic.  Most hypoallergenic hair dyes are within the natural/organic spectrum as they are mainly made from natural ingredients that are less likely to cause skin allergies.
However, even with natural or hypoallergenic labeled hair dyes, there is still a slight chance of developing skin sensitivity. This is because even some natural compounds or a single ingredient, may be enough to cause skin sensitivity.
Since different people have different reactions to chemicals (depends on skin type and chemical make-up), it would be wise to perform a patch test, before trying any new hair dye. You can do this by applying a pea size amount of product to a separate area on your skin e.g. your wrist or legs. See if there are any symptoms of skin irritation, as described above.
If your skin doesn't seem to react badly to the patch test, it means that the hair dye or product is likely safe for using it on your scalp — although there is a slight chance of your scalp still reacting differently.
Non-allergic hair dye for men and for beards
For men that experience or fear skin allergies and sensitivities when dying their hair, there are actually a few brands that are natural and hypoallergenic. These products are designed to dye the hair on scalp and beards while providing nourishment and protection from allergic reactions to hair dye.
A very good non allergic hair dye specially formulated for men is from brand Henna King. Their hair dye contains henna as the main ingredient, which is a natural herbal colorant that is highly unlikely to cause allergies.
This brand also carries 9 natural looking shades—from black to red, and blonde to cover the needs of men looking for natural tint and coverage of their hair.
If you are a man looking for non-allergic hair dye, you can also try a unisex brand (both for men and women) as long as it doesn't contain any of the above mentioned skin chemicals, and contains mainly natural ingredients.
Hypoallergenic hair products and brands
There are actually many hair product brands that carry hair dyes that are hypoallergenic. The following brands have been chosen as they are made of almost entirely of natural ingredients and no harsh chemicals:
1. Pallete by Nature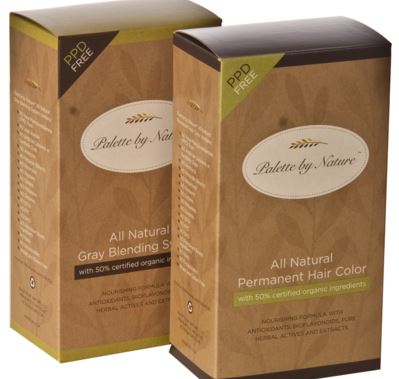 Pallete by Nature is a natural hair dye with two ranges of products, one for men and one for women.  The brand carries 15 natural looking shades.  Additionally, it has an online matching system on their website where you can select your natural/beginning hair color, and then choose a natural shade close to yours, suggested by the system.
This brand of hair dye is available mainly from their official website and other online shops that carry natural and organic skin and hair care brands.
2. Herbatint hypoallergenic hair products
Hairbatint is a U.S.A brand that claims to be "the safest hair color" and appears to be dermatologically tested for sensitive skin, made of 8 organic compounds, and with no harsh chemicals, alcohol, and even gluten.
The brand carries two ranges of hair dyes, one that offers semi-permanent results and another that offers permanent hair color results.  Their hair dyes are mostly available on their official website (herbatint.com), on amazon, and other smaller websites that sell organic and natural brands.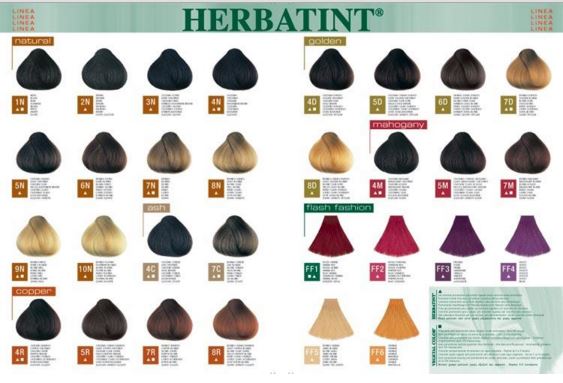 3. Herbaceuticals, Naturcolor
Naturcolor is another natural hair dye range, carried by a U.S.A brand that claims on its box to be produced in the U.S with "the finest color pigment from Italy", which means that some herbal compounds are derived from Italian sources.
The brand boasts of carrying 30 different shades, more than any other natural hair dye that even includes shades of vivid copper and red (usually missing from other hair dye brands). This hair dye is available mostly on amazon, eBay, wholefoods, beauty supply stores, and online organic shops.      (
4. Surya Brasil
Surya Brasil is a natural haircare brand that carries many different series of hair products that have Brazilian Henna as their main ingredient.  The brand claims to use Natural henna and other ingredients from sustainable resources and carries 15 natural looking shades. They also carry special care shampoos, conditioners, treatments, and styling products. You can view and purchase any of their products via their website and Amazon.
5. Herbal Time
Herbal Time is another natural hair colorant specially formulated without the addition of harsh chemicals and is mainly made of henna and other herbals like Nettle Extract and olive oil to tint the hair naturally while offering essential nourishment. This brand is mainly available in Amazon and Ebay.co.uk for international buyers and costs less than 5 dollars per box.
Additional Tips with Natural Allergy-free Hair Dyes and Colors
Keep in mind that even though there are generally safe and natural hypoallergenic brands of hair dye, there is no 100% that they won't be causing any adverse reaction, even if they are safe for most.  Remember to perform a patch test prior dyeing your hair with any hair dye.
In general, most hair products and hair dyes made mainly or entirely from Henna are safe to be used and the risk of causing allergies is little. However, make sure to always read the product ingredients on their box as even some natural brands can carry undesirable chemicals.  This is very important as you don't want to buy a product that appears to be "safe" and then end up getting a bad reaction from it.
Another thing to consider when using a natural hair dye or most hypoallergenic hair dye brands, is despite the brand's efforts to offer colors that tint your hair, the results won't ever be the same or permanent as using a regular chemical-based hair dye.
This happens because herbals like Henna can't really penetrate the molecular structure of the hair and dramatically change its hair color to a much darker or much lighter shade. So even though these natural brands carry more than 10 shades, only 2-3 shades can be used to tint your natural hair color.
All natural hair dyes are indicated for those who are looking for subtle hair color change and natural coverage that is safe for their skin and health in general. If you are expecting to go from a natural black to a Swedish blonde with a natural hair dye, this is virtually impossible as natural hair dyes can't bleach the hair to such an extent.  You can, however, lighten or brighten your hair by approximately half to 1 tone e.g. going from black to chocolate, chestnut brown, or mahogany.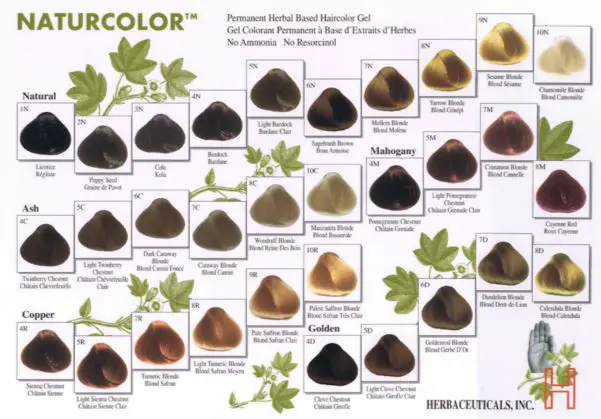 Those who are born with lighter hair are luckier as natural hair dyes are more capable of darkening their hair several shades than actually brightening them.  If you are a medium blonde for example, you can easily get a chocolate brown shade just by using a hair dye.
In general, hypoallergenic natural hair dyes are specially formulated to nourish and protect both your hair and scalp, resulting on healthy and glossy-looking hair. However, since they do not offer the same permanent results than regular hair dyes, you might need to dye your hair more than once a month to preserve the color and cover your roots nicely.
Here's a Video on Non-Toxic Hair Color Solutions
Sources and references: