Hair Color Ideas for Brunettes (with Pictures)
Brunettes are women with dark brown hair. What hair color ideas for brunettes are the best? You can choose to go with highlights, funky hair colors etc. At the same time, consider skin tone and eye color. Length of hair is also a factor, as well as age. Short hair colors may not be the same as long hairstyles.
According to various reports, black and brown are the most frequent natural hair colors, meaning that the majority of population consists of dark-haired people.
Since women are the gender that dyes their hair the most for various reasons, some may either choose to leave their natural hair color dark as it is. Some others (natural blondes or redheads) may choose to dye their hair dark at a salon or DIY.
Dark hair color is a color associated with smartness, straightforwardness, reliability, and a dose of "mysterious" allure that captivates others. So there are really a lot of reasons why you may have decided to be a brunette. If you are (currently) a brunette, and looking for some hair color ideas for brunettes according to the color of your eyes, you skin tone, and even personality and style, here are some great ideas below.
Hair color ideas for brunettes with highlights
If you are currently a brunette and wish to get some highlights to complement your black or dark hair color, there are actually more options than the usual blonde highlights that are usually the norm.
If your hair is black (ebony black, blue black, natural black, darkest brown), you can complement your hair color ideally, by adding highlights that match the undertones of your hair.
For example, if your black or dark brown hair has cool undertones e.g. blue, ebony, purple, silver you can add highlights in any of these cool shades.
The fashion trend for the past 2-3 years is adding vivid hair highlights to your hair so anything along the lines of blue, purple, fuchsia, teal, or silver blonde would create an interesting contrast and make you stand out. Celebrities like Katy Perry and Demi Lovato are good examples of this trend.
Now, in case your dark hair has more warm brown or red undertones (e.g. chestnut brown hair, light brown hair, caramel brown hair, dark brown auburn hair), highlights on you will look better.
If they have strong warm undertones e.g. red, auburn, caramel or strawberry blond, etc. as cool undertone shades won't really blend well with your warm brown hair color. Many celebrities like Jenifer Lopez, Mila Kunis, Jessica Alba, and Penelope Cruize have chosen this option for adding subtle highlights to their hair. And while the change seems mild, the overall result is very warm and balanced. Natural ombre hair colors (darker roots, lighter tips) also fall under this trend.
Now the choice of adding subtle or vivid/crazy color highlights depends on your style or personality as well. If you are too afraid of changes and don't want to become the center of attention, choose highlights in hair colors that are natural and 1-2 shades more bright than your black or brown hair color.
On the other hand, if you consider yourself a bright, funny, and risky person, some vivid highlights in crazy shades like green, blue, pink, or purple, will complement your personality to the max.
Red highlights for brunettes
What about red highlights? Depending on the styling of your hair, red highlights can add a luxurious and even more impressive feel to your hair. If you have brunette curly hair, for example, you can dye the ends of the hair with a fiery red color. It will create good harmony with your new red highlights.
Matching brunette hair color ideas with eye color
Now, most sources and guides on ideal brunette hair colors are based on the eye color—this is no surprise as some eye color and hair color combos look great together while others, well, not so much. So if you are looking for a brunette hair color ideas according to your eye color, here is a guide for each. See also best hair colors for hazel eyes.
1. Brunettes with hazel eyes
Hazel eyes are usually a mix of light brown with a hint of green. Brown shades with dark golden brown or green yellow undertones will look ideal. Ideal shades or good hair colors for brunettes with hazel eyes are:
Cinnamon brown
As its name suggests, this shades resembles the natural shade of cinnamon, which is a warm, rich, and radiant brown hue with a touch of copper undertones.
Caramel brown
Caramel brown is also a very similar shade to cinnamon as it has strong warm undertones as well, but the difference is that it's slightly deeper and varied than cinnamon. Think of natural caramel: it looks dark on the pan and warm brown once it drips on the edges. So this hair color will look a bit darker in artificial light and once you are out in the sun, it will show brighter and more radiant.
Nutmeg brown for hazel eyed brunettes
Another similar shade to those above that matches with hazel eyes very well. This shade is a deep warm shade of brown with a bit of auburn hues, just like nutmeg—which is a tad deeper and cooler than cinnamon hair color.
Light golden brown
If you happen to have hazel eyes and want to go a bit lighter than the above hair color ideas, a light golden brown shade will be ideal for you. It will make you look natural and radiant without looking excessive and will bring out the natural golden hues of your hazel eyes.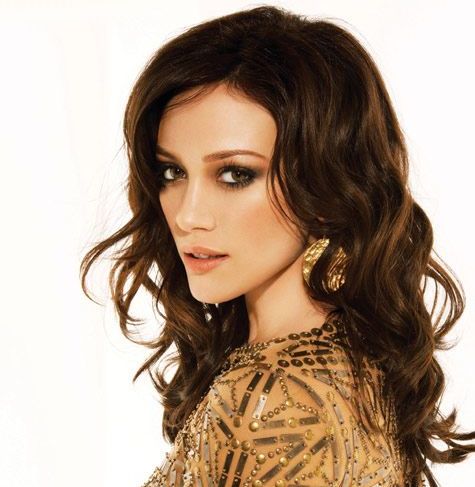 2. Best ideas for brunettes with blue eyes
Brunettes with blue eyes will generally do well with black or brown shades towards the neutral or cool side, since blue eyes are on the cold color spectrum. The best hair color ideas for brunettes with blue eyes include:
Blue black hair
As its name suggests, this color is mainly black with dark blue undertones that almost resemble the color of the midnight and it blends really well with brunettes with blue eyes.
Jet black hair dye
Jet black is shade of black that closely resembles the color and finish of black shiny leather. If you want to add an extra dose of glossiness to your black hair and compliment your blue eyes at the same time, you may choose this shade.
Charcoal black
Charcoal black is a shade of black with charcoal and dark grey undertones. If your eyes are blue to gray, this shade will create an ideal contrast and will bring out the grey hues of your blue eyes. If you have strong golden or olive undertones though, it's best to avoid this shade as it will clash a bit with your skin tone and make you look a bit ghostly.
Mahogany brown
Mahogany brown is a deep rich shade of brown with auburn undertones that are neither too warm, nor too cold in undertones. If you happen to have dark blue eyes, this shade of brown will definitely make your eyes pop as it will create a very interesting contrast. Explore more matching hair colors for blue eyes.
Cute hair color ideas for brunettes with green eyes
Brunettes with green eyes can sport a wide variety of different shades as green eyes are neutral and don't have any strong warm or cool undertones. Almost all shades of black and brown will suit you, however, the most ideal shades that will complement you the most include:
Dark and milk chocolate brown: This shade of brown is identical to the shades of dark and milk chocolate and has a rich neutral to warm undertone that will complement your green eyes nicely.
Dark and light golden brown: If you want to go a tad lighter than chocolate brown and want to add some golden hues, choosing a dark golden brown shade would be a great match for your green eyes. If your skin has yellow or olive undertones, it's best to go for a darker golden brown shade whereas if you have pink to peach undertones with your green eyes, a light golden brown will suit you best. See more ideas to make green eyes pop.
Dark brown hair with brown eyes
Brunettes with brown eyes are the most common color combination and the good news is, you can sport most shades of black or brown depending on how dark or light your brown eyes are. For example, brunettes with black/darkest brown eyes, will do well with shades of jet black, mahogany brown, espresso coffee brown, and dark chocolate brown.
If your brown eyes tend to be on the lighter or amber side with gold flecks, it would be wise to choose shades that are towards the warm and golden spectrum of hair shades such as cinnamon brown, dark copper brown, caramel brown, and deep golden brown. See more hair color ideas for brown eyes.
Funky hair color ideas for brunettes
If you want to go beyond the ordinary and want are looking for some funky hair color ideas for brunettes, you may choose any of the following shades: vivid mahogany, deep purple, dark teal, grey, fuschia, and emerald green. If you are a natural brunette with dark brown eyes, it's best to choose dark shades of funky colors as anything too bright (yellow or orange) or light grey/ashy, will make you look washed out.
Best hair colors for brunettes with short hair
Brunettes with short hair are lucky as they don't need to need too much time and products to dye and take care of their hair. Some good hair color options for brunettes with short hair include:
Clailor's perfect 10 in shades Chocolate Brown and Red Hot Cinnamon, Garnier Nutrisse's in medium golden brown and dark natural brown, and Loreal's Feria line in shade French Roast. All the above shades are chosen because they suit a variety of eyes and skin tones so choosing any of these shades will be a safe bet.
Here's a very helpful video to help you with your brunette dye and color choices, courtesy of Clairol.
Sources and references