Two Tone Hair Color Ideas
If you are tired of the ordinary and boring hairstyles and colors, two-tone hair color is exactly what you should give a shot. It is unique and at least it will give you that eye-catching touch that will make everyone turn their head. In this article, find how to do a two-tone hair, ideas for short and long hair, dark on ton and light on bottom, gallery and more.
Two Tone Hair Color + Gallery
Why is it necessary and who is it for?
Two tone hair color as its name suggests is a blend of two separate yet complementary shades that create an interesting contrast either as subtle highlights or as an ombre look. Two-toned color is very popular as it can either be natural and blend two natural hair shades like ginger blonde and brown, or crazy e.g. purple with red or blue highlights.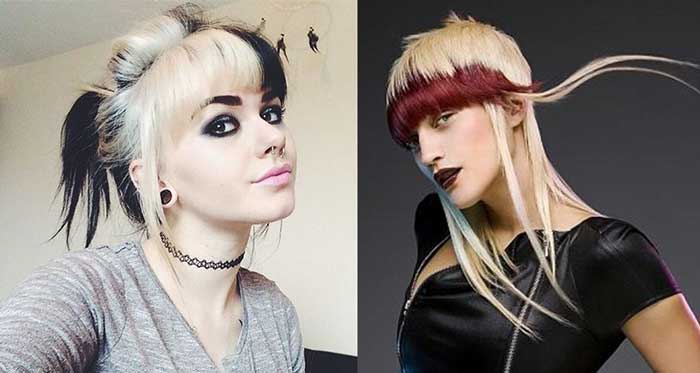 Two Tone Hair Color Pictures-Gallery
To get some ideas of various two-tone hair colors, here is a good collection of pictures with various color combos and hair lengths:
Dark brown base color with bright magenta red highlights on the front of the hair: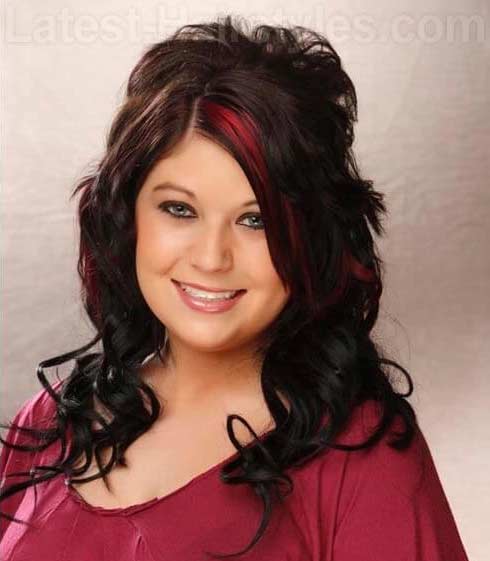 A natural, two-toned ombre and low light look: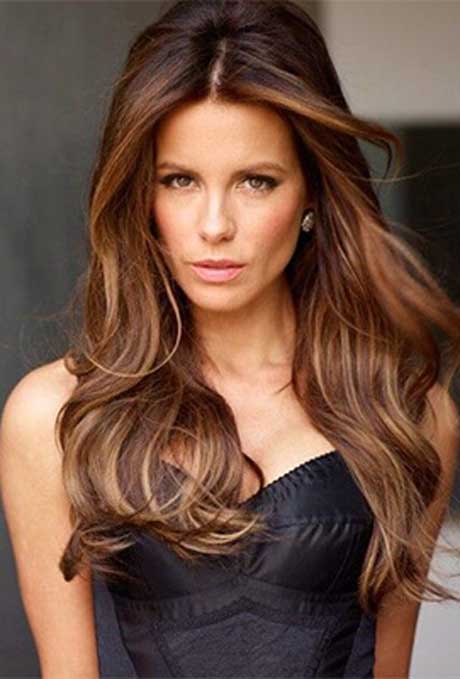 An ombre look with a burgundy base color and medium warm blonde tips:
A crazy two toned hair color with half of the hair painted black and the other a pale pink blonde: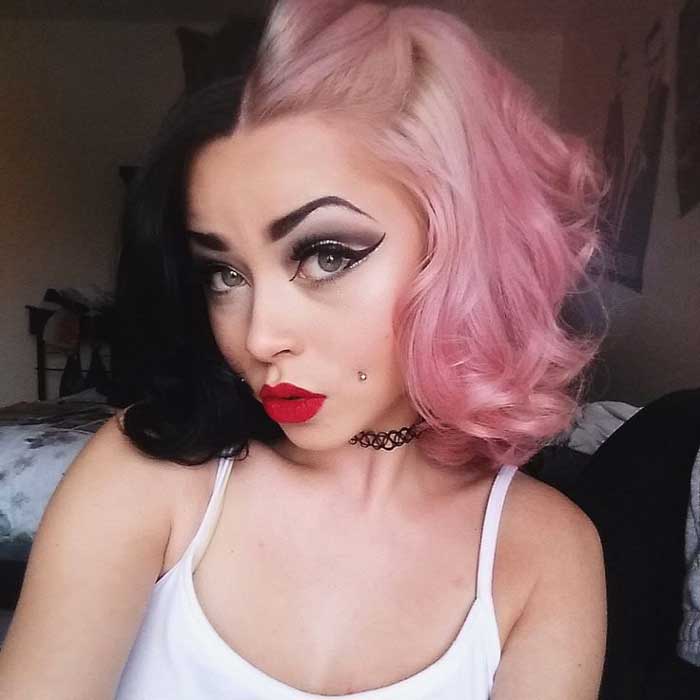 How to do a two Tone Hair Color-Techniques
There are actually quite a few techniques to get that two-toned look, depending of course on the depth of color you want to achieve.
The basic technique however, is as follows: Natural or crazy base color all over + random sections, lowlights/highlights with a second color with the help of a highlighter cap or directly over your hair mixed with creme developer (unless the hair dye specifies that no developer is necessary).
To start dying your hair two tones, divide the sections you wish to apply your first base color (or leave your hair as it is), typically from the roots to the middle shaft of your hair, and follow with the second color to the rest of your hair e.g tips. To make the result look more subtle, use a second color that is one shade darker or lighter than your base color–for more dramatic and popping results, use a second color that is  2-3 shades darker or lighter than your base color.
How to dye Hair Two Colors top and bottom at Home (dark on top light on bottom)
How possible is it to dye two tone hair at home once and without bleeding?
Two-toned hair color that is dark in the roots and light on the bottom is a very popular choice and matches almost any age and skin tone. To get this look at home, try a special ombre kit like L'oreal's feria in wild ombre or Jerome Russell's line in maximum ombre.
Blonde on top brown on bottom
Two tone hair color blonde on top brown on bottom is an all around great option for a reverse ombre look which typically has darker roots and lighter bottom. This look is best achieved at a salon to look as blended as possible but you can achieve this also at home by bleaching your hair lengths from the root and then dye random tips (usually the bottom side sections) with a rick mocha brown shade.
Two Tone Hair Ideas for Short & Long Hair, Brunettes & More
Two tone hair color Ideas for Long and Short Hair.
Those with short hair can pull off most two tone looks as long as the second color they choose is at least two shades lighter or darker than their base color, otherwise the result might now show through because of the length.
Some good ideas you could try out are blonde hair with thin highlights and tips, brown hair with ginger blonde highlights, or if you want something more crazy, a light blue base color with deep purple highlights or a pastel pink with teal or gray tips.
Ideas for Brown Hair and brunettes
Brunettes that want to achieve a natural two-toned look can leave their natural hair roots dark as they are and lightly bleach the middle to bottom parts of the hair for a nice ombre fade out look. Dark brown or black hair and red lower parts or tips are also great for spicing up your natural dark hair color.
Two tone hair color ideas for brown hair
Those with brown hair who want to experiment with the two-toned look will look great with caramel and copper blonde highlights and low-lights as well as purple or magenta tones for an extra creative note.
Ideas for Medium Length Hair.
Medium length hair can sport any two-toned combo. Some good Two tone hair color ideas for medium length hair are: ginger blonde highlights, ombre hair with darker roots and light blonde or copper blonde tips, and hair in crazy shades for young urban women who want to experiment with their color.
African American two tone hair color ideas.
Those with African American hair, will look best in two tone shades that have warmer hues like brown chestnut hair with caramel ombre lowlights and mocha brown hair with light golden tips like Beyonce and Jennifer Lopez.
More Ideas & tips for;
Two tone hair color bobs.
Bobs that are extra short will look their best in crazy colors or a second color that is at least two shades lighter or darker like a purple in blonde hair or red hair with black tips or blonde hair with black tips.
Two tone hair color black and brown
Two tone hair color black and brown is another popular look embraced by many female celebrities and women who want to add more depth to their dark hair without looking crazy. This is one of the easiest looks to get at home and you can get this simply by applying the black as your base color in the roots and middle parts of your hair, and then dye your hair a frosty cinnamon brown, using very thin sections at a time.
Black and purple
Two tone hair color black and purple is great for those who want to achieve a more gothic and mysterious look and emphasize their features. To get this, simply use a raven black shade as your base color and purple as your highlight color (it looks best on top rather on the bottom).
Red and black
Two tone hair color red and black is also another option for those who want something dark yet a tad warmer than going for purple highlights. The process is the same as the steps above but unlike purple red will show through both as a highlight and lowlight-ombre tip look.
Two tone hair color red and blonde
Red and blonde hair has been spotted by a few young pop artists in the late 90s like Christina Aguilera and is still seen in women of all ages today. This combo is best achieved at a salon as bleaching your hair and having red in the right sections of your hair to show through is hard to achieve at home.
Brown and caramel
Two tone hair color brown and caramel is one of the most popular two toned looks as it compliments any eye color and skin tone–from pale-skinned women with green eyes, to golden dark skinned women like Beyonce and Tyra Banks.
Two tone hair color for blondes
Natural Blondes that want to try out the two toned look will look great with natural dark blonde roots and platinum blonde tips, light blonde hair with black tips, or blonde as base color with teal, red, or purple highlights.
Brown and red
Two tone hair color brown and red is a lighter variation of the black/red two toned look that looks less gothic and warmer than the first. If you have natural medium brown hair, simply take a red hair dye with a warm undertone and do some highlights or low lights after dividing your hair and taking out thin random sections.
Two tone hair color for dark hair.
Those with naturally dark hair will look good with caramel blonde tips, teal, purple, and red tips.
Two tone hair color brown
This is one of the most natural two toned looks and probably the no 1 most worn two toned look by female celebs. This combo may sound easy to achieve at home but if you want a very natural and subtle look that almost look like it's faded out from the sun, it's best to go to the salon or purchase a natural highlight kit like Garnier Nutrisse, multi lights kit in H3/Warm Bronze and follow exactly the instructions you see on the package.
Even more  Gorgeous Ideas