How to Get Silver Hair-Ombre, Men, Home, Highlights, Best Dyes & Pictures
Silver hair has hit Instagram and other social media as the new "It" shade that is being favored by many young women. Celebrities like Kylie Jenner and Nicole Richie have also made this an extra famous trend. Silver hair may not be for all but it really makes a statement.
Who is Silver Hair for?
If you are curious to know whether silver hair will look good  for you, the answer is YES if:
You want a change from your ordinary blonde hair
You have cool or neutral to pink skin undertones
You like fairly-like hair and you want to make a statement
You have an urban chic and fashionable style
Some silver hair shades are a mix of silver and white while others have cool purple or blue undertones. It depends on the look you want to go for and the good news is, even specific colors like Silver can be customized according to your likes.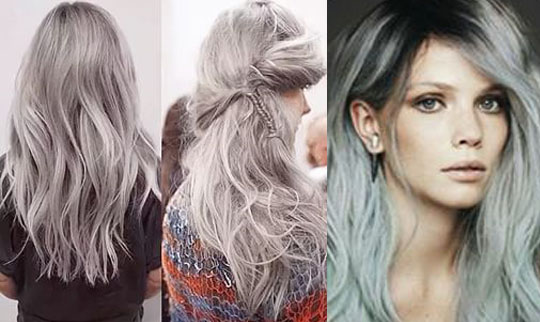 How to get Silver Hair
Getting silver hair requires generally at least two steps to get, even if your hair is already pale blonde. It is not the kind of shade to experiment if you have no prior experience, but with just a bit of practice, you can get this DIY at home.
Most hair stylist and colorists agree that in order to get this shade, you'll need to lift your hair to a pale blonde first and then customized the color with your desired gray hue by using a semi-permanent hair color.
In case you want to go DIY, here is the main step-by-step process for getting silver hair:
Pour one scoop of bleach in a bowl and mix in with two scoops or parts of a 30 vol. Some good bleaches you can get from beauty supply stores are Wella's Color Charm Bleach and L'Oreals Quick Blue Powder. These came in the traditional powder form which is combined with a crème developer to make the bleaching mixture. For most cases, a 30 vol. developer would do. Note: Make sure to read the exact instructions and ratios as you don't want to end up with a bleach that is below or over its desired strength—in the first case, you may end up with uneven looking results whereas in the second case, you may end up with damaged hair.
Make sure you put your gloves on to protect your hands and nails from the bleach and begin sectioning your hair with a wide toothed comb. Then apply the mixture with a special hair coloring brush. Tip: Massage your hair so that the bleaching mixture distributes evenly. Leave it for up to an 1 hour or as directed in the package instructions.
Rinse your hair with a silver or purple based shampoo to counteract bright yellow or orange tones. If you hair has strong yellow or orange tones from the bleach, leave the shampoo and conditioner for longer so it cancels all that yellow-orange brown better.
Dry your hair and use your desired gray shade. Some great semi-permanent options include: Crazy Color in Silver, Color Freedom Ultra Vibrant Non-Permanent hair color in Silver Blonde, Pravana Chromasilk in Silver, and Manic Panic's Blue steel. You can also use an ash based toner like Wella's Color Charm in Frosty Ash/12 A and T 18 and Fudge's White shade of Pale toner. Use with a 30 vol. developer and follow the instructions of the package.
Note: Some people may find that the toner did not work as intended and there are still some yellow or orange hues left. This is a sign that your hair needs more bleaching and lifting until it gets to a pale blonde shade. If it's bright orange all over and not dyed to a pale yellow shade, the toner will not work.
Rinse with a sliver or purple bases shampoo and conditioner and Voila–you have gray hair!!
Ash Grey Hair from Black & Brown
The process for getting silver hair from black and brown natural or dyed hair is the same as above, even though you have to repeat the bleaching process at least once to get your desired shade of pale blonde first.
If for example, you have gotten a bright orange blonde at the roots and a medium yellow at the legths and tips, bleach your hair another 1-2 times until it matches the rest of your pale blonde hair. This will ensure you'll get the best even-looking results and that your roots are not noticeably darker than the rest of your hair.
Then follow with a toner or at least a color correction to cancel out orange and yellow hues and finally dye your hair as instructed above.

Silver hair without Bleach at Home Naturally
If you have naturally dark hair, it is impossible to get it to a sliver shade naturally without bleaching it first.
If you have naturally light blonde hair though, you can get it without any bleach since your hair is already light enough to begin with. Swedish blonde shades are perfect for this purpose.
Some semi-permanent formulas are also enriched with botanical extracts and contain no bleach or ammonia for less damage to your hair and scalp.
Best Silver Hair Dyes
Some of the best silver hair dye to use includes:
Ion Brilliance Semi-Permanent Hair Color in shade Titanium
Adore in shade 150/Platinum.
La Riche Directions in Silver
Ideas to dye Hair Silver Grey, White, Purple & Blue
If you want to make your own custom shade of silver, you can do so by mixing your hair dye with other cool-based and pastel colors like grey,  snow white, purple, blue, pink or light green and teal.
Here are some formulas to try for each hue:
Silver hair with white ashy undertones
For getting silver hair with white ashy undertones:  Lift your hair to a pale blonde shade. Use a toner like Wella's T18 or T 11 toner to cancel out any remaining yellow or orange tones. Mix in a snow white shade with a sliver shade like La Riche's White and Silver Shades and apply to your hair as instructed.
Silver hair with lilac/pale purple undertones
For getting silver hair with lilac/pale purple undertones: Make sure your hair is light enough.
Use a purple based toner or shampoo and treatment to correct any brassiness.
Mix in with 2 parts of a leave in conditioner with 1 part of silver and one part of lilac shade, like for example Crazy Color's Silver and Violette shades.
The purpose of using a leaving in conditioner as a mixing basis for the hair dyes is to dilute the hair dyes so the result looks more subtle and pastel like, with no obvious hues canceling each other out. Wash your hair with a purple based shampoo and rinse.
Silver hair with blue undertones
For getting silver hair with blue undertones: Repeat the same process as above. The only difference is that you will mix a cool blue shade with the silver hair dye and the conditioner.
Some good combos include La Riches Silver mixed with Lagoon or Atlantic blue and a leave in conditioner and Crazy Color again in sliver and lagoon hair shades.
Pale pink undertone
For getting silver hair with pale pink undertones: Again, repeat the same process as highlighted above, although this time you will mix a sliver and pale pink shade like for example La Riche Directions silver with  pastel pink.
Remember to use more silver color as your basis and dilute the mixture in your leave in conditioner so you don't end up with a pink solid color all over.
Note: If you don't want to dye all your hair sliver color mixed with the undertone of your choice, you can use the above process and mixture to add some highlights or lowlights in your hair.
For highlights: Use the mixture of the hue of your choice in thin individual straps around ½ inch thick. The more random the sections the more natural and blended the overall result will look.
For lowlights: Apply the mixture of the hue of your choice to the lower sections of the hair/bottom quarter of your hair. Leave as directed and rinse off. Don't forget to apply a sliver hair color all over first as your basis and then use the mixture as directed above.
Some people also choose to leave their hair roots dark/black and use silver hair color and highlights or lowlights only in the lengths of the hair. In this case, bleach only your hair lengths at least once till you get a pale blonde shade and repeat the main process mentioned in the start of the article.
Taking care of Silver Hair
Silver hair needs special care to maintain and prevent any brassy tones from popping up. Fortunately, there are many silver and purple based shampoos in the market for this purpose such as:
Clailor Shimmer Lights
Davine's Alchemic Shampoo and Conditioner
Bleach London, Silver Shampoo and Conditioner
Shiny Silver Ultra Shampoo and Conditioner
If you want to add extra vibrancy to your silver hair color for a night out, you can also use  a sliver shine enhancing spray like Provoke's Touch of Silver Glamour Hairspray and Make Up Effects  Hair and Body Spray in Neon Silver
Getting Silver Hair-Video Tutorial
Below is a video tutorial by Tasha Leelyn on how to get silver hair. Here is a before and after results photos
Video